Rest assured that the Gay Men's Chorus of Washington, D.C., will once more grace both the Capital Pride Festival and Parade (and, yes, the confetti guns will be popping again).
Before all that, though, come the Divas.
That would be the Chorus's final show of the season, a Pride-season kick-off featuring celebrity-drag performer Christopher Peterson that Executive Director David Jobin describes as "kinda camp, kinda fun, what people expect from a chorus."
Calling it "a perfect way for us to end the year," Jobin says the show features songs from "Garland to Gaga and everything in between. Carol Channing, Cher, Beyoncé, Barbra…."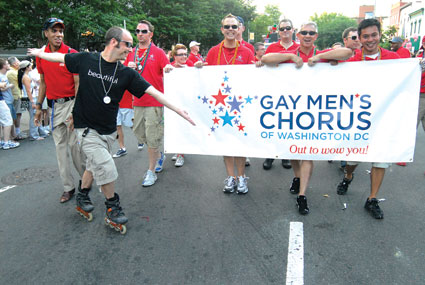 Gay Men's Chorus of Washington, DC in the Capital Pride Parade
Excited for the Capital Pride week activities, Jobin is also eager about the upcoming season, which will celebrate the group's 30th anniversary.
"The plans are really big," he says. "There was a lot of conversation about how much you look back" at an anniversary and "there's a lot we're proud of." But Jobin notes that only for the holiday show will the chorus really be looking back in action. They will be re-staging what Jobin called the most popular of their holiday shows, Men in Tights…A Pink Nutcracker.
In February 2011, the chorus will perform Let's Hear It For the Boys, which Jobin says will "either celebrate the ending of 'Don't Ask, Don't Tell,' or continue to fight on for the ending" of the military policy prohibiting gay and lesbian personnel from serving openly.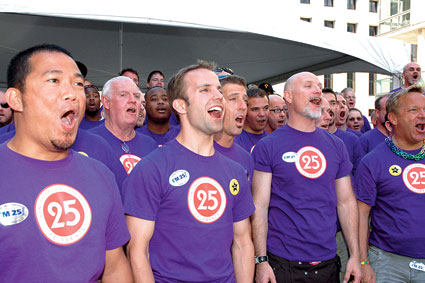 GMCW (2006)
Jobin shares that the chorus "just got the rights to do an all-male version of Best Little Whorehouse in Texas." Saying they'll be taking a similar tack to Grease, where they turned the female roles into male roles and avoided simply putting chorus members in drag, Jobin says, "I think it really makes you re-think the whole story when it's us doing it. It's not campy."
A Crazy Little Thing Called Love will feature the chorus's small ensemble and will also feature invited ensemble choruses from other choruses nearby.
The final show of the season – to get people already looking forward to Capital Pride 2011 – gets Jobin visibly excited, as he reveals that Jennifer Holliday will be figuring into — and performing at — the show.
The first half of the show — entitled And I Am Telling You — will be a newly commissioned piece, which will include a highlighted role for Holliday. The second half of the show "will be a concert featuring Jennifer Holliday," including solo pieces and songs with the chorus and members of the chorus.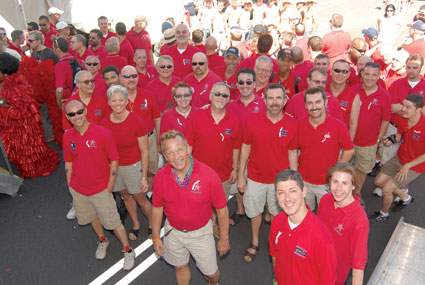 GMCW backstage at Pride Festival (2009)
Of the opportunity for the commissioned piece, Jobin gushes, "I'm so excited that she'll be a part of the world premiere of this musical."
But, first things first. The Divas will be performing at 8 p.m., Saturday, June 5, and at 3 p.m., Sunday, June 6, at GW's Lisner Auditorium, 730 21st St. NW. Tickets range from $20 to $50 and can be purchased at gmcw.org.
And, of course, don't miss their always-anticipated performance at Capital Pride. When it comes to the Gay Men's Chorus, there's always more to be excited about.
The Gay Men's Chorus performs Sunday, June 13, on the Capital Pride Festival Mainstage.