When Steve Henderson was only 15 years old in North Baltimore County, he started throwing "illegal" parties and DJ-ing.
"A friend of mine was a manager of a pizza delivery place, and they had a huge warehouse space in the back, so we decided to throw illegal under-21 parties," he says. "We called [the space] Pie Weasels. On Friday night, I would book punk rock bands. And on Saturday, my best friend and I would DJ. We did it for about a year and a half before the cops raided us."
Twenty-three years later, cops and clubs are still interlinked in Henderson's world. He runs his own private security company, providing clients across the country with security details. And he DJs at gay clubs all over the country, from his current base in Chicago to the Mid-Atlantic region, including monthly at D.C.'s Ziegfeld's/Secrets complex. In September, Henderson will debut as the DJ headliner at Brother Help Thyself's annual fundraiser at Kings Dominion.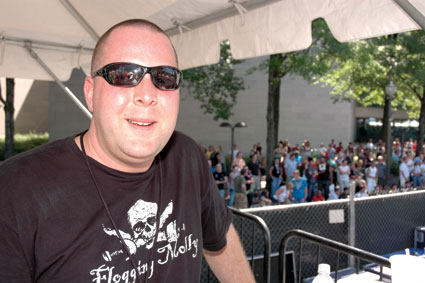 Steve Henderson
First, however, he returns to serve as Capital Pride's main DJ, both at the Saturday parade P Street stage area and the Sunday Festival Mainstage. This year, in addition to DJ-ing and serving as the event's stage manager, he also chaired the entertainment committee.
"I look forward to Pride every year because I feel like it's my time to give something back to the community that's supported me for decades," says the 38-year-old Henderson, who volunteers all of his time and services.
"I always wanted to be a DJ," says Henderson. "[It's] in my blood. When I was about 12 or 13, I bought some old turntables, and pretty much taught myself how to beat match."
Soon enough, he was spinning under-21 parties all over the area, from that first raided illegal outing to legal ones at established clubs in Baltimore, Rehoboth, even Tracks in D.C. He later graduated to over-21 clubs after a stint in the army and taking classes in music production and editing at a small college in Baltimore.
"In the military, I was in the military police," he says with a laugh. "You would never know it when you see me out and about." But with his own security business, he continues that cop connection. "In this day and age, it's virtually impossible to rely on just the DJ salary."
Henderson moved away from the area three and a half years ago, when his partner transferred to Crate and Barrel's Chicago headquarters.
"Chicago has always been my dream city," says Henderson. "It's beautiful, it has great seasons — I love the cold. It was time for a change, too. Everything was getting kind of stale in D.C. with the closure of half the clubs I worked at. We decided to try something new."
Henderson has been with his partner for 18 years. The secret to their success? "We're opposite enough where we keep it interesting," he says. As for his DJ longevity, Henderson chalks it up to his wide experience with dance music, from playing new wave and synth pop in the beginning to techno and rave and then to progressive and tribal and "classic club."
"I've kind of merged all of them together," he says. "I think that's been the secret to my success all these years — I've been able to entertain everybody from 18 year olds to 50 year olds with my music because I've kept it broad and exciting, without pigeonholing myself to just playing one style.
"I'm really happy with the path that I've been on," he says — and demand for his DJ skills has only increased in the past few years. "Honestly, when I moved to Chicago, I was all ready to retire. [Now] I have more gigs than I know what to do with. I've been booked every weekend for 20 years."
Steve Henderson spins Saturday, June 12, and Sunday, June 13, at the Capital Pride parade and festival. He will also spin at Secrets Saturday, June 12, following the parade, and at Wild Cherry at the Donovan House Sunday, June 13, following the festival.