Is Christina Aguilera the greatest singer in the world? Well, she sure thinks she is. Neither modesty nor subtlety is her strong suit.
"Everyday I see myself, I love me even more," she sings on her new album's last track. "Ain't nobody got shit on me, I'm the best for sure."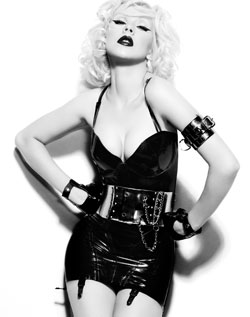 Aguilera: No genie anymore
The song is called "Vanity," on which she leads a chorus of girls and boys in chanting, "Yeah, we're vain. So what? So What?" And then she even hauls in her 2-year-old son to chant "You do mummy" in response to her query: "Who owns the throne?"
It seems intended to be another self-affirming anthem, something that has become Aguilera's signature ever since her gay-celebrating classic "Beautiful." Certainly, the average person could stand for greater confidence and self-esteem. But that's not the same as vanity. Let's not get carried away. The song just rubs you the wrong way. In fact, so much of Bionic — as with so much of what came before — makes you wish Aguilera would put her inflated self-regard back in the bottle.
And just as ever, the album might have stood out as one of the year's better releases if it weren't for Aguilera's excesses. The woman has good musical ideas, and she's an intriguing conceptual thinker. She doesn't just slap together an album of potential hit singles that have no connecting thread. She doesn't just work with the same tried-and-true producers. Instead, she challenges herself to think big and experiment. This time around, she collaborated with M.I.A., Sia, the dance-punk feminist trio Le Tigre and Peaches, along with hit producers Tricky Stewart, Polow da Don and Linda Perry. An eclectic assortment if ever there was one.
Aguilera kicks off her Bionic festivities with several futuristic-sounding club burners. There's the slippery synthetics of the title track, the bubbly springiness of "Elastic Love," with M.I.A., and the joyous, clap-happy hip-hopper "Woohoo," featuring female rapper Nicki Minaj. Later, she gives us several beautiful ballads, the best written by the underrated bisexual singer-songwriter Sia. They come bundled together, starting with the piano ballad "All I Need," which is a more traditional version of Sia's heart-stopping, wondrous hit "Breathe Me" — but still plenty affecting all on its own. Aguilera even twists her voice into a warble emulating Sia on the tender, string-based "I Am." "And we had magic, and this is tragic," Aguilera sings on the stunning breakup ballad "You Lost Me," which she performed on American Idol. "You couldn't keep your hands to yourself."
Christina Aguilera
Bionic
RCA
$13.98



Too bad she couldn't keep her hands from tinkering too much — or really, just rein herself in, especially when it comes to lyrics. (For once, she does in fact rein in her voice, surprising you occasionally with how great and natural her voice sounds when she holds back.) 2006's Back to Basics suffered in part because Aguilera gave us two albums' worth of material when only half of it was worth the trouble. Bionic threatens to be overlong, too, clocking in at about an hour. But that's not what tests your patience. It's her lyrics.
"I Hate Boys," the 29-year-old chants like a pubescent girl, channeling Lady Gaga at her worst. "You hate me, mummy?" we can just hear her little boy asking. Though he appears at several turns on the set, along with her husband, he's nowhere to be found on this track. If he had, that's not all he'd ask her. "Boys suck, make me sick/Inflated egos, little dicks," Aguilera chants later. Yes, it's true, Aguilera's first album since motherhood is also her first to earn a Parental Advisory sticker for explicit lyrics. Earlier, she sings she wants "Sex for Breakfast." "And even though we made sweet love all night, I need sex for breakfast," she sings. "So hungry for you. Taste me, and I'll taste you."
If the music itself was tasty, you might forgive her crassness. But as it is, it's enough to curb your appetite.