In the scope of the near-daily developments regarding the future of the military's "Don't Ask, Don't Tell" policy, this week – following the congressional votes on May 27 – was not expected to draw more headlines.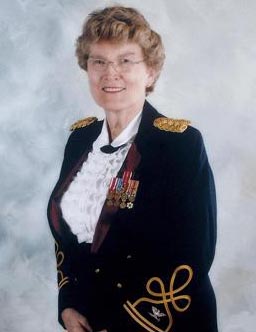 Retired Army Reserve Col. Margarethe Cammermeyer
However, an announcement on Wednesday, June 2, may have been as significant as it was simple. Undersecretary of Defense for Personnel and Readiness Clifford Stanley announced the new appointments to the Defense Advisory Committee on Women in the Services (DACOWITS).
Among the 10 appointments announced was Retired Army Reserve Col. Margarethe Cammermeyer, who served in the Washington National Guard and successfully challenged a discharge begun when she revealed that she was a lesbian prior to the implementation of the DADT policy. She is the author of a book, Serving in Silence, that detailed her experiences.
Attending the Servicemembers Legal Defense Network annual dinner on March 20, Cammermeyer spoke about her hopes for DADT repeal, in a conversation that took on new relevance with Wednesday's announcement.
Of DADT, she said, "It feels like we've had 17 years of marking time, and now to have it all build together, we're cautiously optimistic."
To that, though, she added, "I was very optimistic in 1993. Since that time, I've learned that caution is wise – as long as you keep on working in the right direction."
"Part of it is demonstrating the change," she said. "Many people who really don't appreciate the sacrifice that gay and lesbian servicemembers are making by serving their country in silence, and the hidden stories of their lives, on one hand, and the sheer economics of it, on the other."
In her new role, Cammermeyer would have the opportunity to help do that.
SLDN's executive director, Aubrey Sarvis, lauded the news in a statement on Wednesday.
"The President and Under Secretary of Defense Clifford Stanley chose wisely in appointing Col. Cammermeyer," Sarvis said. "For years we have taken enormous pride in Col. Cammermeyer being an active member of our Military Advisory Council; we are especially pleased to see that the White House and the Defense Department will also be benefiting from the vast expertise and rich experiences that Col. Cammermeyer brings to this body."
Stanley has testified before the House Armed Services once already in his role as the civilian official in the Pentagon who would take the lead on the implementation of DADT repeal.
Of note, Stanley also named a new chairwoman for DACOWITS, retired Army Lt. Gen. Claudia J. Kennedy, the first woman to be named a three-star general – and another strong supporter of repealing DADT.
In a 2006 interview with the Detroit News's Deb Price, Kennedy said of her opposition to DADT, "The Army damages itself when it doesn't live up to its own values."
Kennedy also gave the keynote address at the 2006 SLDN National Dinner.
In the interview with Price, Kennedy went on to say, "Gay men and lesbians are serving with honor and distinction. We should focus on people's performance, not on whom they're sleeping with." About the implementation of repeal, she added, "If we set the standard that someone gay should be treated the same, you train to that standard and enforce it."
According to the DACOWITS organizational website, its aim is to "provide advice and recommendations on matters and policies relating to the recruitment and retention, treatment, employment, integration, and well-being of highly qualified professional women in the Armed Forces."
Wednesday's announcement from the Defense Department also noted that members are selected for a three-year term and are not compensated. Of the group's duties, it stated they include "visiting military installations each year, conducting a review and evaluation of current research on military women, and developing an annual report with recommendations on these issues to service leadership and the secretary of defense."