Singer Inaya Day remembers the time her uncle — a pastor — asked to hear her single "Nasty Girl."
"I was like, 'I don't think you want to hear this,"' she says. Still, he persisted, so she played it for him. "He just nodded his head, looked at me, and said, 'Uh-huh, uh-huh. You sound good. It's a little fresh, but you sound good."'
Day generally records dance songs with uplifting messages about striving, persevering and devotion, obliquely referencing God and faith. Since 1996, Day has scored club hits with telling titles such as "Keep Pushin,"' "Movin' Up" and "Hold Your Head Up High."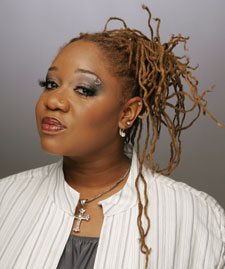 Inaya Day
But "Nasty Girl," her 2004 cover of the '80s hit co-written by Prince and performed by Vanity 6, is an exception.: "Tonight, don't you wanna come with me? Do you think I'm a nasty girl?" go the lyrics. Another exception is German producer Mousse T.'s huge 1998 hit "Horny," on which Day sings the refrain: "I'm horny! Horny, horny, horny!"
"Just my luck, the two nastiest songs that I did are two of my biggest," Day says, laughing. "I'm going to have to be the horny, nasty girl forever."
Ultimately, Day doesn't really have a problem with that. Neither, it turns out, does her deeply religious family.
"They come to my shows and everything," she says. "They'll say, 'Ugh, the lyrics! But you sure did dance! You sure did sing! I loved it!"'
It's not the first time she's won over her traditional-minded family. "When I first got my tattoos, they wanted to kill me." Now, they're ambivalent of Day's five tattoos, which include an "Inaya-nized Bugs Bunny," an image of the cartoon character with droopy ears sporting hoop earrings, brown eye-shadow and lipstick.
Day, who is straight, is thrilled she's about to make her Capital Pride debut, with the U.S. Capitol as a stage backdrop. "Finally, I get to do Pride in my mom's hometown," says the energetic performer. "And I still have family there, so they can come."
Day grew up in Brooklyn. For her, singing was just a natural, everyday part of life, nothing special. She didn't think of it as a career. She had thought she might become a journalist or a veterinarian. That is, until a friend in junior high school heard her sing "Home" from The Wiz and told their music teacher.
"'Why haven't you told me you've got all this talent? You didn't say anything,"' Day recalls her teacher saying. Soon enough, the teacher had her entering singing contests. She was on her way. She went on to the famous "Fame Academy" (the LaGuardia High School of Music and Art and Performing Arts), and upon graduating dabbled as a backup R&B session singer and songwriter before finding her calling in dance.
The thirty-something Day has released dance singles at a relatively steady clip over the past several years, but the new decade — certainly the remainder of this year — is shaping up to be something else entirely. Her younger brother, a noted R&B songwriter, died last June. "We were very, very, very, very close," she says. Following his death, Day "used music as a productive distraction and delved into my work. I've recorded a lot of songs between then and now."
Most of the songs haven't been released yet. She's also about halfway done with a duets project that will find her singing alongside noted dance colleagues Ultra Nate, Crystal Waters and Robyn S.
In addition to performing "the oldies" at Capital Pride, Day will present her new singles "Do The Right Thing," produced by Quentin Harris, and "Never Had Another Love." The latter is to be the first single from a full-length artist album with producer Mike Cruz. It's just one of several projects with her "good, good, good, good friend" Cruz.
"It's been 10 years since 'Movin' Up,' so we're going to do another one together," Day says. Cruz, fellow singer China Ro and Day produced "Movin' Up" at Cruz's New York loft. "Mike cooked dinner for us and gave us t-shirts to wear," she explains. "We watched television and had a little vodka.
"And under the influence of vodka, we stole from the Army commercial, we sure did — well, China did. I'm putting it on her. That's all her fault," Day laughs, referring to a key lyric from the song — "Gonna be all that I can be." Given the song's title, it's no surprise to hear it's also lyrically inspired by the classic TV sitcom, The Jeffersons.
For the new track, Day says, "We want to keep the same magic and do the same method — minus the vodka."
Day says the gay community's affinity for her is natural, given her proclivities for dance music and her ready support for the cause.
"The gay clubs and the Prides, wow. Artists that the gay community loves are cheered on with such zeal, we can't help but want to sing," Day says. "So yeah, I love it! I love my circuit!"
And she sees no conflict with her religious views and her bond with the gay community.
"Not at all, not at all. I'm very live and let live. I'm sure there are things that I do or things that have transpired in my life that my family wouldn't approve of, or that maybe the world would frown upon.
"We love who we love," says Day. "It should be no one else's business and no one should interfere with that. To me, it's just logic. Nobody really should care."
Inaya Day performs Sunday, June 13, on the Capital Pride Festival Mainstage.