On new single "Dancing On My Own," Robyn catches her boyfriend cheating on her at a club. "I'm in the corner, watching you kiss her, oh-oh," she sings. "I'm giving it my all, but I'm not the girl you're taking home."
You think that's heavy, wait for the devastating phrase she all but cries in the song's austere bridge: "I just came — to say goodbye."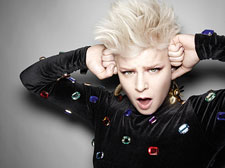 Swedish delight: Robyn
Robyn, born Robin Carlsson, has clearly dealt with her share of pain in 31 years. But it's far easier to take than quoting her lyrics might suggest. She tempers expression of pain through the happy surface of dance music, as with so many of the best disco artists.
Mary Poppins had it right: Just a spoonful of sugar helps the medicine go down.
Finally, the buzz seems to be building again for Robyn. She was the girl who gave us a couple pop hits in the mid-'90s ("Show My Love," "Do You Know (What It Takes)") but was overshadowed by the likes of fellow teeny-poppers Britney Spears and Christina Aguilera. After nearly a decade of creative disputes with her old label, the Swedish pop tart re-emerged stateside sassier and stronger than ever a couple years ago with Robyn, one of the best albums released in the past half-decade.
Now, with the sensational Body Talk Pt. 1, Robyn returns at the right time, when the mainstream has warmed to dance-pop, especially that from the female persuasion. Pop music could certainly stand for more quality electronic music and sophisticated lyrics, both of which Robyn offers in spades. On "Cry When You Get Older," Robyn offers the kind of advice she should have gotten as a naive but angsty teenager, begging a boy to "show me love and what it's all about."
"Hey girl in the strobing light, what your mama never told you," she sings in the chorus, "is love hurts when you do it right. You can cry when you get older."
Robyn launches the set with the ballsy "Don't Fucking Tell Me What To Do," on which she raps over a minimal, glitchy backbeat about the ravages of guilt-inducing vices that are "killing me" — drinking, smoking, e-mail, TV, your nagging. Then she caustically delivers the titular phrase, nine times in a row. You want perfection, look somewhere else, she's wryly telling us. It's hard to imagine any other pop singer this side of Pink willing to be so bold.
ROBYN
Body Talk Pt. 1
Cherry Tree
$8




Speaking of bold, Body Talk Pt. 1 is to be the first of three albums from Robyn this year. The rationale beyond releasing three albums in one year is a bit specious in this day and age. You also can't help but wonder how the subsequent sets will differ — or just how she decided to compile this set with these eight tracks. The last two are a bit out of place — the assured acoustic ballad "Hang With Me," and her take on a Swedish folk song. Sure, adding them to the electro-pop mix shows off Robyn's range, but they also betray a lack of clear focus. An overlong eclectic set might just have worked better than three glorified EPs, clocking in at only 30 minutes each.
But who knows? This series might just get better as it goes. Apparently, Body Talk Pt. 2, due out in a few months, will feature a rap with Snoop Dogg. And of course Robyn hasn't yet let us down. In fact, Body Talk Pt. 1 could have gotten by with only one track and it would still be worth recommending. That track would be "None of Dem," which Robyn created with the savvy Norwegian electronic duo Royksopp. The spare track features a rising, resonant bass line as Robyn raps about how she's not impressed with anything. She sings in the chorus in her best little girl voice about the need to escape. "None of dem do it like I can," she raps. She's right.
ANDY BELL
Nonstop
Mute
$14.98

Five years ago, Andy Bell released his debut solo set, which proved that he could stand on his own, without his partner in Erasure, Vince Clarke. Electric Blue harkened back to early Erasure, but with more edge. Now, while Erasure continues to be on a break, Bell offers an even edgier sophomore solo set. But Nonstop suffers because it's lacking in passion.
Reportedly, Bell's label asked him to make electronic music that sounded little like his work with Erasure. So Bell drops his vocal register and reins in his usual vocal flourishes, which results in his sounding distant, emotionless. Belgian producer Pascal Gabriel's hard-hitting beats further subsume Bell's distinctiveness. Instead of warm and bright, the set is cold and dark. Sterile. And the lyrics are often vapid, embarrassing. "Debbie Harry, Debbie Harry drag queen," he sings on "Dhdq." "Who's the daddy with you in the limousine?"
"And I think that I'm running out," Bell sings on the first track. "I worry about everything." Based on this, his everything is not enough. And we're all running out.