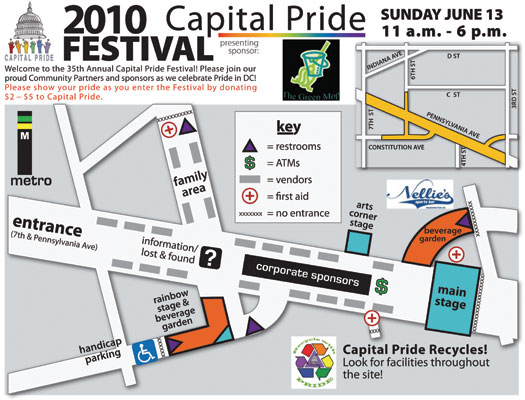 2010 Capital Pride Festival Map
The site is located near the Archives/Navy Memorial/Penn Quarter Metro, and will take place on Pennsylvania Avenue NW between 3rd and 7th Street. Donations of $2 – $5 are appreciated as you enter, but admission is free. The Pride Festival is to take place Sunday, June 13, 2010, from 11am-6pm (rain or shine).
As of May 15, 2010. Subject to change.
4 Seasons Grill Time
AARP
ACE Adventure Resort
Adventuring
Affirmation: GLBT Mormons
Affordable Health Insurance
AHF-Blair Underwood Healthcare Center
AIDSWalk Washington
Alexandria Gay and Lesbian Community Association (AGLCA)
All Souls Memorial Episcopal Church
Alliance Francaise de Washington
Alpha Chapter-Delta Lambda Phi
Alpha Drugs
Amber Forever Amber
American Bar Association
American University-GLBTA Resource Center
American Veterans for Equal Rights (AVER)
Americans United for Separation of Church and State
America's Best Pet Valet
Ameriprise Financial-Renee Green
Ameritech Construction
Amtrak
Animal Welfare League of Arlington
AOL
Apple Frankie's Enterprises
Arabella Bistro
Arlington Gay and Lesbian Alliance
Arlington Young Democrats and Arlington County Democratic Committee
Asian Pacific Islander Queers United for Action (AQUA)/KhushDC/API Queer Sisters (APIQS)
Augustana Lutheran Church
AXIOS/Washington
Bank of America
Barefoot Wine
Be Who You are, Always
Believers Covenant Fellowship
Bet Mishpachah
Bethesda United Church of Christ
Bev Hollis Photography
Big Fat Daddy's
Big Skinny Wallets
Bisexual Black Ladies Support System (BBLSS)
Bitch Mode T-Shirts
Booz Allen Hamilton
Brother Help Thyself (BHT)
Bull Run Unitarian Universalist Church
Burgundy Crescent Volunteers
Calvary Baptist Church
Capital Area Gay and Lesbian Chamber of Commerce
Capital Area Physicians for Human Rights (CAPHR)
Capital Area Rainbowlers Association (CARA)
Capital Tennis Association
Cherokee Cuisine
Chesapeake and Potomac Softball League (CAPS)
Chesapeake Investment Services
Chevy Chase Florist
Child and Family Service Agency
Choice Hotels International
Citibank
Community Forklift Thrift Store for Home Improvement
Compassion Over Killing (COK)
Congregation Etz Hayim
Coors
CoSynergy Creative
Cutco Cutlery
DC Area Transmasculine Society (DCATS)
DC Dental Spa
DC Department of Health
DC Frontrunners
DC Preservation League
DC Radical Faeries
DC Strokes Rowing Club
DC Trans Coalition
DC Vote
DC's Different Drummers
DC's Villages
Deloitte
Designerz Collection
Dignity/Washington
DITC Inc.
DOH
Dolci Gelati
Donor Sibling Registry
Donovan House
Dulles Triangles
Dumbarton United Methodist Church
Episcopal Diocese of Washington
Equality Maryland
Equality Prince William
Equality Virginia
Evolve Property Management
Falls Church News-Press
Federal GLOBE
Federal Triangles Soccer Club
First Congregational UCC-DC
Food and Friends
Fuzzy Ink
Gale Storm Team
Ganymede Arts
Gay and Lesbian Activists Alliance (GLAA)
GAYLAW
Gays and Lesbians in Foreign Affairs Agencies (GLIFAA)
Gertrude Stein Democratic Club
Girlpridestore.com
GLAAD
GLBT Arts Consortium
Grapevine Restaurant
Greyhound Pets of America-Northern Virginia
GWU LGBT Alumni Association
Hardline
Hillwood Estate, Museum & Gardens
Homeward Trails Animal Rescue
Honest Tea
HSBC
Human Rights Campaign (HRC)
i believe in dog
Inova Juniper Program
International Gay and Lesbian Travel Association
"Jay's Guide to Being Gay" Movie by Whazzat Productions
JD Warford, DVM
Jiva Jewelry
Kaiser Permanente
KB Designs
Kimpton Hotels
KPMG LLP
Kurlander Program for Gay & Lesbian Outreach and Engagement at the Washington DCJCC (GLOE)
La Clinica del Pueblo
Lambda Divers
Lambda Sci-Fi
Lambda Squares
Latham and Watkins
Latin American Youth Center's Project STRIPES
Latino GLBT History Project
Log Cabin & DC Republicans
London Court Beverage Co.
Lutherans Concerned/North America-DC Chapter
Maid to Clean
Mankind Project of Greater Washington
Maryland Stingers Women's Rugby
Mautner Project
Mediterranean Appetite
Metro DC P-Flag
Metro TeenAIDS
Metro Weekly Magazine
Metropolitan Community Churches (MCC)
More Light/Open Doors, National Capital
MyEyeDr.
MyGayAgent.com
N2 Accents
Nader Bistro and Grill
NAPAWF-DC (National Asian Pacific American Women's Forum)
NARAL Pro-Choice America
National Center for Children and Families
National Gay & Lesbian Chamber of Commerce (NGLCC)
National Gay & Lesbian Task Force (NGLTF)
National Lesbian & Gay Journalists Association (NLGJA)
National Organization of Gay & Lesbian Scientists and Technical Professionals – Chesapeake Region
National Trust for Historic Preservation
Nationwide Insurance, a David Cropper Agency
New York Times
Northern Virginia AIDS Ministry (NOVAM)
NorthShore University HealthSystem
Oldies But Goodies Cocker Rescue
On the Rebound Bulldog Rescue
One in Ten: Reel Affirmations 20
Open Doors-More Light Presbyterians
OUT for Work
OWLS of the Greater Capitol Area
Paige's Promotions
Partners Metro DC
Partnership Wealth Management
Passport Magazine
Peace Corps
Penn State LGBT AIG
Pets-DC
Pride at Work, Baltimore-Washington Chapter
Prime Timers of DC
Progressive
Proud Folks
Q-Sales
Rainbow Connection, LLC
Rainbow Wedding Network
Ravensworth Baptist Church
Red Hook Lobster Pound-DC
Rock Spring Congregational United Church of Christ
Sara Festivals, Inc.
Servicemembers Legal Defense Network (SLDN)
Servicemembers United
SGI-USA Rainbow Buddhas
Sherri's Fun Foods, Inc.
Simply Chefs
Six Flags
Sixth & I Historic Synagogue
SMYAL
Spy Museum
St. Thomas Episcopal Parish
Substance Abuse and Mental Health Services Administration
SunTrust
Sustainable Design Group
TD Bank
Team DC
Thai Thai
The DC Center for the LGBT Community
The Gay Men's Chorus of Washington, D.C.
The Green Mop Maid Service
The Helen Hayes Awards
The iCase Place
The Madison
The Other Pages
The Perfect Shirt (TPS)
The Private Musical Studio of Matthew J. Viator
The Spiral Dance Womyn's Center
The Studio Theatre
The Trevor Project
Thompson Creek Windows
TLAgay.com
Transgender Education Association
Twins Moving
U.Va. LGBT Alumni-Serpentine Society
Us Helping Us People Into Living Inc.
US Wellness
Vaccine Research Center/NIH
Vegetarian Society of DC
Verizon wireless
Victorylane
Virginia Partisans GLBT Democrats
Wachovia, a Wells Fargo Company
Washington Animal Rescue League (WARL)
Washington Blade
Washington City Paper
Washington Nationals Baseball Club
Washington Renegades Rugby Football Club
Wheaton Door & Window Company
Whitman Walker Clinic
Wisteria Landscapers, LLC
Women in Their Twenties
Woodward & Associates, Ameriprise Financial
Yang Ku Designs
Zipcar