On the morning of this year's Capital Pride Parade, Saturday, June 12, organizers of the fourth annual Capital Trans Pride will give guests the opportunity to slip into something a little more comfortable at "transformation stations."
"We started that for the first time last year," says Jessica McKinnon, organizer of this Capital Pride-affiliated event, running 9 a.m. to 3 p.m. at the Madison Hotel, 1177 15th St. NW.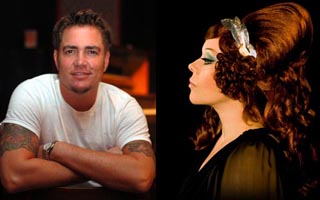 Smaller Pride festivities promise comic

Ian Harvie

(left) and

Lady Miss Kier

of Deee-Lite
"We'll be taking it up a notch this year," she says. "There will be hairstylists, people to help with nails, and people to help with wardrobe choices for those people who don't have the privilege of actually getting changed at home. There are lot of people in the transgender community who are still in the closet and would not necessarily feel safe changing at home if, for example, they don't necessarily live full time expressing their gender in the way that they want to."
It's the first item in Trans Pride's all-day list of events, with stations opening 8 a.m., even before things officially kick off at 9 a.m.
"A lot of transgender people spend their entire lives in the closet and don't get an opportunity to actually express themselves, so what we try to have every year is to be able to provide an environment for people who may not necessarily be comfortable with just being out there, and expressing themselves, we give them an opportunity to be able to come out, but still feel safe at the same time."
McKinnon says the daylong events include health screenings and HIV testing, discussions, and appearances by Diego Sanchez, senior legislative advisor to Rep. Barney Frank (D-Mass.), and trans comic Ian Harvie.
"Ian has been Margaret Cho's opening act for the last few years, and he's just absolutely fantastic," she says. "I can hardly wait to be the one welcoming him to D.C. It's quite an honor for me."
---
That's sort of how Zack Rosen, editor-in-chief of the New Gay, feels about DJ Lady Miss Kier of Deee-Lite, who will perform during the closing party of Alt Pride. That party starts at 6 p.m., on Sunday June 13, at U Street Music Hall, 1115 U St. NW. Admission will be $12 that day.
"I think that Lady Miss Kier is someone who's important to a lot of people over a lot of different ages," Rosen says. "She fits the spirit of Pride pretty well. She's just about getting a lot of people together."
Rosen emphasizes that the very first annual Alt Pride is in no way "anti-pride."
"This is the one time of year when everyone gets together and actually celebrates being gay, and that's awesome," he says. "But I think that events on that large of a scale as something like Capital pride, sometimes you lose some of the niches.
"Most of the parties we're doing are small-scale. We can put on an event that maybe is going to get 200 people that would be really awesome. It might serve some people that might not want go to the 4,000 person [party]."
Rosen says that doesn't include everyone.
"I'm not going to say it's for everyone," Rosen says of Alt Pride's list of events, "because I categorically believe that there cannot be a gay event 'for everyone.' [Alt Pride] is for people who are in town for Pride, or those who already live in D.C. and want to keep partying."
And while that might ring true for most Alt Pride events, Rosen says the closing party is for everyone.
"It's actually the last pride event because the Capital Pride last party is happening on Saturday night, which I'm really unbelievably excited for, but ours is happening on Sunday, so it's the last thing to do."
In addition to parties and music events, Alt Pride features two panel discussions: one focusing on "Queer People in the Arts" and the other addressing "Queer People in the Media."
"A lot of people don't want to drink, they don't want to party, but they do want to be involved maybe more in a conversation about queer D.C.," he says.
Alt Pride is for them.
---
Those wanting to be involved in a conversation about leather can attend educational classes from 10:30 a.m. to 6:30 p.m., on Saturday, June 5, at The Center, the metro area's LGBT community center. The hands-on training is part of this year's fifth annual Leather Pride event.
"People might think this is corny or not as serious, but providing an educational day on safe play is primary to the weekend as well," says Michael Sessa, founder of the event and president of The Center. "A lot of people think it's funny, cool or kinky to be in the leather community, but they don't know what the hell they're doing, and that can be dangerous."
New to this year's lineup of events is Code, the monthly leather party running from 9 p.m. to 2 a.m., at EFN Lounge's Motley Bar.
Organizers of Leather Pride are bringing back the event's street festival and fair, held during the first Leather Pride but not since, from 1 to 8 p.m. on Sunday, June 6, in the DC Eagle parking lot, 639 New York Ave. NW.
"I think the leather community is evolving," Sessa says. "And leather pride is trying to reflect that evolution."
---
Organizers of this year's Latino Pride are hoping to talk about LGBT Latinos and this community's evolution during a forum on Friday, June 11.
The fourth annual event promises to include performers, Latino food and a panel discussion on immigration from 6:30 to 9:30 p.m. at the Charles Sumner School, 1201 17th St. NW.
"We are going to talk about some of our unmet needs and how we can move forward as a community," says José Gutierrez, founder and president of the Latino GLBT History Project. Gutierrez says this year's focus will be on immigration laws in the United States.
"We are still getting a lot of calls here from LGBTQ Latinos who are concerned about having to carry papers in Arizona and we need to broach that subject."
Capital Trans Pride visit capitaltranspride.org. For Alt Pride visit altdcpride.com. For Leather Pride, visit dcleatherpride.com. For Latino Pride, visit latinoglbthistory.com.