I had the pleasure of meeting Bill Miles three years ago, when he was chairing the Auctions Committee for Capital Pride. He enthusiastically welcomed any assistance and suggestions that people had to offer. Working with Bill was a great way to be introduced to Pride, because he was one of those rare individuals who, upon meeting you, would make you feel as if you had been friends forever. He was warm and gregarious and it was easy to feel a special kinship with him.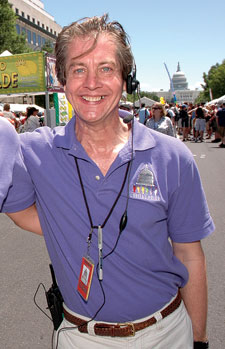 Bill Miles
Bill was quick to volunteer his time and considerable talents for any number of causes. Indeed, there was a joy in his work, whether it was running lights at Cherry, serving as stage manager at Pride, helping out with AIDSWalk, or serving on any number of committees.
You could tell that Bill never relinquished the mantle of teacher — and with good reason — because he was always willing to impart knowledge and gently offer excellent advice, sound guidance, and good counsel. If one of our purposes in the journey of life is to ennoble and encourage our fellow human beings, then Bill not only succeeded but excelled. He was able to recognize the beginnings of a great idea, and could see clearly the steps need to turn dreams, hopes, and inspirations into reality.
All these gifts and talents came quite naturally to Bill. In truth, there was no artifice or anything that seemed forced about him. He was genuine, open, honest, kind, and gentle. It is easy to see why he considered entering the ministry and why he retained a spiritual nature throughout his life.
Bill was an invaluable member of Capital Pride for any number of reasons, including his hard work and dedication. In addition, he provided us with magnificent judgment and an ability to anticipate difficulties, avoid problems, and offer reasonable, credible, and workable solutions. His contributions were absolutely critical to the formation of Capital Pride as a separate, independent entity and to its great successes over the last few years.
Bill recognized the dual nature of the task that we had undertaken. It is both a celebration of who we are and where we have been and a means to further advance the cause of equal rights. Bill will be missed very much, yet his gentle, encouraging spirit will be with us as we move forward. Though our task will now be more difficult because he is not here to help guide us, our decisions and actions, nevertheless, will be informed by that part of himself that he left with each one of us. It is that imprint we will carry with us and, we hope, pass on to others. Bill's is a magnificent legacy of service; a goal to which we can aspire, and, in doing so, pay homage to a truly wonderful man.
Bernie Delia, Vice President
On Behalf of the Capital Pride Alliance Board of Directors