For the past 35 years Capital Pride has been planned and operated by a volunteer corps who have given of themselves for the benefit of the community-at-large. When the Capital Pride Alliance was created as its own independent entity to plan and operate Capital Pride, it was only natural that Larry Stansbury would be a figure central to those discussions and work — he was one of the longest serving of these volunteers and an integral part of the evolution of Pride in D.C. since its conception until his death on October 31, 2009. His loss is felt deeply by our organization, and the community, but is especially sharp this time of year as we celebrate Capital Pride for the first time without him.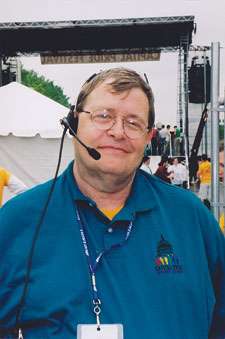 Larry Stansbury
Larry was one of the first people you'd meet when getting involved with Capital Pride, and certainly one of the most colorful leaders at the planning table. He had a special knack for shouting out "bullshit" when he thought it was getting laid down, and encouraged the rest of us to always speak truth to power. Larry always seemed a bit older than the rest of the crowd — not just because of our tireless pursuit to stay "forever young" but also because he seemed to already possess the wisdom of our elders. To have been at a planning table with him is to have witnessed first hand the type of community leader and fierce advocate that many generations of gays hoped for before liberation, and that current and future generations should emulate.
For those who never knew Larry, however, it is important to note that much has been written about his endless support for our community and its organizations over so many long years. His fundraising work with Brother Help Thyself is legendary; Rainbow History Project has documented his efforts. Larry was the type of person who younger, newly out, recently-moved-to-the-area people — as I was when I met him — carefully looked at in trepidation, both hoping to emulate him and fearing the responsibility of that potential. He inspired each of us to embrace our inner homosexual and to help lead our community.
Once, Larry showed up to volunteer immediately after attending a memorial service for a loved one. When I extended my condolences to him on his loss, he smirked and brusquely made a reference to the AIDS crisis and the era of multiple funerals in a week, sometimes twice a day. He said he was now glad to only lose a friend from-time-to-time. More so than the sadness of that thought, the words that stuck with me from him were his next sentences: "Why do you [kids] think I do all this volunteering? Someone has to represent Family that didn't make it this far."
Although I hadn't thought to say it to him then, I'd hoped that we at Capital Pride would be able to represent Larry when he could no longer lead our community. Never did I think that day would come so soon, or that Capital Pride Alliance would be so young when we would lose his leadership. On his behalf, and for the benefit of the entire community, I encourage others to get involved in organizing ourselves — not just for Larry and the others who "haven't made it this far," but for the generations who are still trying to make it here the recent transplants to the area; the newly out; for all those who will have a "First Pride" this year. For all of them, please, speak truth to power and remember to quote Larry Stansbury when you say "Bullshit!"
Vincent E. Slatt
On behalf of the Capital Pride Alliance Board of Directors