Several years ago, when Joan Rivers starred in a GEICO commercial where the whole concept centered on her plastic surgery, it seemed like a wonderful moment of self-awareness. Rivers didn't just deliver the punch line — she was the punch line. It was a brilliant concept and a terrific execution.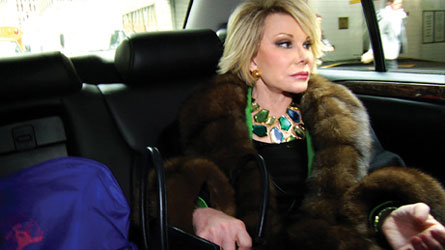 Joan Rivers: A Piece of Work
And yet, if the new documentary Joan Rivers: A Piece of Work is to be believed, it was more about the money than the comedy. Because a national commercial is nothing to laugh at when you have a staff to pay.
To make the cleverly titled A Piece of Work, filmmakers Ricki Stern and Annie Sundberg followed Rivers during 2008, the year she turned 75, a year that started low and ended high. As Rivers says early in the film, "I need sunglasses to look at my calendar it's so white (empty)." By the end, she's won Celebrity Apprentice, been booked into a 4,000-seat venue, and has every minute of her day consumed by some venture. Some moneymaking venture, that is.
Over the course of the film, Stern and Sundberg strip away the layers that shroud Rivers in her outlandish, loud, brassy persona. And they start with the most bold and shocking layers: her make-up. As the film's opening credits are shown, the audience sees close up just how much work it takes to create the public Joan Rivers. And when the first mention of plastic surgery is made less than seven minutes in, it's almost a relief that the elephant in the room is going to be addressed (and maybe undergo an ear-tuck by Joan's doctors).
The filmmakers combine clips of Rivers onstage with scenes from her everyday life, then intersperse interviews ranging from Rivers's manager to celebrities such as Kathy Griffin. The whole concept is similar to Douglas Keeve's Unzipped, which tracked fashion designer Isaac Mizrahi as he tried to resurrect his career. However, in A Piece of Work, perspective is sometimes sacrificed for a story that feels more "presented as told" by the subject rather than Stern and Sundberg applying a critical eye for balance.
The most powerful sections of the film are clips that show a young, sometimes pregnant, Rivers cracking up Johnny Carson and titillating audiences more than 40 years ago. In this age of Kathy Griffin and Chelsea Handler, it's a necessary reminder that Rivers was breaking through the glass ceiling long before Griffin was stealing all the good gigs. (Some of Rivers's jokes about Griffin are a little too biting to not wonder if there's an ounce of truth in them.)
However, it's the Rivers-in-public scenes that feel the most influenced by the documentary cameras. While it's touching to watch Rivers deliver meals on Thanksgiving, it feels staged, down to the ailing photographer who mentions her website during the conversation. But the private and often mundane moments, like Rivers feeding her dog or checking into a hotel, are much more intimate and intriguing.
By the end of the film, the complex and often-contradictory sides of Rivers start to emerge. While giving a tour of her home, which makes Buckingham Palace look Spartan, Rivers said she works to afford her lavish lifestyle. Yet her "need to work" is continually cited by others as her driving force. The point that shines through, both explicitly and implicitly, is that Rivers would probably shrivel up and die were she not onstage. The applause feeds her. While the question of why Rivers needs to be in the limelight is never critically examined, the comparison she makes of herself to a nun – it's a calling – is at once ironic and clarifying.
Joan Rivers: A Piece of Work



AND ONE HALF
Starring
Joan Rivers,
Kathy Griffin,
Don Rickles
Rated R
84 Minutes
Opens Friday, June 18
Landmark E Street
and Bethesda Row Cinemas
Some of the more emotional moments, including the dismissal of her manager and the bad reviews of an autobiographical play, carry little more punch than any of the other scenes. At the same time, moments of her daughter, Melissa, who provides a loving yet harsh perspective, are passed over too quickly to resonate. But these quibbles are forgivable when the filmmakers also provide behind-the-scenes looks at Rivers's Comedy Central roast and her taking the stage to honor George Carlin at the Kennedy Center. There we see the nervous Joan Rivers afraid to bomb instead of the potty-mouthed comedienne unafraid to say anything onstage.
In a confessional moment, Rivers describes how she transformed from an advocate for plastic surgery, to a poster child for it, to a joke. Fortunately for Joan, A Piece of Work transforms her from a punch line, to a celebrity, to a woman. At the same time that they border on idolatry, Stern and Sundberg take Rivers off the stage and reintroduce her to the people. And she's someone worth getting to know.