When it comes to the local LGBT community, it's fair to say Matt Bamford is a bit of a celebrity. After all, he's Mr. Capital Pride Leather 2009 and the reigning Mr. Mid-Atlantic Leather.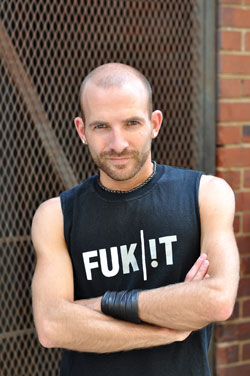 Matt Bamford
(Photo by Todd Franson)
In April 2009 — having just moved to D.C. from Alaska the year prior — he was not so well known, and certainly not to Dr. Terry Gerace, who headed to Ziegfeld's/Secrets in search of some models for a new safer-sex education effort he was launching.
"That's the story of my life: right place, right time," Bamford says. "I was bartending at Secrets. He had come in to look for some good-looking men and was wearing this 'FUK!T' shirt. I thought, 'Wow.'"
It's the same word that's likely passed countless lips as they view the result: Bamford and other locals in a sexy and edgy safer-sex campaign running online as a component of The Center's HIV Working Group. The campaign runs under two banners: TOOLK!T for the younger crowd, FUK!T for 21 and older.
Bamford is more than just a pretty face, however. He's taken his involvement with TOOLK!T/FUK!T and run with it — literally — making the campaign part of his platform with his leather titles. And he puts that dedication into practice nearly every Tuesday evening, leading "packing parties" with Gerace.
"They were originally out of Terry's house," Bamford explains, adding that the festive safer-sex-kit packing parties are now usually held in Motley Bar above the EFN Lounge on 9th Street NW. "They're every Tuesday from 7 to 9 p.m. We host little workstations all over the bar. We put in two standard-size Durex condoms, one packet of lube, and a card with instructions. It's a lot of fun. There's music, two-for-one cocktails. Once you know the rhythm, you can really crank them out. We get into a flow, and it's fun. 'I need lube!' 'I need condoms!' 'I need a reach-around!'
"There are some regulars. I can't tell you how many pages and interns from Capitol Hill come. We get so many people, we take over the entire top floor."
Motley might host a full house during a packing party, but there's always room for more help, Bamford emphasizes, pointing to a backlog on kits after the city's Department of Health, which supplies the kits' condoms, forgot to place his group's order, once in March and again in May.
"We had to have three back-to-back emergency packing parties for Pride."
Concentrating on the adults-only FUK!Ts, rather than TOOLK!Ts, Bamford says a Tuesday group will net about 3,000 to 3,500 kits — roughly the same number of complimentary kits consumed by patrons of the various gay venues stocking them. Volunteers often learn about safer sex at the same time they're fostering it by building kits.
"People talk and learn. People ask questions. 'Can you get HIV from sweat? From tears?' It's not just prevention by packing, but prevention by talking.
"Sometimes there's the initial shock," he adds, explaining that some volunteers aren't expecting the graphic, photo-illustration on how to wear a condom, which is part of every FUK!T. "You've got to be really sensitive to people's reactions. They see condoms and lube everywhere, the card with a picture of a penis, and they're like, 'Who the hell would print this?' But I have yet to see one person walk out. They stay."
That commitment goes for Bamford, too, who also works with the Alexandria Health Department to get gay men tested for HIV and STDs.
"It will continue on well after I step down from MAL. This is an organization I care about. It's a passion of mine. It's imperative. When you see the production that actually occurs, it really is for the community, from the community. Without the parties, it would be a select few trying to make a difference. It's these parties that help us know we are really making a difference. The sheer numbers that we are cranking out is more gratifying than any award."
The Center's HIV Working Group hosts Packing Parties to assemble safe-sex kits every Tuesday from 7 to 9 p.m. at EFN Lounge's Motley Bar, 1318 9th St. NW. They are open to the public.