For many LGBT people, an empty store on Connecticut Avenue is an empty spot in the heart.
When Lambda Rising Bookstore closed at the beginning of 2010, it signaled the end of an era for owner Deacon Maccubbin's groundbreaking retail store that anchored the gay community to Dupont Circle through decades of liberation and celebration, through the crisis of AIDS and the activist response. Not only was the store a hub for people of every stripe, it was the place where so many took their first tentative steps out of the closet, a place where we all could find the truth that we're not alone.
Maccubbin also founded the first annual Pride celebration in 1975, a street fair north of Dupont that heralded a new era for LGBT people in the city. Those accomplishments, and many more, have earned him the 2010 Capital Pride Super Hero designation.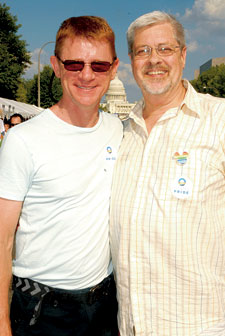 Deacon Maccubbin (r) with Jim Bennett at the 2008 Capital Pride Festival.
(Photo by Ward Morrison.)
While Lambda Rising may have closed after 35 years, both the store and its founder have written themselves into the history of the LGBT community as some of the important reasons we've come so far today. And while Maccubbin is the first to say we have much further to go, he's also eager to celebrate with a community that has come so far.
PRIDE GUIDE: You've been honored in the past as a Capital Pride Hero. How does it feel now to be recognized as a Super Hero?
DEACON MACCUBBIN: I have been? [Laughs.] I don't remember being a hero — I do remember having an honored place in the parade. It's been 35 years, I can't remember all of them! It feels really good to have that service recognized. I love the parade and I love the festival and I enjoy every minute of it, so I'd be there regardless. But it's going to be nice to wave at people from a car or a float or whatever they're going to put me on.
PG: The Super Hero award is still relatively new, so you're helping to fill out a group of impressive company, like Frank Kameny and Lilli Vincenz. When you reflect on your accomplishments in that context, how do you feel about your place in the D.C. LGBT community?
MACCUBBIN: Well, I don't consider myself a hero, super or otherwise — I just did things that I thought needed to be done. I lived my life the way I wanted to live my life. That people appreciate that, that's wonderful. I'm flattered. But basically I'm just a very lucky person.
PG: You were an organizer of the first annual Pride celebration in D.C. When you look at the LGBT community today and how it has progressed, are we close to where you imagined we'd be when you were putting together that first Pride?
MACCUBBIN: It's close to what I imagined it could be. I dreamed there would be a kind of utopian embracing of our community at some point in the future, never dreaming that it might begin to happen in my own time. I believed that it was going to take many, many decades to get there. That in reality it has taken four decades or so to get this far is breathtaking and wonderful.
PG: Why do you think it's moved so fast? Is it that the pace of cultural change has simply increased, or is it because of the work people have done?
MACCUBBIN: All of the above. And the civil rights struggle and the suffragette movement gave us some good role models on which to base our own movement.
PG: Where do you think that the community still needs to grow?
MACCUBBIN: Well, we're very fortunate here in the District of Columbia, because we have probably 90 percent of what we need in terms of equality and rights and respect. We have to remember that the rest of the country isn't as fortunate as we are. There are an awful lot of places in this country where you can still be fired or thrown out of your apartment simply for being gay. Very few places in the country will allow you to marry. An awful lot of work still needs to be done. We need to pass ENDA. We need to be sure that "Don't Ask, Don't Tell" is truly repealed, not just delayed. And we need to make it clear to our allies that it's not enough to say, "We like you." They have to get out there and do some of the hard grunt work to make sure that our rights are equal. They need to speak up as much as we need to speak up.
PG: How would you encourage younger people in the community to get involved with growing and supporting the community?
MACCUBBIN: Coming out is always the first step, the most important step that any individual can take. But if you stop there you're not doing enough. Everybody needs to set about to improve [the world] to make it easier for other people to come out behind them. I don't see enough of that — I see it, but I don't see enough of it. People need to commit to even just one thing: a goal or an organization or a service, to get them out in the community and working.
PG: The closing of Lambda Rising garnered a lot of attention and caused a lot of sadness for people in the community.
MACCUBBIN: For me, too!
PG: With the store closed, what are you doing with your day-to-day life now?
MACCUBBIN: Honestly, so far I haven't had a day-to-day life. [Laughs.] Closing a 35 year old business takes a lot of work even after the doors are shut and the place is empty. There's a ton of paperwork and taxes and just cleaning-up things that have to be done. I'm still working on those, believe it or not, since the end of January.
PG: With marriage equality now the law in D.C., have you and your partner, Jim Bennett, gotten married?
MACCUBBIN: We had a holy union in 1982, but I proposed to him right after they passed the bill. We do intend to get married. There are some issues with insurance and financial matters we still have to work out.
PG: You'll finally make honest men of each other after how many years?
MACCUBBIN: After 32 years. [Laughs.]
PG: Which part of Pride is your favorite, the parade or the festival?
MACCUBBIN: Both. I love the parade. I never just watch the parade, I always walk from one end of the parade to the other and back and forth. I've always loved seeing all the floats, all the people in the costumes, and all the people along the sidewalk — it's really exciting for me. At the street festival, I spend most of my time just going from booth to booth talking to people about what they're doing, what their organizations are doing — that's what I most enjoy. It is, after all, a party and we enjoy it because it's fun. It is quite different than it was back in 1975 when it was 2,000 people on a side street.
PG: Do you ever miss that smaller, more intimate kind of setting?
MACCUBBIN: Sure I do. I think a lot of people do. I think that a lot of people don't like the fact that it's so commercialized with insurance companies and time share sellers and banks and all. But those are signs that we have made a lot of progress — we want to be proud of that.