Organizers of Washington, D.C.'s annual Capital Pride events are doing what they can to make sure this year's Pride does not end on Sunday, June 13, after the Capital Pride Festival wraps up 10 days of nearly 60 events. They want to make Pride bigger and more visible after this year's celebration by hosting events throughout the year.
"We're going to see more and more socials and social-type activities," says Michael Lutz, president of the Capital Pride Alliance's board of directors. "I also think we're going to start to partner more with our Community Partners to produce events. We see a lot of that going on during this year's Pride, but I think we're going to see that happening throughout the year as well."
Bernie Delia, vice president of the board of directors, echoes Lutz's sentiment. "We want to expand Pride's presence and visibility not just in June, but throughout the whole year," he says.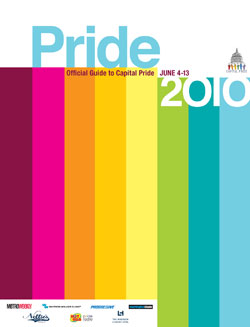 2010 Capital Pride Guide
While the Capital Pride Alliance had introduced some events leading up to the 2010 celebration in earlier months, including a fundraiser and a volunteer callout, future goals include more socials. Meanwhile, this year's Community Partners played a vital role in producing a variety of diverse events for the 35th anniversary. Those partners include Bet Mishpachah, the Gay Men's Chorus of Washington and Brother, Help Thyself.
"With the Community Partners program, we've been able to expand the number of offerings we can include in the Pride celebration," Delia says. "If you look at the calendar, we have a huge number of offerings."
This year's long list of events is a change from just a few years ago, when Capital Pride was organized and produced by the Whitman-Walker Clinic. In 2007, Whitman-Walker Clinic held a January meeting asking other LGBT and local organizations to help produce the events, bringing in help from 14 different organizations. In 2008 the Capital Pride Alliance was formed to produce the annual event.
"We have the advantage of this being our sole focus," Delia says. "We are able to devote the time and the resources solely to Capital Pride. We're not focused on any other task or mission. It is only to put on the best possible Pride celebration that we can."
Delia adds that so far, so good.
"We are exceptionally proud of everything that we were able to do and put together in what was a relatively short period of time," he says of the 2009 Capital Pride event, the first organized by the Capital Pride Alliance. "We were able to get an organization not only up and running, but to put on, by everyone's account, an exceptional Pride celebration over almost a two-week period."
In addition to future growth, the Capital Pride Alliance will undergo another change in the coming months. The organization is hoping to find a new executive director to replace Dyana Mason, who is leaving Washington to pursue a Ph.D in policy management from the University of Southern California.
Mason, who helmed Equality Virginia before coming to Capital Pride, has served as executive director of Capital Pride for the past two years. She describes the ideal candidate for the job as "someone that wants to serve the community, who has a lot of energy and passion for what Pride means and what it brings to the larger metro D.C. area."
Mason has enjoyed her time working with the Capital Pride Alliance board, calling them "outstanding professionals."
"They're committed to bringing the best set of events possible to the District," she says. "I would say just work with them, work for them, and work alongside them and you'll have a great time."
Like Delia and Lutz, Mason envisions continued growth and visibility in Pride's future.
"Some of the things we've been putting in place over the last year will be carried forward and continue to grow, including our Community Partners program, our support and involvement and events year-round, and really working to help bring a year round vision and visibility for our community in the District."
This year's events raise the bar for 2011.
"Next year, we'd like to see more and more events, more headliners," says Lutz. "We're bringing Chely Wright this year — so more big name entertainment like that."
He also hopes to see some form of collaboration with other local Pride events not already associated with Capital Pride, including Black Pride, held every Memorial Day weekend, and Youth Pride, typically held in April.
"We want to unify all the LGBT Prides," Lutz says. "That's going to be important as well."
Which could only mean bigger and better things for the annual event that attracts people from all across the country.
"We're very cognizant that we draw from not just the immediate metro area but from the mid-Atlantic region and other places in the country," Delia says. "People come here to celebrate and we try to keep that in mind when we plan the activities so that it can be a destination for people to come to for a weekend or a portion of the 10 to 14 days of the celebration. We are the nation's capital and we try to make this a celebration that everyone can participate in and enjoy."
So what can you expect from the people who organize Capital Pride annually?
"I think that our theme for this year probably says it all," Delia says. "You ain't see nothing yet."
For more information on Capital Pride, visit capitalpride.org or call 202-719-5304.