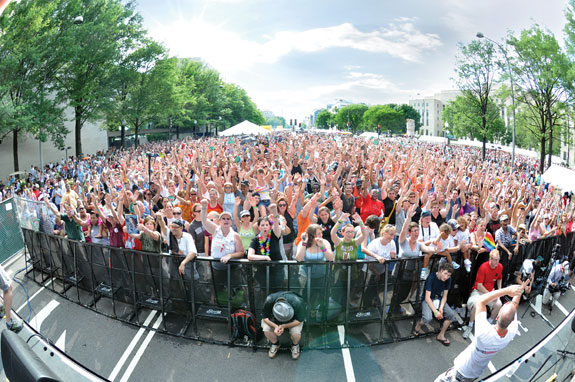 2010 Capital Pride Festival attendees
"Oh, there's Chuck Bell! He said it wouldn't rain on our parade, and it didn't!"
NBC4 news anchor Wendy Rieger, returning as lively emcee for Saturday's Capital Pride Parade, called out her station's meteorologist as he rode by the P Street review stands. A few momentary sprinkles later didn't dampen the forecast or the excitement in the least.
In fact, an inconsistent weather pattern all weekend reflected the mood at the 35th annual Capital Pride event and the state of gay rights in 2010: little precipitation but high humidity, with light occasionally peering through a dark sky. To adapt the adage, it's no time to rest on one's rainbow-colored umbrellas. Though D.C. has now legalized marriage equality, most of last year's Obama-fueled hope and promise is still pending.
Pride Photos Are Here!

Hundreds of photos from Capital Pride Parade and Festival
and other events are in the Scene section

…
In addition to an increased number of politicians marching in the parade this election year, activist groups were also a more visible presence. Servicemembers United called on politicians to "Repeal the Ban" on gays in the military, the ANSWER Coalition chanted "Seize BP's assets!" and Take Back Pride countered the parade's increased corporate presence. In fact, the parade, which lasted for more than two hours, was about 15 percent larger than last year's, with more — and more inspired — floats.
"We had over 175 contingents this year, which was by far the largest parade we've ever had. It was an incredibly long, diverse, exciting parade," said Dyana Mason, Capital Pride's departing executive director.
Results The Gym once again nabbed best float, D.C.'s Different Drummers took best marching contingent, Ziegfeld's/Secrets won for best theme/energy and Fuego won for most outrageous. Fuego's participants dancing the Macarena certainly stood out in a parade where seemingly every second contingent was shaking it to one Lady Gaga song or another. Also, while Fuego threw out condoms, most threw candy and beads. "Uh-oh, we have a bead injury," Rieger joked at one point.
Though there's no official count, organizers estimated the crowd at 100,000 watching the parade, and 250,000 at the festival — the same as recent years. Considering the intense heat and humidity, Mason says, "people might not have stayed as long, but we certainly saw a lot of them."
Past Capital Pride headliner Crystal Waters, who lives in the area, introduced her friend Inaya Day at the Sunday festival as a "woman with the greatest voice I know." Day proceeded to live up to the accolade, giving a full-throttle energizing performance in the late-afternoon sun from the festival's main stage.
"Remember my name," lip-synched drag queen and Miss Capital Pride 2010 Destiny B. Childs, as it poured rain for a few minutes. But the crowd kept on dancing right along with Childs, savoring the refresher, a short respite from the day's high temperatures.
"I can't believe you all are dancing in the rain," said Hot 99.5's DJ Houston, one of the day's emcees.
If the festivities weren't as altogether sunny as last year's, Chely Wright's headline appearance at Sunday's festival nonetheless capped the proceedings in sunshine. It was an emotional performance, considering Wright's coming out as country's first gay celebrity just a few weeks ago.
"When she came out, we were stoked," said longtime Wright fan Leigh Ann George. "She's someone we can relate to, which is so rare." George, of North Carolina, was waiting with her partner and daughter in the long line for autographs after Wright's performance. Wright sweetly hugged George's daughter Adriana and signed the family's T-shirts, which George designed with rainbow-colored lettering: "Chely, Thank you for being Like Me," the shirt read on the front, referencing the title of Wright's autobiography.
On the back was written one word: "Pride."