Who better to fill you in on the 101s of safer sex than your favorite porn stars?
"You have to use lots of lube … or the condom breaks," declares an enthusiastic — and naked — Brent Corrigan, starring in one of five videos produced by FUK!T. It's part of a local campaign that strives to weaken the spread of HIV and other sexually transmitted diseases (STDs) by putting condoms, lube and safer-sex information in the hands of gay men at no cost.
Since launching in May of 2009, FUK!T has done just that in Washington, distributing safe-sex kits and referring people to its website where videos starring Corrigan and other porn stars such as Matthew Rush make sex education and condom use sexy.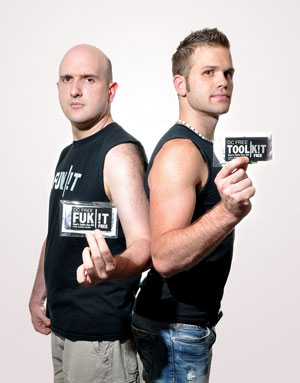 Terry Gerace (left) and Dan O'Neill
(Photo by Todd Franson)
D.C. has seen two different versions of the safe-sex kits over the past year, both of which include the same contents: two Durex condoms, lubricant and education cards. FUK!T was made for clubs and bars, while a PG-version, dubbed TOOLK!T, was made for distribution in restaurants and gyms.
Leading the effort is Dr. Terence Gerace, 39, a former volunteer for Whitman-Walker Clinic's Gay Men's Health and Wellness Center, from 2004 to 2008, and Dan O'Neill, 28, a medical student at George Washington University who serves as chair of the Gay/Bi/Trans HIV Prevention Working Group for The Center, D.C.'s LGBT community center.
With the help of volunteer labor and private donors to pay for packing materials, including D.C. Allen, owner of the Crew Club, Gerace and O'Neill have been hosting weekly "packing parties" at EFN Lounge. Over the past year that's amounted to assembling more than 100,000 packs of condoms and lube, provided by the D.C. Department of Health. The packets can be found at seven locations in the District, listed on dcfukit.org, including the group's largest point of distribution: Town Danceboutique.
"We launched in Town nightclub first and they're our best distributor," O'Neill says. "I would say averaging around 2,000 or so kits every one to two weeks."
But the packs are not everywhere. There are still a handful of predominantly gay establishments noticeably lacking the custom-made dispensers used to house the FUK!T or TOOLK!T packs.
Ahead of National HIV Testing Day on Sunday, June 27, O'Neill and Gerace spoke about the continued urgency of the FUK!T campaign and what they've accomplished over the past year with the provocative effort.
METRO WEEKLY: How did this collaboration come about?
TERRY GERACE: Dan and I met [in 2007] at Whitman-Walker Clinic doing STD volunteer work. We had become friendly and we were both interested in HIV prevention. We both were aware that there wasn't anything going on in terms of condom distribution. Dan had been in Manchester, England, where they were distributing safer-sex kits and at the same time the District was gearing up to provide nonprofits — actually anybody — with condoms and lube if they wanted to distribute them. So there was sort of the aligning of the stars.
DAN O'NEILL: Terry had worked with Whitman-Walker Clinic to get some campaigns going but we realized as long as these ideas were going to be tied to CDC grants and such, we were never going to get the creativity and the cutting-edge approach that we needed to really rejuvenate the messaging around HIV/AIDS safer sex — especially within the gay community.
We kind of put our heads together, and we knew The Center's HIV Working Group was to have its first meeting. So Terry threw the FUK!T idea out there, and he pushed it from the beginning. That was his baby.
MW: Why was it important to sexualize the campaign with the racy "how to put on a condom" videos and calling the packs "FUK!T"?
GERACE: Most safer-sex education ends up being sort of bland because it's funded by the government, and everybody's afraid to talk about sex — even when you're supposed to be talking about sex.
There are a lot of places where it's inappropriate to use sex to sell things, but when you're trying to sell something that you use during sex it's actually appropriate to sexualize it and not make it clinical or a fear-based campaign. It has to be something that encourages people to be responsible. And as sexy as the website is, all of the information is very clear that there are risks. Condoms don't prevent everything. We try to really be honest with people, but do it in a positive way that doesn't say, "Don't have sex."
O'NEILL: We view condoms as a commodity. Condoms are condoms — and they work. But the important piece that goes with that is educating people about appropriate use. That means co-distributing them with lube, which is critical for anal sex and gay men. Rates of slippage and breakage go through the roof if you don't.
So we wanted to make it critical that they're co-distributed with lube and do an educational piece around it: Enter all these PSAs, the photo shoots and the sexy website that Terry has really been the engine behind. We wanted people to have the tools in order to connect with their community and see a kind of a United Colors of Benetton approach to this, where we had people of all different ages, races and ethnicities showing collectively that, as D.C.'s gay community, we need to get a handle on this crisis. We do that by making condoms and lube convenient and accessible. It's not a one-off distribution campaign. Those are great, but if [condoms and lube] are readily there all the time, that's how you bring about behavior change.
Secondly, we wanted to make it so that people were empowered to make this decision to protect themselves, that they made the choice to go up to our dispensers at Town, take them and use them. It appears since they're as close as you can get to the point where they're ultimately going to use them, on the exits to those gay bars and such, that they're using them.
GERACE: Like anything, you're in the moment and you'd rather not think about it. That's why people don't use them. If you kind of have a little voice, or a little FUK!T on your shoulder, saying, "use me, use me," on your way out of Town or Secrets — it's just that you kind of need that on your shoulder reminding you, because you've had something to drink. And, yes, sex can definitely feel better without protection, but the consequences of that are pretty serious.
MW: Why did you get involved in STD and HIV prevention?
GERACE: I had gotten my medical license and wanted to do something good with it. I was interested in STD prevention and HIV prevention, that was just a medical interest of mine. I was doing the clinical work at Whitman-Walker Clinic. They had a program called "Man to Man," which was working on developing a safer-sex kit. I think the funding just died out for it. But we spent months trying to develop this kit and then it never went into production. So I knew, even when I was there as a physician seeing people, that there weren't safer-sex kits there.
I also at the same time was on the board of this group called the Great American Condom Campaign, which is now part of Advocates for Youth. That's actually one of the largest peer-to-peer condom distribution programs in the country, through Trojan. So I was doing condom stuff already. But my main interest is in prevention.
MW: During your tenure as a volunteer physician at Whitman-Walker Clinic, were you alarmed by the number of patients getting treated for STDs in the District?
GERACE: It was always a steady flow. It was busy, which is alarming, and I knew there wasn't any organized long-term preventative effort. It was frustrating in that I know there's a lot of money being spent on HIV and HIV prevention and I thought it wasn't being well targeted — we weren't making any progress. Whitman-Walker Clinic wasn't doing much in the way of organized prevention. They had briefly, about a year and a half ago, had that Red Campaign and they spent about $150,000 producing that. That died out after a month or two. You never saw that again. So we knew that the money was being spent, just nothing was getting done. In contrast, in a year we've spent about $7,000 on our program, and that's all over the world really. Sometimes you have to do things at a grassroots level in order to get anything done.
MW: Dan, how did you find your way to working in the field of HIV/AIDS prevention?
O'NEILL: I came to D.C. in 2006. I had just finished business school in Indiana and I was looking for a way to use that. I knew that medicine and public health were my true passions.
As a type-1 diabetic of about 15 years, [I was aware] the whole stem-cell research debate was raging. I figured I needed to be out here for that. While I was here and started to become part of the gay community in D.C., I learned of the extent of the HIV/AIDS crisis here. And it struck me: I think there are a lot of parallels between HIV and diabetes, chronic diseases you have throughout your life. If you don't take care of it lots of things can go wrong.
I lived just behind the Whitman-Walker Clinic, and it just broke my heart seeing how bad things were getting in just the few years I was there. It was so alarming, that's why I met with David [Mariner of The Center] to kind of start up [Gay/Bi/Trans HIV Prevention Working Group] in 2008. It made me conclude that this is what I want to do with my life: help fight the HIV crisis. And where best to do it than in D.C.? It's got the worst rates in the country.
MW: You're doing something about that with FUK!T. How has FUK!T changed D.C. over the past year, and what kind of reaction have you received?
GERACE: We were braced for more criticism, but it's basically been very positive. It's been picked up literally all over the world, and people are posting [our videos] on blogs. Nobody has had anything negative to say about the explicit nature of it.
O'NEILL: It's been fits and starts. We largely are funded through private donations and there are some times where we've hit shortages in the way of the condom distribution, but also paying for the [safer-sex kits] packaging. The Department of Health, they're great in that they provide us all the condoms and lube for free as part of their condom distribution program, and we're pretty consistent now, but have been wanting and trying to expand through grants and such.
But in terms of what we've accomplished in the last year, it's really grown leaps and bounds. The Advocate and several national blogs and publications have done stories [on the campaign]. Those blogs and stories have run in 80 different countries, with 90 to 100 mentions on various blogs. A lot of them aren't so work-friendly, but that's what we wanted.
First and foremost, the point of this campaign is to eroticize condom use again. The tired, old messaging that's often being constrained by government money can't really toe the line and do what we feel it would take to have people want to pick up a condom again. We wanted a sexy, flashy packaging that would work, that said we understood that we needed to have a kind of a Coke and Diet Coke approach to this — hence the TOOLK!T campaign. The FUK!T campaign has gotten a lot more press, and that's what we poured a lot more energy into. But in restaurants and such, when youth are packaging them, the TOOLK!T [is appropriate].
We launched at Town nightclub, and we thought that was a nice cross section of the gay community. But we also want to expand into the African-American community more and get a foothold there, which we haven't been able to do as much as we'd like.
MW: The TOOLK!Ts and FUK!Ts have been rejected at some establishments?
GERACE: There's been varying degrees of "No" and a lack of enthusiasm. I don't think it's being a responsible community member, particularly places that serve alcohol. It's okay to not want to have FUK!T, maybe that's too graphic, but that's why we have the TOOLK!T. When you have a business where you get people inebriated enough to potentially engage in unsafe practices, it seems not right that you don't want to have condoms.
I think there's still this mindset that sex is dirty, that getting drunk isn't a problem. They're not comfortable that [safer-sex kits] make it seem somehow that it's a sexually oriented establishment, where of course in the U.K. and in Europe you find condoms everywhere. It doesn't mean anything other than everyone has sex so it's something that's around.
It's kind of interesting that in the United States, particularly in Washington, we have an overly sexualized community that's afraid to deal honestly with sex. In other words, we'll have underwear fashion shows and bachelor auctions — things that are highly sexually charged — then when it comes to distributing condoms, "No." I consider that weird and unhealthy.
MW: On the other hand, you have some businesses that have embraced your effort enough to host reoccurring "packing parties."
O'NEILL: On a weekly basis we have these packing parties at EFN Lounge. They used to all be done at Terry's house. Now we're looking to start [another] regular night, probably on Wednesday nights all summer upstairs at Mova, from 7 to 9. People will come, relax, have a drink, and for a couple of hours pack away. That's what we need.
GERACE: That takes a lot of human hours. We'd like to see the Department of Health pack kits for gay men — add condoms and lube together instead of distributing it separately. If you just give out condoms, you're only giving out half the supplies and it's almost inviting people to not use condoms correctly, to use the wrong kind of lubricant, to not use enough lubricant, to not use any lubricant at all — any of these things. You really have to co-distribute those things to make it an effective kit. They have lube and they condoms, but they should never be given out separately. To heterosexuals that's fine, but for anal-sex purposes they need to always be co-distributed.
MW: How supportive has the DOH been throughout the past year?
O'NEILL: We've gotten a lot of support from the DOH in this effort. We've butted heads a couple of times as well, in just trying to figure out the best way to get the condoms out there. Ultimately, they're tremendous advocates and are doing a great deal to work with us.
Mainly my work on the HIV Prevention Community Planning Group has given me a perspective and an inside look at a lot of the data in recent reports. And then my background too, I'm a medical student at [George Washington University], and working with those researchers who are the principal investigators in a lot of those reports, just having a familiarity with the data, and just working on the HIV Prevention Community Planning Group and directly with Dr. Shannon Hader and Michael Kharfen, kind of adds some credence to what we're doing and allows us to talk very candidly about what's going on.
That's allowed the campaign to move forward. I think that adds some credibility, if you've got some inside perspective on some of the prevention efforts in the city.
MW: Having worked with Dr. Hader, what was your reaction to her recent resignation as head of the District's HIV/AIDS Administration?
O'NEILL: From my perspective, having spoken with some people at DC Fights Back and other community leaders, the support from the current administration was not there for Dr. Hader. In terms of a more comprehensive approach to HIV that more mirrored a national AIDS strategy, she's done so much and had to put out so many fires since she's been here. She's developed this epidemiological system that's the envy of the nation and that has finally allowed us to develop a real strategy to move forward in the fight against AIDS. I think [she resigned] out of frustration.
We're in a place — particularly with the International AIDS Conference on the horizon — where I feel like we're just on the verge to implement all these great ideas. The plan is there, but now the onus has shifted more to us and our community to make sure all of this happens when we feel we could really use her leadership and guidance at this moment. I know she knows that, and she's left a plan for us in place, an action plan for the MSM [men who have sex with men] community that community leaders helped her develop. That should come out this summer. It's just peculiar at this time, while everything is about to start rolling out, that she's leaving.
MW: How does it feel to know that people have responded to your action plan, to FUK!T?
O'NEILL: What's fortunate about all this is someone like Terry who had the vision and foresight to say, "I've worked with gay men and I see the scope and extent of the problem, and I see the urgency." He was willing to put forth and fund out of his own pocket a lot of this. A lot of the safer sex that gay men have had over the past year — I can't think of how many sexual encounters — are thanks to Terry's good will. This community owes him a lot of thanks, because truly this would not have gotten off the ground if it weren't for his vision.
It's great to see something that's working and successful. But with that comes added responsibility of knowing that we have to sustain this. We have to make sure that if people are relying on this, we can't have situations where we don't have the tools that people need in their moment of need, and they haven't gone off to purchase their own condoms and lube because they were counting on us. We have to sustain this moving forward and expand it.
For more information about FUK!T, visit fc-kits.org; for TOOLK!T, visit dctoolkit.org. For the HIV Working Group, visit fighthivindc.org. For The Center, call 202-682-2245 or visit thedccenter.org.
Editor's Note: While interviewed separately, Gerace and O'Neill's answers were formatted to read as a single interview.