Ever seen a human crochet?
"They'll crochet directly on bodies, and entangle and connect them," explains J.S. Adams of Laura Craig Mason and Cynthia Combs's spin on the old handicraft. And while the two crochet together volunteers from the audience, Mason's husband Zak will perform original compositions under the alias Soft Pieces.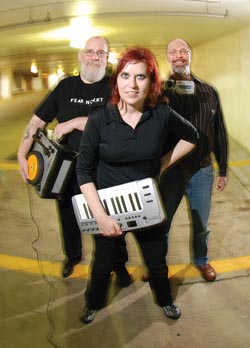 Queering Sound (l-r): Adams, Stanton and Lopata
(Photo by Todd Franson)
"You should leave preconceived notions about music and art and visuals and sound behind," says Adams, curator of the festival Queering Sound 2010. He helped start the event a decade ago in part as a response to the consumerist bent of mainstream gay culture, as well as to push against stereotypes of queer music as just dance or folk. Queering Sound works "to push the boundaries not only of what art and sound is but what queer sensibility is." It's now open to anyone, he says, "LGBTQ/post-gender-identified people, and allies."
In addition to the Human Crochet Project, this 10th annual event sees the return of such Queering Sound regulars as Bev Stanton's electronic project Arthur Loves Plastic, Blowoff's visual guru Nick Lopata, spoken-word artists Dan Vera and Danielle Evennou, and Adams's own full band BLK w/BEAR, whose recordings have been used in programming on BBC and the Discovery Channel. This year's theme is string theory, however an artist wishes to interpret it.
"I would hope that people come away thinking, 'Oh, I've experienced something different," says Adams. "It can be challenging, but it's also very rewarding."
Queering Sound is Saturday, June 5, at 7 p.m. Pyramid Atlantic, 8230 Georgia Ave., in Silver Spring. Tickets are $10. Visit members.iglou.com/artbear/queeringsound10.html.