For those who tend to think of late Victorian/early Edwardian feminism in terms of the insuppressibly cheerful suffragette mother in Mary Poppins, George Bernard Shaw's Mrs. Warren's Profession is something of a revelation. Penned in 1893, the play intelligently proffers and discusses a raft of feminist issues still hotly debated today, including such basics as whether a woman is truly free to define herself without being branded a freak and the more seminar-level issue of whether prostitution is a victimless crime.
Of course, in Shaw's day these ideas were still largely new, scary and untested and the manner in which he treats them is, perhaps by necessity, didactic by 21st century standards. So, although there is a palpable mother-daughter emotional drama working throughout the play, there is also a great deal of explanatory speech-making. So much so, that at times Mrs. Warren's Profession feels as if the characters have simply been animated to deliver Shaw's polemic. Not everyone will have enough patience or vested interest to get past this. But for those who can, the play is also an entertaining, mildly witty glimpse of a bygone era in which the smoke stacks of England's industrial revolution finally gave vent to new ideas.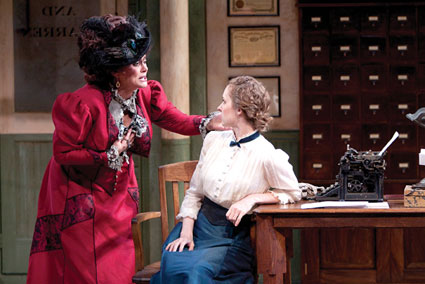 Victorian vamp and uptight Vivie: Ashely and Quaid
(Photo by Scott Suchman)
Perhaps in an effort to mitigate Shaw's air of debate, director Keith Baxter bookends the acts with some flavorsome, pointed music-hall numbers and allows a country cottage so quaint one expects a badger in an apron to appear. Otherwise he keeps the bells and whistles to a dignified minimum, which is a sensible choice for it allows us to meditate on Shaw's language, wit and fluid exchange of ideas.
Playing her Mrs. Warren larger than life, Elizabeth Ashley not only provides some much-needed entertainment amid the deep thoughts, she also rings true. Only a woman of such drive and charisma could have fought her way from Victorian working-class London into such a position of economic power, nefarious or otherwise. On the other hand, Ashley walks a fine line between the staginess of a former Victorian showgirl and the staginess of a modern Broadway doyen, which occasionally chafes with some of the other lower-key performances. Still, when Mrs. Warren drops her facade, Ashley shows she can deliver with subtlety and color.
Running counterpoint to her flamboyant mother is daughter Vivie, played with blue-stocking vigor by Amanda Quaid. Vivie is a character without irony — perhaps the original humorless feminist — but to her credit, Quaid injects enough integrity and long-suffering charm to keep the sanctimony palatable. Quaid's precision-articulation is also pleasantly beguiling though somewhat distracting.
Through no fault of Ashley and Quaid, Shaw's attempt to explore the complexities of the mother-daughter bond (or lack thereof) simply does not resonate, despite a few choice edicts from mother Warren. What emerge far more potently are the respective choices and rationales of these two women and their relevance to anyone who grapples with society's expectations. Is Vivie simply imitating the conventional male value system or is she being true to herself? Is she a prototype of the high-achieving boomer and, if so, how do we feel about her from our 21st century perspective? Is the sex trade empowering or does it depend on whether you're upright?
Though such questions dominate the play, Shaw does place them in the context of a small personal drama: Not only is Vivie's world rocked by the arrival of her long-absent mother, she has also come to the attention of everyone as being of marriageable age. These two milestones serve to touch off the debates between the women but they also draw all manner of input from the constellation of men surrounding them; each reflective of some aspect of the women's dilemmas.
MRS. WARREN'S PROFESSION



To July 11
Harman Hall
610 F St. NW
$20-$87
202-547-1122
shakespearetheatre.org
Playing the slightly bumbling romantic Mr. Praed, Ted van Griethuysen, wearing his British accent like a second skin, delivers a beautifully crafted character, understated and yet fully dimensional. He is the one presence in the play consistently and credibly evoking time, place and mindset. As Frank Gardner, Vivie's young and penniless suitor, Tony Roach, not wearing his accent like a second skin, brings the necessary energy to his irrepressible ne'er-do-well, but not quite enough easy charm. In the role of the predatory Sir George Crofts, Vivie' s older suitor, Andrew Boyer is a tad gruff for his station in life, though he does succeed in suggesting some of the domestic realties of the late Victorian marriage contract. And as the chronically overwhelmed Reverend Gardner, David Sabin delivers some reliable comic relief.
All told, Mrs. Warren's Profession is not one of Shaw's wittiest plays. Nor will its appeal be universal. Yet it speaks with a timeless and, on occasion, starkly insightful voice. And for those boomers currently complaining of Gen-X complacency, it serves as a reminder that boomers themselves owe a debt to their forbearers and their own duty to take stock.