Allen Carroll has been running nightlife venues for the local LGBT community for more than 40 years, starting in 1970 with Phase 1, the Capitol Hill lesbian bar. About 15 years later, he launched Ziegfeld's for drag shows in the industrial stretch of Southeast that became the refuge of gay-adult venues shunned in other parts of the city. Not long after, Ziegfeld's was expanded to include Secrets, featuring nude male dancers.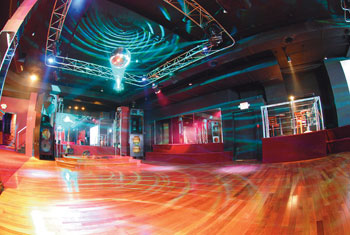 Ziegfeld's/Secrets
(Photo by File Photo/Metro Weekly)
As Carroll remembers, none of his venues was ever shut by the city — save for the District's eminent domain land grab for the Nationals Stadium that closed all the Southeast neighborhood's gay venues in 2006. So history will be made when the new Ziegfeld's/Secrets complex at 1824 Half St. SW closes down from Wednesday, June 16, through Sunday, June 20, the result of liquor-license violations occurring since the club's reopening Feb. 13, 2009. The five-day closure is actually a reprieve from what could have been 20 days, but 15 were suspended, assuming no further Alcoholic Beverage Control (ABC) violations for one year. Aside from the revenue to be lost, Carroll was also fined $4,000 — a compromise agreement worked out with the D.C. Attorney General's Office.
"This is the first time I've ever had any infraction," says Carroll. "That's what kills me. They're making me feel like a criminal."
The appointed ABC Board operates as part of the city's Alcoholic Beverage Regulation Administration (ABRA), whose investigative history points to incidents beginning three days after the club's reopening. Entering at 2:13 a.m. on Feb. 16, two ABRA investigators found two patrons still drinking their beers amid the lingering, departing crowd. Metropolitan Police reported to ABRA that on March 5, 2009, moving into March 6, one patron punched another. And bartenders ejected a patron who grabbed a dancer's penis.
Those infractions might seem par for the course at such a venue. More curious, however, is the Nov. 19, 2009, violation, wherein an ABRA investigator witnessed "five to six nude male performers, standing on individual pedestals, each performing a sexual act on themselves (masturbation)."
The report includes a photo of one dancer, mid-torso to his feet, standing on a bar, penis in hand. While simply holding one's male member — erect or not — may be a dubious definition of masturbation, it does not constitute a "sexual act" as defined by the D.C. Code.
It may, however, possibly fall under the fairly broad definition of "sexual contact," which is also impermissible by employees of a liquor-licensed venue. "Sexual contact" is defined in the D.C. Code as "the touching with any clothed or unclothed body part or any object, either directly or through the clothing, of the genitalia, anus, groin, breast, inner thigh, or buttocks of any person with an intent to abuse, humiliate, harass, degrade, or arouse or gratify the sexual desire of any person."
When asked if the unprecedented closure might indicate enhanced scrutiny of such clubs on the city's part, D.C. Attorney General Peter Nickles, who took the job after the Southeast clubs were already shuttered, responded, "It certainly does not. … We just enforce the law."
Robert Spagnoletti, the gay man who served as the District's first attorney general, serving from May 2004 to late 2006 and prior to the eminent domain closures, confirms that during his time as the District's legal leader, there were no issues with Ziegfeld's/Secrets.
Ron McBee, chair of Advisory Neighborhood Commission 6D, where the club sits, says that though he was "shocked" to learn of the violations, he's confident that under Carroll the venue will not pose any problem for the neighborhood. He adds, however, that despite Carroll's years-long struggle to reopen — a move daunting enough to require action from the City Council — he doesn't imagine the relocation will be permanent.
"They're on Half Street where [the D.C. Department of Transportation] is proposing a traffic circle," says McBee. "It's not a permanent site for them."
McBee points to various development proposals, some of which include plans to realign South Capitol Street SE and the Frederick Douglass Bridge crossing the Anacostia River, which meet about two blocks from Ziegfeld's/Secrets new home.
While the reality and pace of any development remain to be seen, Carroll says he's not aware of any plans to displace him — again. Besides, he is done moving, joking in gallows style, "My next stop is Fort Lincoln, the cemetery."
Before then, he's left to deal with the fine and closure. It's a punishment that reveals the man behind the business.
"Here I am, going on 70," says Carroll, clearly distraught by the penalty. "I could be sitting in the sand somewhere, but this is what I do. I figured I did a good job over the years. I didn't have to bring this back, but I wanted to. I've always done the right thing. It hurt my feelings."