There've been a lot of firsts this year for Chely Wright, starting with her coming out in May that made her the nation's first openly gay country music star. But when she arrives on Pennsylvania Avenue to headline the Capital Pride Festival stage, it won't actually be her first-ever visit to a pride event.
That came two years ago in New York City, when her orientation was still a secret to world.
With her best friend, she stood on the sidewalk watching the parade and "cried like a baby" when the PFLAG contingent marched by.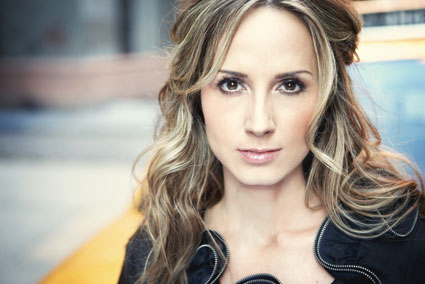 Chely Wright
"I loved it," she says. "It was really emotional."
Wright, an American Country Music award winner with a No. 1 song ("Single White Female"), a string of successful albums and years of touring that included performing for the troops in Iraq, will be striking out on new territory when she takes the Capital Pride stage.
"I think it's going to be a huge celebration," she says. "I'm just hopeful that people in the audience have as much fun as I think I might. I think I'm going to have a pretty big time. It's gonna be really fun to sing these songs in full disclosure. I'm out and I'm seriously proud to be out."
While the exuberant Wright can come across as downright giddy when talking about the joy in her life since coming out – including her new album, Lifted Off the Ground, and her autobiography Like Me – the journey to that point wasn't an easy one.
A native Kansan, she grew up in a small town with a conservative Christian family where money was scarce and hard work valued, an experience that resonates through her music and to her fans: "I felt like they knew me and I knew them."
Wright moved to Nashville on May 12, 1989, and by September of that same year achieved one of her childhood dreams: Playing the Grand Ole Opry, where she would go on to appear more than 100 times, with the likes of country music legends Roy Acuff, Porter Wagner and Minnie Pearl.
But while success on stage and on the charts made her a part of the Nashville firmament, the pressure of keeping her sexuality a secret took its toll – every album, every press junket, every tour was another time that the secret had to be buried. The pressure of the closet built to the point where she found herself holding the barrel of a gun in her mouth.
"I was ready to end it," she says, "because I had these very real parts of me – I'm a somewhat known country music singer and I'm also a lesbian and I didn't know how to make those very real parts of me intersect because no one had ever historically done it. And I had painted myself into this corner and I had no hope and I was ready to give up, and for whatever reason, I didn't pull the trigger."
Her faith in God helped bring her the "moment's peace" she prayed for, putting her on the path to finally make those two parts of her self intersect.
"When you have a gun in your mouth and you don't pull the trigger, the rest is extra. The days that follow are free days."
That's why she's appreciative of the support she's gotten from people in her industry, though somewhat bemused by how it's often given.
"I've gotten a lot of e-mails from…straight people in my industry that have said, 'Hey, Chely, I wanted to reach out and support you during this difficult time,"' she says. "This is not the difficult time. Chaotic and busy, yes. But the difficult time was the past 16 years of my career in hiding. The getting here was hard, the being here is really quite magical."
Wright's coming out set off a media whirlwind, from the cover of People to the set of Ellen. Country music is known for having an ardent and avid fan base that skews fairly conservative – one reason that Wright is the first country star to come out, while other pop music genres have been prominent homes for gay and lesbian performers.
With her trailblazing comes the expectation among many, including herself, that not all of her fans will come along for the ride.
"There's a special and unique connection with the fans and artists in country music that is paralleled by no other," she says. "I think it is one of the reasons why it has been so incredibly scary for any country artist to step forward and [come out]. When anyone comes out their abiding fear is what their family will think about it, and country music fans are essentially our family."
Fan reaction has been both positive and negative, with some fans "saying 'goodbye' and 'you tricked us,"' but new fans discovering her after hearing her story. She tries not to focus on the negatives she knows are out there, although sometimes they seep through.
"I had a friend from high school that said, 'Don't pay attention to the negative crap out there on the internet,' and then she cut and pasted the negative blog in the e-mail," laughs Wright. "I'm like, why did you do that? But you know what, it stings less than I thought it would."
Helping to lessen the sting has been the unconditional support of her brother and sister, and particularly her father.
"I just never imagined that my dad would now be such an advocate and such a supportive guy. He's been amazing."
Despite the potential losses or gains among her fans, Wright intends to keep making country music, even though coming out will likely have an impact on her songwriting.
"I don't see how it couldn't change my process," she says. "With that off my back, I've got so much more time to be creative and not think about tending to my secret."
One thing that won't change is her devotion to the music she loves.
"If I say I'm through with country music, that would be a betrayal of myself," she says. "At the root of who I am, I'm a country singer from Kansas."
Chely Wright headlines Sunday, June 13, at the Capital Pride Festival Mainstage.