Ian Harvie is like an open book.
The transgender comic doesn't refrain from much when standing in front of a microphone.
"I kind of feel like nothing is out of bounds for me," says Harvie, who will be 42 when he performs at this year's Capital Trans Pride, Saturday afternoon, June 12.
"I often do a Q&A after [my performances] and I always get a bunch of crazy questions — from 'What hotel are you staying at?' to 'Do you really have a vagina?"' Harvie laughs.
Producing laughter is key when writing material for the stage. Harvie writes in a way so that non-LGBT audiences leave his show with a better understanding of trans people and the commonalities they share with everyone else.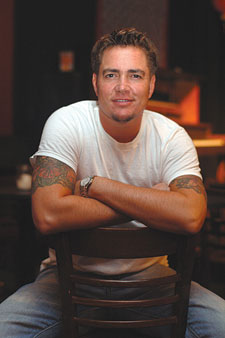 Ian Harvie
"If you're a public speaker and just walk into a class and say, 'This is what transgender is, and it's totally fine and normal and don't be afraid of it,'" says Harvie, "it's not really going to change a lot of hearts and minds of people. But if you go in…and make it funny, then your chances about changing people's ideas about the subject are a lot greater."
And to be certain, Harvie has been opening the hearts and minds of "big beefy straight men" all over the country with his jokes.
"When someone comes up to me in a mainstream non-queer comedy club, and gives me…a 'guy hug,' and says, 'Dude that was funny, I don't care what you are, that was funny,' that is equally important to me as [the response from] a trans guy out there like me."
And while both audiences are important, Harvie admits that he puts more pressure on himself when performing for an LGBT audience.
"I get nervous in front of my trans family because I really want to impress them and I do want them to feel that they've been well-represented, and not necessarily that I told their story but that I have somehow humanized other trans people to non-trans people," he says.
A native of Portland, Maine, Harvie hadn't intended to become a comic. Eight years ago, he was working as a web developer when a postcard advertising a class entitled "How to Be a Comedian" changed everything. Harvie, who lives in Los Angeles with his partner Sarah and their five dogs, says his act is not all about comedy.
"There's jokes, but there's always a message, too," he says. "Everybody is a little bit trans — and I can prove it in my show."
Ian Harvie is scheduled to perform at Capital Trans Pride, at 2 p.m. on Saturday, June 12, at the Madison Hotel, 1177 15th St. NW.
For more information, visit capitaltranspride.org or email .