Just the thought of it makes you dubious. Cyndi Lauper producing a blues album? Oh sure, the all-covers Memphis Blues, her 11th studio set, follows in the tradition of 2003's At Last, on which she adeptly covered pop standards by the likes of Burt Bacharach, Stevie Wonder and Smokey Robinson. But the feisty and fun Cyndi Lauper? She's got the blues?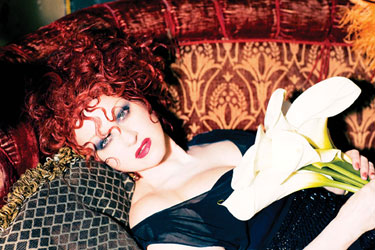 Cyndi Lauper
(Photo by Ellen von Unwerth)
Well, yes, of sorts. "I've been down so long, you know, down don't bother me," she sings on one track here. On another, "Shattered Dreams," Lauper figuratively cries over lost hope. And she literally cries twice at song's end, hitting a note in her highest register.
On one level, Memphis Blues is a vanity project for the artist. But it also turns out to be a shrewd move for a singer-songwriter best known to the masses as a purveyor of rather lightweight '80s pop. A girl who just wants to have fun. It's a simplistic image Lauper understandably would like to complicate. (In part courtesy her indefatigable support for gay rights, gay and liberal communities are hip to her sophistication.)
Lauper seems to have an endless drive to prove she can do anything, be it tackling any genre of music — or becoming Donald Trump's chosen celebrity successor. She doesn't succeed at everything — and last month she eventually got trumped by Poison's Bret Michaels, of all people. But she never fails at showing genuine spunk and tenacity. And she certainly generated some extra attention by the broadcast exposure. Stay tuned for more: Lauper is set to launch her own reality TV series later this year.
Memphis Blues is as much a hit-and-miss affair as previous recordings from Lauper, but in the main, it finds her succeeding. The irrepressible New Yorker acquits herself rather nicely with locals of the Mississippi Delta. Lauper recorded the set in March at Memphis's Electraphonic Studios, and she corralled a dozen or so of the blues genre's greatest living legends to offer support, from B.B. King to Ann Peebles to Allen Toussaint to "Memphis" Charlie Musselwhite. The covers are mostly obscure. Chances are, they're as good as new to you. And the arrangements are as rich and old-school as they come.
Launching with bass guitar and harmonica, on "Just Your Fool," at the outset Memphis Blues sounds like nothing else Lauper has ever recorded. It starts at a slow simmer, and the mopey music and downtrodden lyrics are ultimately a bit too much — both as a way to launch an album, and as to what we want to hear from Lauper.
But sure enough, once she starts having a modicum of fun and acting playful, we're back in the fold. On "Early in The Mornin"' Lauper covers B.B. King — with the always amiable King by her side. "Hey, where you going?" she asks King. "I don't know," he responds. The pleasure isn't the destination. The journey is.
Late in the set, Lauper covers a Muddy Waters tune, giving the familiar "Rollin' and Tumblin"' the full gritty, swampy treatment you'd expect. Meanwhile, Jonny Lang joins her for a cover of another song popularized by King, "How Blue Can You Get?" It's a lovers' tiff, with the two partners rattling off their grievances with the other. "My love is like a fire. Yours is like a cigarette," Lauper sings. "I watch you step down on it baby, and crush it. How blue, tell me how blue can you get?"
CYNDI LAUPER
Memphis Blues
Mercer Street Records/Downtown
$13.98



SIA
We Are Born
Monkey Puzzle/Jive Records
$13.98





Turns out, Lauper can get pretty blue. But even at her bluest? Well, she's still smoking.
While Lauper is showing she can get blue, Sia Furler has headed in the opposite direction. The bisexual Australian first came to attention in 2005 for her hauntingly beautiful, pleading ballad "Breathe Me," which dramatically closed out HBO's Six Feet Under. The album that followed was a serious, studied affair.
Now, after a more expressive but still relatively serious album two years ago, Furler — simply known as Sia — returns with We Are Born, which announces the once downtempo/chill-out artist with the appealingly elastic warble to be a master up-tempo pop tunesmith at heart. She offers one insanely catchy melody after another here, with tunes that make you want to dance and sing along. First single is the sunny, self-explanatory "Clap Your Hands." The 34-year-old was clearly weaned on Cyndi Lauper and Madonna. (And any fan of Madonna simply must hear how marvelously Sia transforms "Oh Father" here.)
In fact, Sia would have gladly shown us her chipper side a long time ago if her labels hadn't kept her in thrall to morose melody. As she told Metro Weekly in April, many of these songs were written years ago. Turns out, she's still having label trouble: We Are Born was released months after she toured in support of the set. If you missed her magical 9:30 Club show in May, you missed what might have been one of the best concerts you'd ever seen. So here's hoping her label can convince her to tour again soon.
In the meantime, you can savor the music. Sia wisely ends the set with a bouncy track that sums up both her musical trajectory and a listener's take on the state of Sia in 2010: "You've changed — for the better."