"One of my good friends went with me," says Lee Storrow. "She saw the draft agenda online and said, 'Lee, everyone has a comma, then a degree or title after their name. And then just 'Lee Storrow' randomly thrown in there."'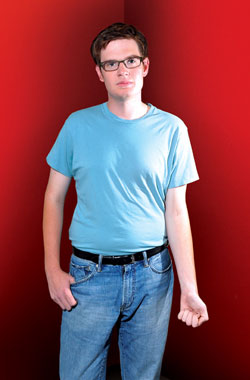 Lee Storrow
(Photo by Todd Franson)
No matter. Storrow made it a point to attend the Health and Human Services Department's Blood Safety and Availability Advisory Committee meeting on Friday, June 11, to testify in favor of ending the lifetime ban on blood donation for men who have had sex with men. A senior at the University of North Carolina-Chapel Hill, Storrow is not new to such situations. He serves alongside state attorneys general and doctors on the board of directors of the American Legacy Foundation, formed to prevent youth from smoking and encourage others to quit, and is spending summer in Washington interning at the American Heart Association.
This, however, was different.
"I thought a long time before deciding I was going to speak," Storrow says over coffee a week after his testimony. "I've had the opportunity to speak a lot in public settings like that. But this was a whole different ball game because it was specifically showing up … and talking about my sexual health and sexual history."
But talk he did, informing the committee that he had first donated at a blood drive in his high school cafeteria, and later as a college student at the UNC hospital.
"I came out my first year of college," Storrow says, "so I knew … every time I would see that question — 'If you're a male, have you had sex with a male since 1977?' — at some point [it was] going to make me ineligible."
Eventually, he did become ineligible, which led him to the hearing. Although Storrow was uncertain whether he should testify, he says, "I wanted my story to be told because I think it's powerful that I am someone who … would have been a lifetime donor — and could potentially be a lifetime donor — but isn't eligible because of this policy."
Showing a deep understanding of the historical underpinnings of the policy, the current evolution of the science and technology, and the reality among his peers, Storrow — just 21 years old next month — advocates for a risk-based assessment more attuned to specific sexual behavior than broad categorical exclusions.
"As a student at a university, I see friends who have incredibly healthy sex and friends who have incredibly unhealthy sex, and I would never make vast generalizations about a certain type of sex between certain sexes being unhealthy versus another. I think there are ways to acknowledge the health risk without stigmatizing and discriminating against an entire population."
Although the committee voted unanimously that the current policy is "suboptimal" and recommended research that would allow for risk-based assessments instead of the blanket ban, they voted against changing the policy at the present time.
Publications reporting on the meeting noted quite bluntly that Storrow "is gay and has had sex." "I think my parents were less than thrilled that if you Google me, that comes up," he says. There's also the matter of the follow-up to testifying about one's sexual history.
"I told [a friend] I was going to speak to a couple reporters, and he said, 'Well, what are you going to say if they ask you about your sex life or dating?' And I was like, 'I don't know. The Washington Times already posted that I'm gay and have had sex,' so…." Storrow's voice trails off. He pauses, and looks up. "I'm no longer eligible to donate. And I'm single."
Regardless of his plans or his hopes for the future of the donation policy, the current impact of the policy is clear for Storrow — and for UNC's hospital. Having donated 60 units of platelets during his time at college, he had become one of the hospital's "regulars" – halfway to his goal of the 120 units generally needed for those receiving a bone marrow transplant.
"I have an e-mail in my inbox from them from a week ago that says, 'All of the students are gone – it's summer. Will you please come in to donate?"'