When talking to groups as an advocate of safe sex, José Ramirez often gets puzzled looks from guys when he suggests they use a female condom as protection from HIV and other sexually transmitted infections (STIs) during anal sex.
In spite of its womanly name, Ramirez tells gay men that the receptive partner can insert the female condom in his rectum before anal sex. Typically, a woman fits the condom made of synthetic rubber in her vagina to avoid STIs or pregnancy.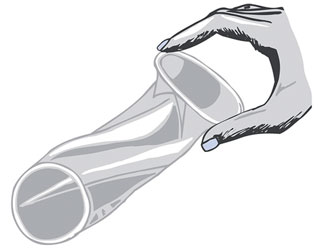 "People are like, 'Huh? What?"' says Ramirez, youth program coordinator at La Clinica del Pueblo, a Latino health clinic near the intersection of 16th and Harvard Streets NW. "And then you get some people that are really, really educated about it."
However, the concept of gay men using a female condom is anything but foreign to some in the LGBT community. They say the condoms provide another option during sex.
If, for example, a top (insertive partner) is averse to rolling on a rubber, a bottom (receptive partner) can pop in a female condom and still be relatively safe from HIV and other diseases.
Ramirez recommends inserting the condom before going to a party or club where the likelihood of hooking up is high.
"There's always an excuse not to put on a condom," Ramirez said. "With the female condom being in already, it's like you don't have to bring up the conversation. You go straight to it."
Recognizing their value, the D.C. Department of Health launched a campaign this spring to hand out 500,000 female condoms in beauty salons, convenience stores and high schools in parts of the city with the highest HIV rates. But just like with anal sex, female condom insertion differs based on the bottom's comfort level, users say.
"The female condom is really no harder to put in there than anything else," explains Jon Vincent, program director for prevention and education at Fenway Health, a Boston health provider that posts an instructional flier on its website for men on how to insert a female condom. Some people use a dildo, penis or their fingers to push it in.
For the bottom, insertion might require a bit of prep work before sex and may not feel as natural, but it is nevertheless a safer form of sex, advocates confirm.
"Generally speaking, that person's going to feel less [comfortable] than they would if they didn't have something shoved up their butt," Vincent says. "[But] psychologically, someone who's prepared and wearing a female condom beforehand, they might feel more comfortable."
Further, says Vincent, sex for the top feels less inhibited because his penis isn't wrapped in latex.
Ramirez says he's used female condoms in the past and has experienced no problems.
"It feels kind of weird, especially if you really put it up there and go out to the club," he says. "But it doesn't matter because at the end of the night, you're going to be protected."
One hiccup against the condom's wider use has come from the Food and Drug Administration, which regulates the marketing and sales of certain health products. The agency doesn't recommend the female condom be used for anal sex in either men or women.
"The public health community is very supportive of it," counters Mary Ann Leeper, senior advisor to the Female Health Company, the only maker of the female condom. "But the Female Health Company can't promote it because the FDA hasn't approved it for that use."
While a definitive study on the safety of the inserted condom during anal sex doesn't exist, it has proved effective for protection during vaginal sex. A study published last year from public health professors at Columbia University urged further study of more protection options including the female condom during anal sex.
"Because both male and female condoms act similarly as physical barriers," the study reads, "it may be reasonable to assume that using a female condom for anal intercourse would be safer than using no protection at all."
The Female Health Company released a new version of the female condom last year. It's made with the synthetic rubber nitrile and "pretty similar to what's used in non-latex surgical gloves," Leeper says. "It basically looks the same. It's inserted and used the same way."
The first-generation female condom, which debuted in 1995, welded together two pieces of polyurethane. The new nitrile version is also cheaper than the first, ranging in price from $2.50 to $3.50 for one single-use condom.
Follow a tip from Ramirez, however, and you might just find some free female condoms at area clinics and health departments.