Former Lt. Dan Choi, the face of the movement to repeal the military's "Don't Ask, Don't Tell" policy since coming out on The Rachel Maddow Show in early 2009, was honorably discharged from the New York Army National Guard on June 29, a Guard spokesman confirmed on Wednesday, July 21.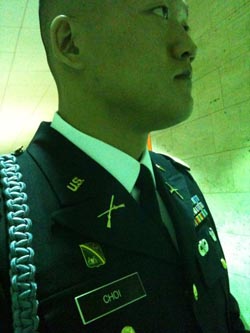 Former Lt. Dan Choi waits for his case to be called in the hallway outside a courtroom at D.C. Superior Court on July 14.
(Photo by Chris Geidner)
Lt. Col. Rich Goldenberg with the New York National Guard responded to an inquiry from Metro Weekly about the discharge, first reported in the Gay City News, by saying that a certified letter was sent to Choi detailing the honorable discharge and that "Choi was informed on 29 June" via a phone message left by his unit commander. Other calls were made to him as well, he said.
Goldenberg acknowledged, "I do not believe he returned any of their calls," but added that "[t]he New York National Guard made every attempt to make sure that Lt. Choi was fully informed of the action."
Choi, earlier Wednesday afternoon, apparently responding to the Gay City News report, posted on Twitter, "No, I have not seen any discharge papers. When/if they come, I'll show and tell."
Speaking to Metro Weekly on Wednesday evening, Choi said, "When Gay City News reported that, and Newsweek called to say they're preparing a story, I was like, 'Somebody's just confused again.'
"If what you're saying is true, it's absolutely devastating in a lot of ways," Choi said.
"Well, what a long journey it's been. As much as you prepare yourself . . . I've built the armor up … really," he said from the Netroots Nation conference in Las Vegas. "You can never really prepare for what it means emotionally. There is a pain that comes with that, that only a soldier who goes through that can feel. It's not easy to hear it. It's saying 'You're fired.'
"But, you know what, now I'm an activist. It's been a really long journey in that regard, too. Service comes in many different forms," Choi said. "I don't intend ever to stop standing up for what I know is right. I still encourage everyone, whether they're a soldier or not, to stand up for what they know is right.
"Facing consequences, breaking 'Don't Ask, Don't Tell,' that's all continued service," he said.
The Guard later provided additional information, including that the certified letter was signed for on July 6 by a person bearing the same last name as Choi at his "home of record" in Orange County, Calif. Choi confirmed that the name is his father, but added that he's not spoken to him since October 2009.
"For the record, I haven't gotten those papers," Choi said.
The documents contained in the mailing included, according to the Guard, an NGB Form 22, which details Choi's service in the National Guard; a copy of the discharge order from the New York Army National Guard; and the chief of the Army National Guard Bureau's finding that Choi's recognition of federal service was to be revoked for violating law and regulation relating to DADT.
Because of the honorable-discharge status, Goldenberg said that Choi will maintain "the officer's title as a former commissioned officer."
The chief, Gen. Craig R. McKinley, is a four-star general and the highest-ranking officer in the U.S. National Guard, according to Goldenberg. McKinley issued the revocation of federal service on June 29, and Goldenberg said that the New York National Guard informed Choi of that decision the same day.
More than two weeks later, however, Choi was still in uniform in D.C. Superior Court on July 14, prepared to face charges related to his two arrests in front of the White House protesting inaction on DADT repeal. At that point, however, Choi said he had still not received any indication that he had been discharged and believed he was still a member of the National Guard.
The charges against Choi were dismissed on July 14 because the D.C. government determined that Choi and former Capt. James Pietrangelo had not committed the violation of law with which they were charged.
Choi also was arrested on July 20 in Las Vegas for shutting down a street on the Strip in protest of Senate Majority Leader Harry Reid's (D-Nev.) inaction on the Employment Non-Discrimination Act.