"What if [disco] music hadn't stopped dead in its tracks? What if you could pick up where that left off?"
Those were the questions that guided 31-year-old Jake Shears as he set about creating the Scissor Sisters' third album, Night Work. What if AIDS hadn't wiped out a generation of hitmakers, from Sylvester to Frankie Goes to Hollywood? And what if rock hadn't dramatically split from disco in a fit of masculine insecurity?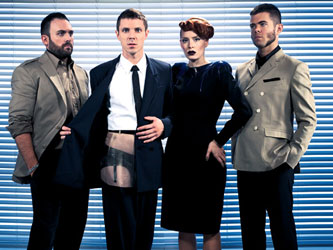 Scissor Sisters
(Photo by David Sherry)
You could argue those questions have been the guiding philosophy of this gay, glam-rock band — cheekily named after a lesbian sex act — since it emerged on the scene earlier last decade. It's also not exactly original: Goldfrapp, La Roux, even Adam Lambert are just a few of the more recent acts who have dabbled in what you might call a neo-disco idiom. But the pseudonymous Sisters — Shears, Babydaddy, Ana Matronic and Del Marquis; drummer Paddy Boom dropped out in 2008 — succeed here in a way they hadn't before. And they prove they do it better than most.
"Any Which Way," for example, sounds like a grittier, sexier version of Sylvester's euphoric classic "(You Make Me Feel) Mighty Real." With Shears's falsetto and Matronic's rap, it's also classic Scissor Sisters, enhanced by a few electronic baubles, including a driving electronic beat, giving the band extra shimmer. (Kylie Minogue on backing vocals doesn't hurt, either.)
The band shimmers all throughout Night Work, a consistently good album. In fact, there's exceptionally little bad that could be said about it. Filled with passion and a strong sense of revelry, this is the band at its best, living up to its full potential. The third time is definitely a charm.
Half of the fun of listening to the album is identifying the musical influences, which go well beyond the Bee Gees or Elton John. Especially so, since this time out Shears sings as much or more at the other end of his register, the opposite of falsetto. He's got quite the range. "Skin This Cat" starts with the scratchy sound of a vinyl record, before offering a sauntering bass line recalling Nine Inch Nails' "Closer." "Running Out" seems inspired by heavy rockers The Cult, at least in the song's main guitar riff.
Often there's more than one influence per song. Kiss and Bay City Rollers factor into "Harder You Get," for example. Melodically, "Night Life" recalls Oingo Boingo, but the deep, pattering bass line is straight from Pat Benatar's "Love Is A Battlefield." The song ends with the sound of a rocket blasting off into space, which then flows right into closing track "Invisible Light," a six-plus-minute dance-club wonder that unbelievably bests what was heretofore the band's ecstatic masterpiece, "Filthy/Gorgeous."
A seeming ode to gay disco pioneers, "Invisible Light" sounds like a cross between Pink Floyd and Frankie Goes to Hollywood, with traces, among others, of Madonna's "Nothing Really Matters" and especially Michael Jackson's "Thriller," complete with a Vincent Price-esque spooky, spoken-word monologue from Sir Ian McKellen. (Price also influences the climax to "Any Which Way," featuring a Price-like laugh.) "Invisible Light" is also one of three tracks to feature the Harlem Gospel Choir.
No expense was spared on Night Work, and it shows.
SCISSOR SISTERS
Night Work
Polydor/Downtown




and a half
$13.98
Yet the album doesn't sound cluttered or confused, or try too hard to please too many people — as was the case with the Sisters' first two albums. Enlisting producer Stuart Price seems to have done the trick. Known for fusing dance and rock together in winning ways for the likes of Madonna, the Killers and Kylie Minogue, among others, Price had worked with the band intermittently since the beginning, but never for more than a song or concert at a time. With his guidance on this full set, rock becomes a stronger presence — but so does the sound and spirit of modern-day clubbing. There are no ballads here, and several tracks are mixed together on the album nearly as seamlessly as if they were featured on a DJ compilation.
"You can find your life in the night life," Shears sings on "Night Life," a testament to the virtues of clubbing. "I had a dream we were holding on, and tomorrow has become today," Shears sings on anthemic first single "Fire With Fire," a song, about resolve and perseverance, custom-built for the dance floor.
These are rockers — superstars in many parts of the world (except, of course, here) — who aren't afraid of looking queer by dancing or getting lost in the beat. Of having fun, not just showing off.
"I found a whole new way to love you, I've got a big surprise," Shears sings on one track. "I can't see your eyes, but I think you'll like it too." With Night Work, you really do.