"In high school, even when I first came out, I was definitely a wallflower," says DJ Roland Belmares. The 38-year-old wasn't keen on being seen when he first started spinning, either.
"I was like, 'Give me a DJ booth in the corner where nobody can see me carrying on and lip-synching to the song,"' he laughs. You can bet he'll be dancing, too. He may be shy, but he has to move.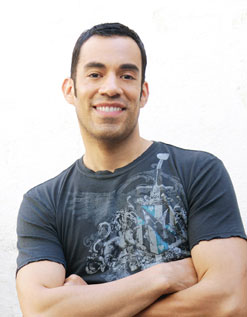 DJ Roland Belmares
"I actually love [all] the songs that I play," says Belmares, "and I can't help but dance. There's no way I can just stand there like a zombie."
Belmares has been one of the gay circuit's most popular for nearly a decade. It's not a career he planned. The quiet, laidback DJ is anything but calculated, generally acting on opportunities of any kind that come to him. "I've always been a fly-by-the-seat-of-your-pants type of a person — which drives my other half crazy," says Belmares, referring to his partner of 11 years, Ken Harwood, who does double duty as his manager. "He's a Virgo, I'm a Libra," says Belmares. "He's very meticulous with everything. I'm just kind of, 'Well, 'let's just play it by ear."'
Belmares started DJ-ing professionally in the mid-'90s after a friend heard about a new club opening in Austin, his hometown. "He forced me to go down there and submit a demo tape," says Belmares, who got the gig. His first "big break" came a few years later when David Knapp was delayed getting into town for Austin's circuit party Splash and the promoter tapped Belmares to spin the main event. "I freaked out," recalls Belmares. "But there were a bunch of promoters from all over the country there and they were like, 'Who is this guy?' Ken and I were in our first year of dating. He started networking that night: 'Let me tell you about this guy."'
A regular guest DJ in D.C., including as a former Cherry headliner, Belmares, who lives in Los Angeles, returns to Cobalt next Friday, July 30. He plays a happy, bouncy version of tribal house — basically, "whatever is popular on the radio — the remixed version." These days, that means a lot of Lady Gaga: "She seems to be the go-to girl for packing the floor right now."
In any case, expect a night of high energy and prolonged dancing. "I like to keep the momentum going from track to track," says Belmares. "I always have friends come up to me and say, 'We were gonna just come for a couple hours and we ended up staying all night. Thank you very much.' Or, 'I needed to go to the bathroom, but I couldn't leave because you wouldn't play a bad song."'
Roland Belmares spins next Friday, July 30, at 11 p.m.
The night also serves as the D.C. launch party of a web documentary series called "50Faggots," for which Cyon Flare of Chicago and Acid Betty of New York will appear along with director Randall Jenson. Cobalt, 1639 R St. NW. Cover is . Call 202-232-4416 or visit cobaltdc.com.