Lt. Dan Choi and James Pietrangelo didn't break the law they had been charged with breaking, and it is for that reason, according to a District spokesperson, that the charges they faced on July 14 were dismissed.
District Mayor Adrian Fenty's communications director, Mafara Hobson, responded on Thursday afternoon, July 15, to Metro Weekly's inquiry about the dismissals, which were announced just moments before D.C. Superior Court Judge Fredrick J. Sullivan was to hear the men's cases.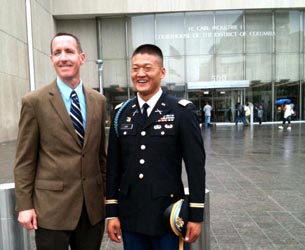 Pietrangelo and Choi outside courthouse after charges were dropped
(Photo by Chris Geidner)
Hobson wrote that the Criminal Section of the D.C. Attorney General's Office considered the "Failure to Obey" charges. "After carefully examining video and speaking with the officers involved, it was determined that the charge couldn't be maintained," she wrote.
Choi and Pietrangelo had faced two charges each of failure to obey a lawful order relating to their protests of the "Don't Ask, Don't Tell" policy at the fence in front of the White House on Pennsylvania Avenue. The District dropped the charges on July 14 because, according to the prosecutor in the case, the District government did "not wish to proceed on these cases at this time."
Fenty communications director Mafara Hobson wrote that the failure to obey "charge makes it an offense for a person, whether in a car or on foot, to remain on a sidewalk or in the street after a police officer tells them to move on."
Hobson's response was directed specifically against Choi, who she referred to only as "a military officer," but the same rationale appeared to apply to Pietrangelo.
"While chained to the fence, the defendant was standing on a ledge – NOT – the sidewalk. As such, he was not blocking pedestrian traffic," Hobson wrote. "Once that was realized, the focus of the investigation shifted to what happened immediately prior to his handcuffing himself (i.e., was he blocking the sidewalk at that time and did an officer ask him to move on). After interviewing law enforcement, it was determined that the defendant had not been asked to move on at that point. Therefore, he could not be prosecuted for any activity prior to the handcuffing either."
The U.S. Department of Justice directed inquiries about the dismissals to the D.C. Attorney General's Office, and White House spokesman Shin Inouye wrote in response to an inquiry that the White House had not intervened in the matter to request that the charges be dismissed.
D.C. Attorney General Peter Nickles did not respond to Metro Weekly's inquiry about the dismissals.