Ever had one of those dreams when you couldn't wake up, a dream that seemed to go on forever and ever? Welcome to Inception. At 2 hours and 28 minutes it's not just a blockbuster, it's a clock buster.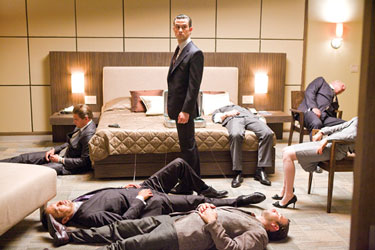 Inception
(Photo by Stephen Vaughan)
Inception is all about the concept. It's part Matrix, part Ocean's Eleven, with a dash of James Bond. But rather than shaking or stirring this concoction, writer and director Christopher Nolan throws it into a blender, which he then pitches off a cliff into a whirlpool. What else do you expect from the man who wrote and directed The Dark Knight? However, while Nolan includes plenty of explosions to keep his Batman base happy, the film is much more like his earlier work, Memento.
In Nolan's world, shared dreams are common. It's a useful tactic for getting needed answers from others, also known as finding out their secrets. But tampering with someone's thoughts is much trickier than just obtaining them. For Cobb (Leonardo DiCaprio), successfully planting a thought into the mind of Robert Fischer (Cillian Murphy), otherwise known as an inception, is the only way he's going to see his children again.
Recruited to help Cobb are a hodgepodge of dream crashers, including his faithful sidekick Arthur (Joseph Gordon-Levitt), an architect named Ariadne (Ellen Page), and the financial backer of the expedition, Saito (Ken Watanabe). As the gang delve into deeper and deeper levels of sub-consciousness, the plot gets increasingly more tangled and the mythology supporting the story starts to wobble like a picked over Jenga tower. The question is, will it hold up through the end of the movie?
Nolan isn't afraid to make a big film. Inception is filled with chases, gunfights, and imaginary worlds that seemingly know no bounds. To his credit, the director has conceived a complex and beautiful alternate reality, but as detailed as some parts are, others are transparent if you look too closely. For example, Nolan changes the rules of the dream world on a dime, including what happens when you die in a dream. Alternatively, problems or paradoxes that occur are sometimes resolved by coincidences too huge to be believed even in a dream. It's like Nolan is taking the shortcut even while he's making the audience go the long way.
As stupendous as Nolan's visual spectacles are, his characters lack any depth or development. So much of the plot rests on Cobb that the remainder of the cast is practically relegated to glorified extras status. Ariadne is supposed to be a critical character literally designing worlds for Cobb and she alone discovers secrets no one else can, but she's given zero backstory, no character development, and her behavior might be considered erratic if a personality baseline was established. She's the epitome of Nolan's shortcuts. He needs a character to move the plot forward in specific ways and Ariadne fits the bill. Arthur is the same way. In fact, if not for a feud between Arthur and another gang member that produces some of the film's few laughs, the latter might be completely forgotten.
For his part, DiCaprio does a fine job as Cobb, leading the pack into the unknown recesses of various minds. He's a tortured hero who harbors deep secrets, personified by his wife (a convincing Marion Cotillard), but these digressions are often poorly placed and distract from the action at hand. DiCaprio makes a solid good guy, but he's never really convincing in the few moments when his dark side is supposed to come through.
INCEPTION



Starring
Leonardo DiCaprio,
Joseph Gordon-Levitt,
Cillian Murphy
Rated PG-13
148 Minutes
Opens July 16
The rest of the cast is serviceable, but given so little substance to work with it's hard to really judge them. It's a little amusing to see Gordon-Levitt wield a machine gun, but he manages to man up to the challenge. However, Page is almost a blank slate, simply reciting lines because there's not much else to her character. Murphy, whose character is actually fleshed out and given some meat, does hit the emotional notes during his more personal scenes. Michael Caine makes an appearance as Cobb's father, in a cameo so brief it feels wasted.
Still, Inception manages to work in a number of ways and that's because when Nolan is firing on all cylinders, he packs a lot of horsepower. Most of the action sequences are meticulously crafted, and while a train crashing through a downtown street may seem to be ripped from The Dark Knight, but it's still pretty damn impressive.
While Nolan's mythology is a little convoluted at times and may require a second viewing, it's refreshingly unique in a summer of sequels. And Nolan crafts an ending that will have you begging for just a little more. After 148 minutes, that's quite the feat.