For every Lion King, there is a Little Mermaid. For every Beauty and the Beast, there is a Chitty Chitty Bang Bang.
There is perhaps no greater celebration or condemnation than those that accompany the transformation of a movie that is a cherished children's favorite into a stage production. Succeed in capturing whatever magic it is that causes children to fall hopelessly in love with lion cubs and singing teapots and you are a hero, a pied piper leading a new generation of audience members down the aisles and into the balconies.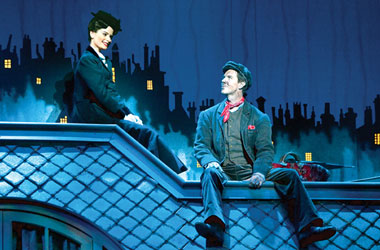 Sheen and Lee
(Photo by Joan Marcus)
Fail and you are the kind of villain prone to declaring your love of Dalmatian fur coats and shouting "Poppies, poppies will put them to sleep!" You're a hiss-worthy bad guy.
The touring production of the musical Mary Poppins, now on stage at the Kennedy Center's Opera House, falls very squarely in the hero category. In fact, there is something of a sexy Prince Charming appeal going on, with the show not so much a direct interpretation of the film but a smart and stylized vamp.
Let the kids believe that all the magic onstage is for them. Give them the surprise-filled carpetbag and the practically perfect nanny floating away on her surely carbon-friendly umbrella.
Keep for yourself choreographer Matthew Bourne's jaw-dropping "Step in Time" and "Supercalifragilisticexpialidocious" production numbers. Hang firmly on to the darkly glamorous opening interpretation of "Chim Chim Cher-ee." And while you're at it, claim Miss Andrew (Ellen Harvey) – Mary Poppins's grim opposite number. Part classic Disney witch, part bitchy drag queen, she's one heck of a good time.
Odds are better than average that you know the story of Mary Poppins. George and Winifred Banks (Laird Mackintosh and Blythe Wilson) are desperate to find a nanny for their children. More than a little bit hard to manage, Jane (Bailey Grey or Kelsey Fowler) and Michael (Carter Thomas or Bryce Baldwin) have gone through a few nannies already.
Out of nowhere appears Mary Poppins (Caroline Sheen) a nanny who seems far too good to be true. Together with her good friend Bert (Gavin Lee) and an ever-growing cast of fantastic characters, Mary shows the Banks children a world they never dreamed existed. Along the way Mary teaches the Banks a very special lesson about what it is to truly be a family.
What makes this musical such a wonderful distraction is that while it certainly doesn't abandon the warm and fuzzy message about priorities that may cause some young audience members to eye the parent who spends intermission working their iPod with some contempt, it knows how to create a spectacle. A spoonful of sugar does, after all, help the medicine go down.
The Bourne-crafted production numbers are absolutely breathtaking and play out on a stage that demands the use of the word "whimsical" to do it proper justice. (Both the set and costumes were designed by Tony Award-winning designer Bob Crowley.)
Sheen makes great, playful fun of the character of Mary Poppins. A solid singing voice is matched by a subtle wink as she glides up and down stairs posed like the most well-known silhouette this side of Peter Pan. Harvey is an almost literal scream as the brutally bad Andrew and the musical's ensemble cast makes brilliant work of everything from being a collection of misfit toys to a grim batch of nose-to-the-grindstone bankers.
But it is Lee as chimney sweep Bert who will stop hearts and bring even the most cynical audience member to their feet. His performance is bright, charismatic and absolutely mesmerizing. While it sounds a bit dirty to say that he does things in the Opera House that have never been done before it's the best way to get your attention without giving anything away.
And, well, he's a chimney sweep. It's a dirty job.
Mary Poppins is one of those shows that will cause some to think they can just sit this one out. It's a show for kids. It's a Disney musical. Better to wait for the folks at the Kennedy Center to roll out something where a portion of the audience won't have required a nap to make it past intermission. But don't wait. Before you know it the wind is going to change and then, there's no telling when Mary Poppins will be back.
It's almost impossible to watch writer/performer Charles Ross bringing his One Man Lord of the Rings to life at Woolly Mammoth without thinking – if even ever so briefly – of Gilda Radner's character Judy Miller.
MARY POPPINS





Kennedy Center
To Aug. 22
$43-$105
202-467-4600
kennedy-center.org
ONE MAN LORD OF THE RINGS






Woolly Mammoth
To Aug. 1
$30
202-393-3939
woollymammoth.net
In case the reference leaves you scratching your head, Judy Miller was the Brownie-uniformed little girl character Radner played on Saturday Night Live. Asked to stay in her room to play, Miller would imagine herself as the star of her own show where her adventures would generally require her throwing herself from one end of the room to the other in a whirlwind frenzy of non-stop activity and self-narration.
For just more than an hour, this is the kind of hardworking horseplay in which Ross indulges. Playing every character and teasing a surprising amount of the music from the Peter Jackson film trilogy, Ross periodically stops to grab a drink of water and joke about the fact that doing the show might kill him.
He might not be joking.
While certainly not a show for the non-Rings initiated, Ross sprinkles his show with enough pop culture references and side-jokes to keep the non-comic con crowd entertained.
But if you do count a Lord of the Rings fanatic in your circle of friends and family, do them a favor. Get them to the geek.