People get tattoos for all sorts of reasons. An expression of love, a significant date, a memoriam, an autograph – the list is likely endless. But the primary reason people are drawn to ink under the skin – its permanence – is also what keeps most from going under the needle.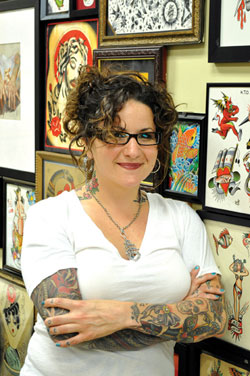 (Photo by Todd Franson)
Perhaps a few words from folksinger Ani DiFranco, who sports a tribal tattoo across her chest, can offer perspective: "I had to leave the house of self-importance / to doodle my first tattoo / realize a tattoo is no more permanent than I am," DiFranco sings in her song "Shroud."
If you've found yourself in a similar mindset – outside the house of self-importance – or possibly wanting a tattoo for no particular reason at all, Tattoo Paradise's Nikki Lugo says the first step is finding the right artist.
"The most important thing is quality," says Lugo, who has been working as a tattoo artist for nine years. "You're talking about altering your appearance and skin, and sometimes people get hung up on price. But cheap tattoos aren't good – and good tattoos are not cheap."
On any given day, Lugo says prospective clients are welcome to walk inside Tattoo Paradise and ask to see the portfolios of the many artists who work there.
"A lot of times you'll be drawn to a particular person's work — that's way more important than price," she cautions. "If you can't afford to get a good tattoo, just don't get tattooed."
Charm City Tattoo owner and artist Jacki Randall, who has been inking bodies for nearly 20 years, echoes the sentiment, warning people to avoid amateur tattoo artists.
"Stay away from getting a tattoo at a house or at a party, or from anyone who doesn't treat it like a health care procedure," she says. "If something feels like it's wrong, it's wrong."
Matt Knopp, owner of Tattoo Paradise, says the needles used at professional establishments such as his own are used on a single client, then disposed.
"Almost everything is single-use," he says. "The ink is poured into individual ink caps and they're disposable. The only thing that [is reused are] the tubes, but those are cleaned and sterilized."
Once it's time to choose an actual design, says Charm City's Randall, "simplicity is elegance." Tattoo Paradise's Lugo says different skin tones react differently to different colors, adding that black is the only color that usually works well for everyone and stands the test of time.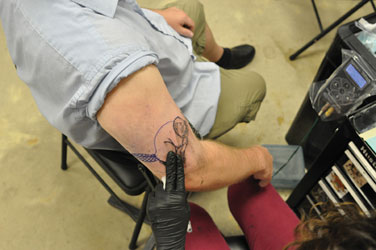 (Photo by Todd Franson)
"Let's say you get a tattoo in your twenties. When you're 80, if it's done with a black outline, you will completely see the whole tattoo, and you'll see little splotches of color here and there," Lugo explains. "There's some trend going on where people want a tattoo all pink, or all brown. But as skin ages, it just basically looks like crappy lines and gets all splotchy looking."
Should you end up with a tattoo you regret, there are options beyond having it surgically removed.
"I do a lot of cover-up and repair work," Randall says.
Knopp says a good measure of forethought goes a long way toward heading off any regrets. "My philosophy is just put a little thought into it. Not that a 'spur of a moment' thing isn't going to be something you remember and cherish your whole life. But you have to think about it."
On the other hand, don't spend "five years" planning, adds Lugo.
"Before you get your first tattoo, you seem to want to think about it for years," she says. "It's like this huge monumental decision. But in the end, your taste always changes anyway.
"I think it should just be something that when you look at it, it's attractive to you. It's a matter of taste. That five-year waiting period thing is kind of silly. Just go for it."
Tattoo Paradise has two locations: 2444 18th St. NW in Adams Morgan, and 2518 University Blvd. West in Wheaton. For more information about either location, call 202-232-6699 or visit tattooparadisedc.com.
Charm City Tattoos is located at 300 South Monroe St., Baltimore. For more information or to make an appointment, call 410-566-7528 or visit charmcitytattoo.com.