In a few weeks, Colleen McHugh will perform "Friend of Dorothy: The Songs of Judy Garland" at Signature Theatre.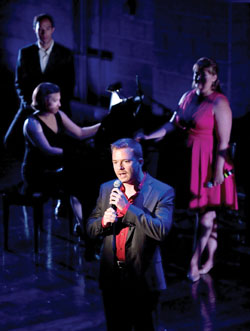 "I mean, that's so stereotypical, but — they're [buying tickets]," laughs Signature's Matthew Gardiner, referring to gay audiences. Gardiner, himself gay — and a devoted Garland fan — is the organizer of Signature's fourth annual "Sizzlin' Summer Cabaret" series. McHugh's is one of several shows that will go over the rainbow, as it were. For example, next Friday, July 16, local gay actor Will Gartshore offers a showtunes cabaret. And on Tuesday, July 20, local gay actor Stephen Gregory Smith offers a pop cabaret with Karissa Swanigan.
"We try to make it as eclectic and filled with different styles of music as possible," says Gardiner. Everything from showtunes to jazz to rock. "We bring in performers that we have frequently at Signature [in theater productions] as well as performers that you would never see at Signature." And the cabaret performances aren't like a typical theater outing. They take place in the smaller ARK space, set up with table seating. People can even drink during the show.
Among the more noteworthy performances this year, Danica Dora, who is "really making a name for herself in New York … but hasn't performed in a concert down here since she moved away about 10 years ago." Dora will perform original jazz/pop/folk songs on Tuesday, July 13. Two days later, on Thursday, July 15, Tracy Lynn Olivera will showcase her wide-ranging musical influences.
Friday, July 23, brings Marcy Heisler and Zina Goldrich, whom Signature has commissioned to write a new musical. "Marcy and Zina are highly regarded as one of the best up-and-coming songwriting teams in New York," says Gardiner. "They've written a lot of songs for Kristen Chenoweth."
Kristen Chenoweth, you say? The rainbow certainly is over Shirlington.
The Sizzlin' Summer Cabaret runs to July 24 at Signature Theatre, 4200 Campbell Ave., Arlington. Tickets are $20 for each show, or $100 for unlimited cabarets exclusively for Shirlington residents. Call 703-820-9771 or visit signature-theatre.org.