Admit it – you've tried to play matchmaker with a friend or a co-worker because you just knew he'd be perfect for this single friend of yours. And, despite all your pep-talking and coaching, it just didn't work out.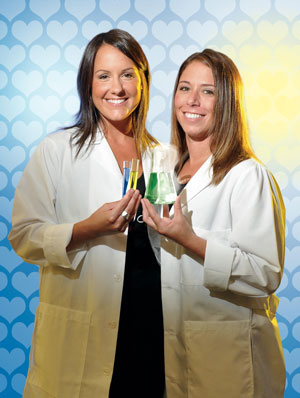 Mixology
(Photo by Todd Franson)
Sometimes, you need to leave things to the professionals.
That's where Kim Rosenberg and Meghann Novinskie come into the picture.
They're the women behind Mixology, the matchmaking service Rosenberg launched in 2009 to help gays and lesbians find the relationships they want – and deserve.
And they know what they're talking about, since in the process of making Mixology they found their own perfect matches in each other.
Both are professionals in the matchmaking business, having worked for the same national firm in two different cities. The two met briefly years ago in D.C., but it wouldn't be until a conference in Las Vegas that they reconnected professionally, sparking inspiration with Rosenberg for what would in four years become Mixology.
Initially, Novinskie flew into D.C. from her San Francisco home every three weeks to serve as a consultant and, later, executive director for Mixology. In February, she made the move to D.C. full-time and their professional – and personal – relationship took flight.
You won't always find them at their offices overlooking the bustling 14th Street corridor because their work brings them out and about to events, parties and receptions where their quick smiles and easy laughs showcase their love for meeting new people and finding new friends.
And, of course, keeping an eye open for that perfect match. Because there's one out there for everyone, even if you may need a little help finding him.
METRO WEEKLY: First off, what makes "matchmaking" different from a dating service? How do you define it?
KIM ROSENBERG: We're completely offline, so we know all of our clients. Most people who come to us have tried an online service – when they come to us, they're looking for something specific. These are professionals, they're usually proactive in their life. A lot of people are just tired of the bar scene. They're not just interested in going out and hooking up with somebody, they're looking for a partner.
MEGHANN NOVINSKIE: Anyone can go online and look for a date. Our clients, it's not that they can't get dates. What they come to us for is the insight that we have after their dates. We kind of push people outside their box sometimes and have them try new things, explore why it is that they aren't getting second dates and those sorts of things.
ROSENBERG: We build a relationship with our clients. After their date, we ask that they give us a call the following day with feedback. That's when we really begin the process. We really fine-tune what they're looking for – what they liked, what they didn't like, are they seeing each other again, those types of things.
MW: Are people just looking for better dating experiences or are they looking for long-term relationships or marriage?
NOVINSKIE: A little bit of everything. Everyone's different, but coming to us most people are serious about a relationship and aren't interested in just another short-term boyfriend for the season. They're definitely looking for something a little more serious. A lot of times, too, they're frustrated in dating through their own social networks, the online scene, they don't want to date at work – that's why they're coming to us, to meet people they wouldn't meet on their own.
ROSENBERG: It really is more of the professional clientele. When you go out to the bars, you definitely have those professionals there as well, but these are people that necessarily wouldn't go to a bar and hang out until 2 or 3 in the morning. These are people who might be in a government position where they cannot do online dating. Or they're simply busy professionals, that's another reason whey they would come to us.
MW: You're both psychology majors. Did that help get you into this role?
NOVINSKIE: Absolutely!
ROSENBERG: Of course. [Laughs.] We're both very, very passionate about what we do and I love the psychological aspect. Everybody wants to fall in love. I get a lot of satisfaction hearing, "Oh my God, it was a great date!" That's really where the passion comes in. It's really trying to get to know somebody on a personal level, what makes them tick. Everybody's different, which is why it's so interesting.
NOVINSKIE: I think we're both naturally intuitive as well, good judges of character, and having a degree in psychology is a good backup. But we are certainly not therapists by any sense of the word. We help encourage our clients, but we don't take it to that level.
MW: What got you to focus on creating Mixology as a matchmaking service for gays and lesbians?
ROSENBERG: From doing the market research prior to actually opening the doors of Mixology, I know there are some companies that have tried it, but I don't think they necessarily they took the right steps. We have combined experience of almost nine years now, so there's a kind of live and learn: This has worked, this hasn't worked. And I knew there was nothing like this [for gays and lesbians in D.C.], so I gave it a shot. The response has been unbelievable.
MW: Who do you get more of as clients, men or women?
NOVINSKIE: In the beginning, it was more men. And then we saw a huge surge in women.
ROSENBERG: It's a pretty even balance right now. The age and demographics are a bit different (between the two). Women tend to jump into relationships a little bit sooner and younger than men do, whether heterosexual or homosexual. But we have ages ranging from like 22 to 70, so it's very diverse. The clientele really runs the gamut. Trust me. [Laughs.]
MW: What would you say is the biggest difference between what gay men are looking for and what lesbians are looking for when they come to you? Is there a difference?
NOVINSKIE: I think they may be looking for similar things, but they might approach them differently. We've noticed that our women clients, if they have a good date they're more likely to give it a shot, see where it goes. But I think the men have been a little bit more…
ROSENBERG: Reserved…
NOVINSKIE: Nitpicky. "He was the best match ever, but I'm not really, really into blonds." Tell him to dye his hair! [Laughs.]
ROSENBERG: Which is fine. People come here and they're all looking for a long-term relationship ultimately. But the men are much more, almost reserved, than the women. We like that, though. We like it when somebody comes to us and says, "This is what I'm looking for."
NOVINSKIE: If someone comes in with a blank slate, we have no place to start. We certainly don't want to waste their match's time if they're not going to be a fit, so we encourage clients to be picky. But when somebody does the hair-color thing, or…
ROSENBERG: "She's perfect, but she's an inch too short." Then you're like, what? [Laughs.]
MW: What are people most looking for: physical attributes, social attributes, education level?
ROSENBERG: Education is huge, especially being in D.C. A lot of our clients have masters' degrees, some sort of advanced degree. Of course, aesthetically you're always drawn to some people, but for the most part a lot of people are pretty open. You'd be surprised.
NOVINSKIE: We try and match you based on your lifestyle and life stage. It's important to meet somebody who's going to mesh well into your life. You want to meet someone that's going to be comfortable with who you are. We tell that to our clients: Know yourself first before you ask us for what you want.
ROSENBERG: Even if we interview a potential client, it may not be the right fit at that time – whether they're not emotionally available or there might be some sort of they're between jobs, or they just got out of a relationship. Maybe it's not the best time. We do not take everybody.
MW: You have clients who are looking for very specific things in a match. Are you looking for people outside your clientele to meet those matches?
ROSENBERG: Always. When we go to events we're always looking, like, "Oh my gosh, he would be great for…" or "She would great for…." But the clients that we have are amazing, they're great, wonderful people – we wouldn't work with them if we didn't think so. Having said that, some people do come to us with very, very specific qualities and characteristics that they're looking for in a partner. And we may not have it, which is where we do ultimately have to go outside.
MW: What made you two a match for each other?
ROSENBERG: The chemistry was definitely there right away. And we're both very good at what we do, so I think professionally it kind of started there. But, obviously, physically we're very attracted to each other. It was about a year ago that I approached Meghann and started flying her in every three weeks to be a consultant for me. It was when she moved here full time when we actually started dating. So, it was great! We knew each other on a professional level before it even became personal. And ultimately that's why I brought her on, because I knew how good she was and successful she was. Had nothing to do with us at first, but it's very amazing right now.
NOVINSKIE: It's a great question. I'm analyzing….
ROSENBERG: She's looking at me, like, "Why do I like her? I'm still trying figure it out!"
NOVINSKIE: [Laughs.]
MW: Because you're always analyzing to a certain extent how people are communicating and what their desires are, do you find yourself analyzing your own relationship all the time?
NOVINSKIE: Oh, absolutely. Any relationship I've been in I've always analyzed it and I want to talk about it.
ROSENBERG: Yes, she does. Great lines of communication.
NOVINSKIE: [Laughs.] It's important. I'm not an easy person to date, probably, for that reason because I'm constantly reading into things.
ROSENBERG: She's amazing. Things are great.
MW: Did you find it hard to make the move out here from San Francisco?
NOVINSKIE: Of course. That's where I lived for almost seven years before I moved out here. But Kim is so passionate about Mixology and when she approached me to come work for her, it was an amazing opportunity. I'm so excited to be a part of it. I'm happy to be out here; my family's on the East Coast actually, so it's been nice. And I went to school in D.C., so I know the city pretty well.
MW: Kim, you grew up in the area, right?
ROSENBERG: I grew up in Rockville.
MW: When did you come out?
ROSENBERG: My first experience was in college. Because I was in North Carolina and my family was up here, I didn't feel the need to come out to my parents at the time. When I started dating somebody seriously after college, and I knew I was going to move [to Atlanta] to be with them, that's when I came out to my parents. I came out to my identical twin sister first. And, it was a work in progress, but after a month she was okay. I will tell you my parents have been great. Ever since I started Mixology my parents have been my biggest supporters. We spend a lot of time with my family. It's been really, really wonderful.
MW: You often hear about the real closeness of identical twins. Did your sister kind of know, on some level, that you were lesbian?
ROSENBERG: She acted surprised. [Laughs.] I'm not really so sure she was, but she did act surprised. It's more that we were young and it was still not as normal – I mean, it seems so normal to us now and not a big deal, but you know, 14 years ago it was a big deal. But she's my everything, she's the reason why I moved back, to be honest. She's my most unbelievable best friend.
MW: How about your coming out, Meghann?
NOVINSKIE: Well, first off I'm bisexual. [Laughs.] Let's clear the record on that one. I have three sisters, I'm very close to all of them, and Kim's met everyone. I have one sister who lives about a mile away and we have dinner with her and her boyfriend all the time, and they've been totally accepting. I talked to my older sister about it a few years ago, because I had crushes here and there and I was kind of sort of seeing someone at the time. It was just no questions asked, they didn't even blink an eye.
MW: I know among gay men, with the bi thing, many people tend to kind of roll their eyes. Do you get that with women as well?
NOVINSKIE: No. I've heard that before, that people kind of roll their eyes at bisexual people – you can't make up your mind or whatever that stupid stigma is – but I think that our clients are coming to us for a service and if I can provide that service and if I'm good at what I do, it doesn't matter if I'm gay, bi, straight, green, purple. Someone actually said a couple weeks ago, "How do they trust two straight women setting up a gay matchmaking service?" And we're like, what? [Laughs.]
MW: How about the professional/personal mix? How do you manage that?
ROSENBERG: I can only speak for myself, but I had never, ever felt like this. I'm fulfilled in every aspect of my life right now. I feel complete. I brought Meghann on to be my executive director, I didn't bring her on to be my girlfriend. It just so happened that everything just fits, and it's been amazing.
NOVINSKIE: We're worried, of course, about mixing that, because everyone says, "Don't ever date someone from work." And we preach that, too! [Laughs.] There are exceptions to the rule.
ROSENBERG: [With work] we definitely keep us out of the picture. We don't bring it up. But obviously, we would never not say that we're together.
MW: Are there any challenges you faced as women launching a small business?
NOVINSKIE: If anything, it's given us a leg up. When we first started going to events, when they put a face to the name of the company, they're really excited. Everyone has been very excited and supportive of Mixology. It's been great. I don't think it's been a challenge at all.
ROSENBERG: When you're a small business, you're going to have challenges. One of the most amazing things to me has been to see how warm and open the LGBT community is.
NOVINSKIE: There's more support for the agency and less, "Oh, look, women starting a business! Ooooh, good luck."
MW: What's something you think of as making it very hard to find a match for a client?
ROSENBERG: For me, it's getting them to step outside their comfort zone. It's really about getting them to trust you. We wouldn't take somebody if we didn't think we could match them, so that part's not challenging. We would never want to do a disservice to somebody, so we wouldn't take them if we couldn't match them.
NOVINSKIE: People need to learn from their past experiences. People are comfortable with routine and sometimes people don't really analyze their past relationships. The clients that are coming to us are adults, and they're intelligent, and they should reflect on those things. It's important for everyone to do that to avoid repeating make the same mistake over and over again. And kind of looking internally and saying, "Would I date myself?" That's where you should always start.
MW: Do you find that gay and lesbian people are more open to dating outside of their ethnic and religious or social backgrounds?
ROSENBERG: I think it's the same, whether it's heterosexual or homosexual. You're going to get some people who are just, "No," and some people who are like, "Let's give it a try."
NOVINSKIE: I think what is different is age. The gay community is a lot more open on age brackets. Straight people sometimes would come in with a three
-year age bracket: "Match me between 40 and 43."
MW: What about really cool successes you've had matching clients into a relationship?
ROSENBERG: I have clients from when I first started Mixology who are still dating. We definitely have clients who are in relationships. We do think about it all the time.
NOVINSKIE: I have dreams about clients all the time. You're always dreaming and thinking about someone – like, we have a couple we set up going out on Saturday night, so we're really excited about it. Most of our conversation outside the office is about clients. [Laughs.]
MW: Being in the business you are, do you feel like it puts pressure on you to make your own relationship successful?
NOVINSKIE: No.
ROSENBERG: Our relationship is wonderfully easy. Really, people are like, "How do you make it work? You have to be together all the time." I don't think about it. She's my best friend I want to spend my every minute with her because I enjoy her company. We're always bouncing ideas off each other. One of the main reasons I'm attracted to her is because she's so good at what she does.
MW: What's one piece of advice you would give to people who are looking to find a relationship?
NOVINSKIE: One?
ROSENBERG: Where do you want us to start? [Laughs.]
MW: Well, you don't want to give the whole store away for free.
NOVINSKIE: True. Well, I think it's important for people to make it a priority if they decide they really are ready for a relationship. You've got to invest the time – it's a shame when someone meets someone and they end up blowing them off because of a work trip or they don't follow up. If you're serious about a relationship and meet someone you like, you've got to be proactive about it. Call him back. Be the first one to call, you can't lose anything. People sometimes sit back and wait for it to happen to them.
ROSENBERG: I would say, don't settle. I think people settle a lot of times, because they want to be in a relationship. It's a comfort thing. That comes back to them not knowing themselves very well. You have to be ready in all aspects of your life, to really look back and say, "This is what I want and I'm ready for it."
For more information about Mixology and its matchmaking services, visit readytomix.com or call 1-888-739-2649.