Modern families are funny. There's a sitcom that proves it. But the modern family in Lisa Cholodenko's The Kids Are All Right is more than just funny. This family is also quirky, endearing, flawed, and entirely believable. And, perhaps surprisingly, the least interesting thing about them is that two women form the center of it.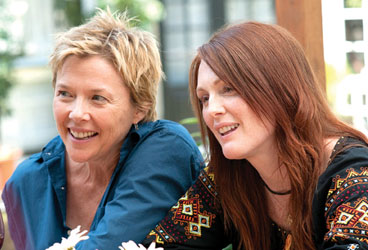 Married, with children: Bening and Moore
(Photo by Suzanne Tenner)
Nic (Annette Bening) and Jules (Julianne Moore) are prime for a midlife crisis. Their older child is about to leave for college and the gay male porn they watch as foreplay just isn't getting the job done anymore. When Jules goes out and buys an old pick-up truck for her budding landscaping business (the lesbian version of a straight man purchasing a sports car), Nic just rolls her eyes and pours herself another glass of wine.
But neither is prepared for what happens when their teenage children track down their "bio dad," the sperm donor who provided the seed for their family. Ignorant that his deposit was even withdrawn and therefore excused from any real responsibility for the kids, Paul (Mark Ruffalo) is immediately the cool guy to the loved — but closely monitored — teens. He grows organic vegetables, runs a restaurant, and has causal sex — of course he's more fun than the "moms."
When Paul recruits Jules to landscape his backyard, their relationship blossoms and soon it's more than the garden that's being… well, you get the picture. Needless to say, he integrates himself into the family with some members more than others. What the adoption of this man into the family fold triggers is both entertaining and a little heartbreaking. At the same time, the manner in which Paul inserts himself into Jules and Nic's relationship initially feels trite, having the potential of becoming cliché and insulting. Ultimately, however, the story fleshes out in ways so well-realized that you'll regret not trusting the creators.
It's hard to determine which is more powerful, the script that Cholodenko penned with Stuart Blumberg or the performances by Bening and Moore. On the script side, there's an authenticity and simplicity to the story. Cholodenko, whose child was conceived using an anonymous sperm donor, and Blumberg, who made deposits in his youth, have crafted a narrative that flows naturally towards a resolution that feels inevitable and right. Additionally, the basis of the story is clearly one written for society today. Aside from Paul's initial fumble when he learns that his kids have two mommies, there's precious little about the fact that this is a gay family. There are no struggles at school for the kids, no glares from the neighbors, no religious fanatics preaching damnation. It's a family, plain and simple.
Yet without Bening and Moore bringing refreshing honesty and panache to the screen, the script might have floundered. At first glance, Nic is cool, calculating, and slightly detached as the breadwinner who knows it's her responsibility to provide for the family. To play the part, Bening deadpans many of her lines, presenting a hardened exterior that almost begs for the nickname "Mean Mom." Moore on the other hand, is much more exaggerated in her performance, making Jules slightly flaky, a little crunchy-granola, and perhaps a little too goofy to be seen as a parent. But the biggest triumph in their performances is halfway through, when the roles have changed and each character is seen in a new light. It's not only believable, it's revelatory. It works because Nic and Jules are fully realized, three-dimensional characters and Bening and Moore finesse the parts to near perfection.
THE KIDS ARE ALL RIGHT




Starring
Annette Bening,
Julianne Moore
Rated R
104 Minutes
Opens July 16
Landmark Bethesda and E Street Cinemas
So strong, in fact, are Bening and Moore, it's almost too easy to gloss over Ruffalo, and Mia Wasikowska (Alice in Wonderland) and Josh Hutcherson as the kids. Paul is definitely the least grounded in the bunch, suddenly faced with alternatives and options that he never dreamed possible in life. Ruffalo plays him as one-part playboy and one-part boy. Wasikowska and Hutcherson instill so much maturity into their performances you expect their characters to be teaching the life lessons.
So while it's nearly impossible to answer what is more powerful — the script or the performances — if forced to decide, then Cholodenko and Blumberg narrowly win. Because while Moore gives a stirring speech about what can happen to a marriage and family while no one is paying attention, the thoughts and words provided to her are imbued with a wisdom that rings true. It's a sentiment rooted in values that holds a universal truth for any family, modern or not.