On the song "Scream" from her new album, Kelis verbally prances out her lyrics just like a "Vogue"-ing Madonna. "So lets get to it, now you'll prove it, break out, scream and shout," she says.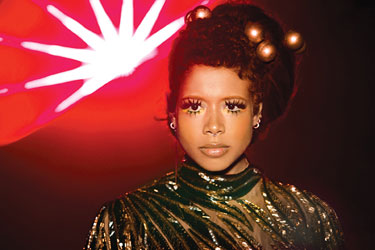 Kelis
And yet, Kelis, who first came to fame screaming on her 1999 hit "Caught Out There," doesn't actually scream here. This sweet, piano ballad may count down to a blazing, staccato club burner in its chorus. But it mischievously defies Kelis's gently spoken command. It certainly never throttles your affection: You'll certainly want to shout about it.
"Scream" encapsulates the entire album in many ways. If you know Kelis's history, you might expect Flesh Tone to be a punk-tipped, score-settling set, one on which she actually, you know, screams and shouts. You wouldn't expect her to take her problems to the dance floor or sing — sweetly — of hope and optimism. But that's exactly what she does, training her lyrical focus on her baby boy, Knight, born a year ago just as she was finishing recording the album.
"You are the drum in my heartbeat, bass and guitar lead, [I'm] stuck on the notes you play," she sings in the bridge to the album's fantastic first single. Knight is her reference point on various tracks here, most obviously on the sweet final track, "Song for the Baby."
"See, I never sugarcoat any life lessons for you, 'cause I want to make you equipped for the best," she sings. In the bridge, she passes along wisdom and a melody her dad used to sing to her: "You can do it if you try."
Kelis has had a few hits over the past decade — on her own and in collaboration with others, chiefly the Neptunes. None have been bigger than 2003's infamous "Milkshake." But she's bounced from one label to another, never hitting her stride. Certainly creatively, she's never succeeded quite like she does on Flesh Tone. She's never tried like this before. This mother, as it were, will bring all the gay boys to the yard for sure.
Working with a slew of big-name producers — Black Eyed Peas' will.i.am, her new label executive, as well as David Guetta, Benny Benassi, Tocadisco — Kelis has progressed from an edgy, unfocused R&B-styled singer-songwriter to an astute, determined dance diva. Flesh Tone is a unified effort, with strong, consistent messages, and even stronger beats and electronic flourishes. At just over 37 minutes, it also comes quickly and leaves before you want it to. It's a nearly perfect dance package, primed for the summer. It expresses shades of sorrow and sadness about the past without dwelling, instead focusing on a brighter future.
KELIS
Flesh Tone
Will.i.am Music Group/Interscope




Kelis's past sorrows do color some of the work. But notably, she doesn't actually explicitly criticize her ex-husband, the rapper Nas, whom she separated from last year while seven-months pregnant. About the closest she gets is on "Brave," where she relates the serious damage the relationship did to her. "You took my soul, I had to steer it back," she sings.
Throughout Flesh Tone, Kelis keeps the blemishes intact in her honeyed, husky voice, without enhancement by studio trickery. The occasional vocal shrillness and pitch imperfections seem to be a subtle way to convey the pain beneath the surface of her newly born (and sonic) pleasures. Still, as refreshing as it is in an era of ubiquitous auto-tune and auto-correcting vocal technology, it can make it hard to take. In fact, at times the album all-but dares you not to cringe, or move on to something else from someone with a stronger, purer voice.
"It's true, I can't run, I can't run to you," Kelis sings at her most strained on "Intro." She's essentially crying here, with tears ruining her makeup — and her pitch.
Ultimately, Kelis's untraditional, singular voice is sometimes as much of a stretch to like as it is for her to use. But she succeeds in spite of it.