"I've been dreaming of this day since the very first time I saw Crack," says Kevin Hull, manager of special programs at the Hirshhorn Museum. Hull is in charge of its three-times-a-year nighttime event "After Hours." This Friday, July 23, Hull has worked with Shea Van Horn to recreate, in a sense, the zany, anything-goes show Crack. Van Horn hosts Crack as his drag alter-ego Summer Camp several times a year at Town Danceboutique.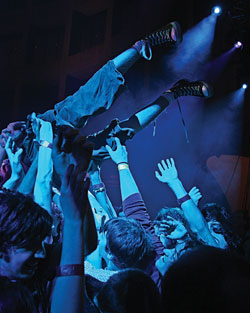 (Photo by Ward Morrison )
When Hull saw the first Crack show at DC9 four years ago, he thought it would be perfect for the Hirshhorn.
"Out of all the Smithsonian Museums, the Hirshhorn has a much larger local audience, with repeat visitors, what you might call fans." With a focus on modern art, even avant-garde, the Hirshhorn can also get away with more adventurous and risqué programming than other museums. "After Hours" is the only time the museum is open past 5:30 p.m. It stays open until 10 p.m., followed by performances and "dancing under the stars" around the donut-shaped museum's center fountain.
DJs Matt Bailer of Mixtape and Bill Todd of Raw will spin, there will be several live performances in addition to Summer Camp and a screening of a new Crack digital video, plus humorous video projections by Richard Sawka and Erik Loften throughout.
Hull says the always gay-friendly event will likely "be gayer" than before. "It's most definitely campier than what we've done before."
After Hours is Friday, July 23, from 8 p.m. to midnight. Hirshhorn Museum, Independence Ave. and 7th St. SW. Tickets are $18 for non-members and must be purchased in advance. Call 202-633-4629 or visit hirshhorn.si.edu/afterhours.