The day after the U.S. House of Representatives voted in May on an amendment aimed at ending the "Don't Ask, Don't Tell" policy, the Human Rights Campaign announced endorsements of two Democrats running against Republicans who voted against the amendment.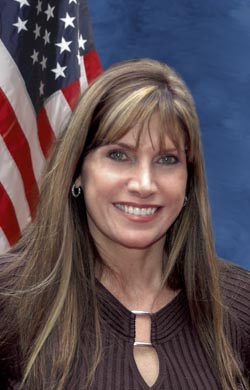 Rep. Bono-Mack
One of those was Rep. Mary Bono-Mack (R-Calif.), who was married to the late singer-turned-politician Sonny Bono. Bono-Mack has represented Palm Springs since winning this special election for his seat in Congress in 1998 and received HRC's endorsement as recently as 2006. In this fall's election, however, HRC is backing challenger and out gay Palm Springs Mayor Steve Pougnet (D), who also is backed by the Victory Fund in his race.
Of her vote against the repeal amendment, Bono-Mack said at the time, "I care deeply about our men and women in uniform and believe it is essential that a thorough review be completed by our military commanders prior to Congress enacting such a sweeping change. This vote should have happened after that review."
On Tuesday, July 6, however, GOProud – the upstart gay conservative group who had urged Republicans to vote for the amendment – endorsed Bono-Mack.
GOProud board chairman Christopher Barron said that, as to GOProud's goals, Bono-Mack more than deserved their support.
"We would have preferred that Mary Bono-Mack voted for the 'Don't Ask, Don't Tell' repeal," Barron said, noting that repeal is only one of 10 policy priorities for GOProud. "That one issue doesn't trump the nine others," including Social Security and tax reform and foreign policy goals.
"The 'Don't Ask, Don't Tell' train wreck was…." Barron stopped. "The truth is, the Democrats created a political process that would get as few Republicans as possible." The repeal amendment, he acknowledged, did receive support from five Republicans in the House.
In March, meanwhile, the Log Cabin Republicans had acted to endorse Bono-Mack. The group's new executive director, R. Clarke Cooper, said on Tuesday that the group had urged members of Congress to support the DADT amendment. If they wouldn't, however, they asked members at least to vote for the full National Defense Authorization Act (NDAA) to which the amendment was attached.
Bono-Mack, he noted, did vote for the NDAA. Because of what Cooper called her supportive history on LGBT issues, "There was not even a discussion" about revoking her endorsement after the May vote.
"If she had said, 'I'm not voting for the amendment, I'm not voting for the bill,' there might have been a different discussion," he added.
In GOProud's news release announcing the endorsement, executive director Jimmy LaSalvia said, "The decision of organizations like the Human Rights Campaign to oppose Mary's re-election is a shameful reminder of just how slavishly the gay left is willing to do the bidding of Nancy Pelosi and the DCCC."
Calling Bono-Mack "a woman who has stood up under unbelievable pressure from her party year after year" to support LGBT equality efforts," Barron said. "My question would be: How do[es HRC] expect any Republican to be with them ever?
"And the answer is: At the end of the day, they don't care."
HRC spokesman Michael Cole said that HRC believed the facts pointed a different direction.
"We remain a bipartisan organization and will endorse candidates of both parties, but Rep. Bono-Mack took a stand against equality and against our national security," he said. "When Dick Cheney is for the repeal of 'Don't Ask, Don't Tell,' it's not too much to ask that Bono-Mack vote for open service."
Barron said, "HRC holds themselves out as representing every LGBT person in the country, but the fact is they are little more than an arm of the DNC.
"That's fine, and they should just say it: 'At the end of the day, we think electing Democrats is better for gay Americans than Republicans."'
HRC's Cole shot back, saying, "Partisan labels don't determine our endorsements but candidates' stands on LGBT issues do."
The group that is explicitly in support of Democrats, Stonewall Democrats, had no problem defending "partisan labels."
Saying that Bono-Mack has "not been consistent at all on our issues," Stonewall executive director Michael Mitchell called Pougnet "the right candidate for our community and for California.
"GOProud can throw all the barbs at Pelosi they want," he said via e-mail, "but it's laughable that a Speaker Boehner (or any other Republican Speaker) would be better on issues that matter to LGBT Americans."