Brent Michael DiRoma is standing in the middle of the lobby of the Shakespeare Theatre Company's Lansburgh Theatre as a small crew of Metro Weekly photographers and interviewers, along with a few theater publicists, get situated. In a voice that falls somewhere between classic Shakespearean actor and parody of a classic Shakespearean actor he begins to read from the frieze that surrounds the room, "All the world's a stage…"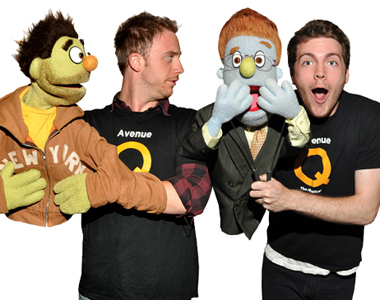 Nicky and Michael Liscio Jr. (left), with Rod and Brent Michael DiRoma
(Photo by Todd Franson )
He's dropped his voice down from his regular speaking voice. There's the hint of an accent. Perfect enunciation. One can imagine someone walking into the chaos that surrounds DiRoma and being struck by the focus of this young professional.
Castmate Michael Liscio Jr. has a different take. "If I walked in right now and didn't know you, I would punch you," he laughs.
And later, he does.
Or, to be more specific, Liscio's puppet Nicky does.
After Liscio and DiRoma, now in D.C. with the Tony Award-winning musical Avenue Q, have literally armed themselves with their puppets – odd-couple roommates Nicky and Rod – Rod picks up where DiRoma left off.
The voice is more Sesame Street's Bert than the Bard as Rod dramatically states, "Oh, for a muse of fire…." He's barely started Henry V's prologue before Nicky slaps him.
"Nicky," Rod exclaims, a look of perfect surprise registering on puppeteer DiRoma's face. There's a pause before Rod eagerly asks Nicky, "Do it again."
Meeting Liscio and DiRoma, watching them play off one another both with their puppets and without, it's difficult to avoid the greatest pitfall of interviewing actors. On some level, you can't help but identify them with the characters they play.
One would think this wouldn't be the case when talking to two individuals whose dramatic alter egos are puppets – puppets that include a porn-loving monster and a mean spirited, sweet-talking bear. But, it's not.
Liscio comes across as laid-back and gregarious, quick to make a joke and even quicker to laugh out loud. It's an attitude that allowed the New Jersey native to jump into the Avenue Q tour midway and learn his roles, including Nicky, in just four days. "It was a big test for me, to learn everything I needed and then be thrown onstage," he says. "Avenue Q has been a huge challenge."
DiRoma appears more composed. An actor whose regional-theater roles have included Snoopy (You're a Good Man, Charlie Brown) and Urinetown's Bobby, DiRoma displays some of closeted Republican Rod's seriousness, though none of the character's uptight nature.
Like their onstage alter egos (though both, like all the puppeteers in the show, portray multiple characters) the actors perfectly complement one another, in humor and timing. While many ensembles brag about the close-knit nature of their show's cast, with DiRoma and Liscio the bond is obvious. It seems fitting then that they should bring Avenue Q's closest friendship to stage.
Emblematic of that onstage relationship is the song "If You Were Gay," sung by the not-gay Nicky to his almost certainly gay best friend Rod.
"It's one of my favorite songs to do," says Liscio. "It establishes Nicky and Rod's relationship from the get-go. Once it's over and you hear the reaction then you know what kind of audience you have. It's not the same reaction everywhere."
DiRoma jumps in. "There was a woman in Fort Wayne that made a replicate puppet for 'If You Were Gay.' She bought two tickets, one for her and one for her puppet…"
Fort Wayne, Indiana?
"Right in the front row," the two say at the same time.
"I watched her every chance I got," says Liscio. "There are a lot of puppet groupies."
"You'd be shocked."
"People come with homemade puppets all the time. And some of them are really legit."
"It's amazing," concludes DiRoma.
The way they tell the story, DiRoma and Liscio trading back and forth much like Nicky and Rod, is not only incredibly entertaining but suggests the perfect chemistry directors dream of when casting a show. But DiRoma will be carrying more than a new friendship away when the show's tour concludes.
"I have so many gay friends who I support," he says. "Playing Rod has definitely had an impact. I've heard stories about having trouble coming out and now I take that journey every single night. It's created a stronger foundation for those relationships. It's all made a really big impression on me."
"Wow," says Liscio, a Nicky-like grin crossing his face. "My answer's not that good."
Avenue Q runs through Aug. 15 at The Lansburgh Theatre, 450 7th St. NW. Tickets are $76-$86. Visit shakespearetheatre.org or call 202-547-1122.
To see a video of Rod and Nicky answering some of your favorite Coverboy Confidential questions, click here.