"I haven't really gotten to David Guetta status, in the sense that every person showing up wants to hear Dave Audé stuff," says Dave Audé.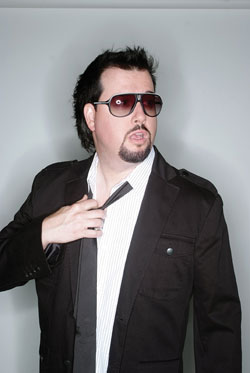 Dave Aude
(Photo by Micah Smith)
In fact, it is likely that most — if not all — of the people who show up to Town next Saturday, Aug. 7, will be there to hear Dave Audé stuff. The Los Angeles DJ and producer made a name for himself over the past few years as a prolific remixer and one of dance music's very best. He's reimagined songs for Beyoncé, Lady Gaga, Coldplay and many others. He even garnered his first Grammy nomination in the past year, ultimately losing the Best Remixed Recording award to that ubiquitous Frenchman, David Guetta.
"I've played piano my whole life," says the 40-year-old Audé, who grew up in the San Fernando Valley north of L.A. But it was his self-taught skill on synthesizer — a teenage gift from his dad — and especially his love of dance music that inspired Audé to make a career in the record business. In the '90s he worked at the now-defunct dance label Moonshine Music. Then, in the early '00s, fellow musician Nick Hexum suggested a pairing that would set Audé on his present course toward fame.
"He said, 'My girlfriend wants to do some dance music," recalls Audé. "She's in this band called Eden's Crush. Can you come up to my house and meet with her?"'
Turns out, it was Nicole Scherzinger. Audé introduced her to his manager, who then got her an audition with the Pussycat Dolls. Audé eventually became the popular Scherzinger-led girl group's music director and right-hand remixer. In 2007, he produced the big club hit "Make It Last" with former Doll Jessica Sutta. Now, he's working on a solo album for Scherzinger.
He's also working to produce an album for British singer Luciana, who sings Audé's newest ivory-tickled dance stormer, "Figure It Out." (She recorded this under the pseudonym Isha Coco.) Audé is also developing a new radio show. Even with all that, he promises a steady stream of his own productions — and of course more remixes.
Audé credits his success with remixing to his "musicality."
"I know there's a lot of people doing remixes," he explains, "that are kind of just throwing in drums, and then throwing a bass line up, and hoping it goes with the vocals, as opposed to understanding that the vocals may be in a certain key and that certain notes don't go with the key."
Audé is also DJing more these days, and increasingly at gay clubs. "People definitely go to the gay clubs more for music than they do in the straight clubs," says the DJ, whose wife is six-and-a-half months pregnant with their first child. "It just seems that music is a bigger part of the gay scene."
Gay clubbers also don't generally dance en masse facing the DJ the way their straight counterparts do, "which I like," says Audé. "I want people to dance. I'm not the guy who likes to be on a stage with a light on me.
"It's not really about me, it's about the music."
Dave Audé spins Saturday, Aug. 7, at Town Danceboutique, 2009 8th St. NW. Cover is $12 after 11 p.m. Call 202-234-TOWN or visit towndc.com.