Carte Goodwin (law firm bio here), the former general counsel to West Virginia Gov. Joe Manchin (D), is set to be the pick of his old boss for the Senate seat that had been held by the late Sen. Robert Byrd since 1959, according to The Washington Post and Associated Press. Manchin is expected to name Goodwin as his choice at 2 p.m. today.
[UPDATE: From the AP, on the announcement: "Manchin announced Goodwin's appointment Friday during a news conference at the West Virginia Capitol."]
The first new senator from West Virginia since 1985, Goodwin will only hold the seat through the special election to be held to fill the remainder of Byrd's term. It is not yet clear whether the election will be held in 2010 or 2012 to fill the seat, although 2010 is likely.
Despite Goodwin's likely short tenure, when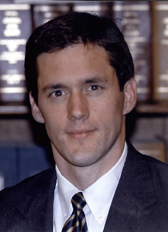 compared with Byrd's lengthy service, today's appointment is noteworthy for LGBT organizations pushing for the repeal of the "Don't Ask, Don't Tell" policy.
After strongly opposing open gay service when President Clinton pushed for the change in 1993, Byrd supported the amendment voted on in the Senate Armed Services Committee in May to allow the president and military leaders to repeal to statute that underlies DADT.
Adam Smith, a board member of Fairness West Virginia, discussed the appointment with Metro Weekly early Friday afternoon before Manchin's announcement.
"One of Sen. Byrd's last votes was to repeal Don't Ask, Don't Tell. We're hopeful, if reports are right that he is the governor's choice, that Carte Goodwin will follow suit," Smith told Metro Weekly on Friday. "Like we continue to do with the other members of the West Virginia congressional delegation, we will follow-up quickly after this appointment to talk with Goodwin and his new Senate staff to make it clear that West Virginia is a state that respect all its citizens, regardless of sexual orientation or gender identity."
Goodwin graduated near the top of his class from Emory School of Law in Atlanta and then returned to West Virginia, where he clerked in 1999-2000 for U.S. Fourth Circuit Court of Appeals Judge Robert B. King. He graduated from Marietta College, on the Ohio-West Virginia border, with a bachelor's degree prior to law school.
[PHOTO: Image from Goodwin & Goodwin LLP firm bio.]