Just who is Bimbo Jones? Technically, it's the name Lee Dagger thought he heard a postman give once in an old movie.
"Maybe it was Rimbo Goans or something like that," Dagger laughs. "For some reason it just stuck in my head. And I said to Marc, 'This name, it just stands out. We've got to use it."'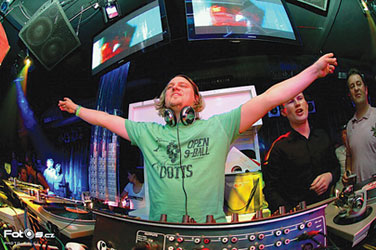 Lee Dagger
(Photo courtesy of Lee Dagger)
For a decade now, Dagger and Marc "JB" Jackson Burrows have used the name to great acclaim, remixing for the likes of Pink, Janet Jackson and Lady Gaga, and — with powerhouse vocalist Katherine Ellis — recording one of 2008's best dance albums, Harlem 1 Stop.
The two British Bimbos first met in 2000 after a far-fetched push from Dagger's wife, who unsuccessfully tried to reach the female judge on the U.K. version of American Idol. "She basically said," Dagger recounts, "all right, I'm going to get in contact and tell her all about Lee being this DJ/producer. Could be the next big thing."
Instead, she reached an industry executive, who then helped inspire the meeting between Dagger and JB, a classically trained jazz pianist. Explains Dagger, "We worked so well together, within a year we got offered a publishing deal with Simon Fuller." Fuller, of course, is, as Dagger puts it, "the main Simon behind Idol," and creator the label 19 Entertainment.
After a taste of producing their own music with Harlem 1 Stop, Dagger says the two have decided "to take it to the next level" and recruit pop stars for their sophomore set. Though Ellis will return for a few tracks, Dagger is currently firming up plans for tracks with Cyndi Lauper and Charo, among others. He's also lining up collaborations with other dance producers, including D.C.'s DJ Yiannis.
Dagger, who debuts next Saturday, Aug. 21, at Town, is currently on his first-ever DJ tour of the states. A club DJ for nearly 20 years, Dagger is the only DJ among the Bimbos.
Earlier this year, he was tapped to spin along with David Guetta for Sydney's gay Mardi Gras celebration. The 37-year-old says he's increasingly getting gigs in gay clubs, a result of good word of mouth. "People have always followed our music, but never really heard me as a DJ," he reasons. "Once people in gay clubs saw what I could do, they obviously wanted a bit more of it.
"I like mixing up loads of a cappellas, making fresh bootlegs [right] there and then, doing it live," he continues, adding, "I'll definitely be throwing in a few of our own mixes and tracks."
He may even sing.
He started doing that recently. "I came up with this melody for this song and I sung it to my friends," explains Dagger, "and they were like, 'You've got to do it in the club."' He's now sung while DJ'ing at several gigs, notably the huge Glastonbury Festival earlier this year. When asked if he'll repeat the feat at Town, he laughs, "I might do it over this one song, but it won't be a big spectacular thing, where I'm live on stage or anything."
Lee Dagger spins Saturday, Aug. 21. Town Danceboutique, 2009 8th NW. Cover is $12. Call 202-234-TOWN or visit towndc.com. For more on Dagger, see djleedagger.co.uk.