You wouldn't know it from her often-racy acting roles, but Jane Krakowski calls herself traditional. Old-fashioned, even. Her debut solo album, The Laziest Gal In Town, is a live recording of a cabaret show. And it doesn't get much more old-fashioned than that.
But then, on the very next track, a fantastic, funky cover of "Diamonds Are a Girl's Best Friend," she inserts in the bridge key lines from a recent Kanye West tune. That's right, she mashes up a standard with a modern-day hit — inspired, she says, by Gwen Stefani's "Rich Girl."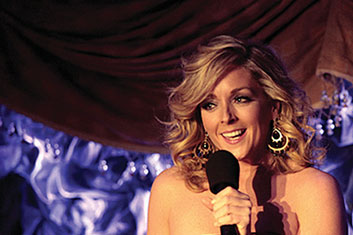 Jane Krakowski
(Photo by Ken Howard)
She even raps.
"Now I ain't saying I'm a gold digger, but I ain't messing with no broke blokes," she spits, channeling Jenna Maroney. How's that for old-fashioned?
The playful juxtaposition between old and new, antiquated and modern, is at the heart of The Laziest Gal In Town. It may not be the best cabaret album of recent vintage, but it surely ranks as one of the hippest. It's as hip as cabaret — an old, some even say dying, genre — gets. Though some of her selections are a tad sleepy, Krakowski puts the lie to the set's droll title. She's bringing cabaret kicking if not screaming into the 21st century, a feat fit for no retiring broad.
The title actually stems from an old-fashioned Cole Porter number, which Krakowski delivers in a leisurely, sultry style. It's an odd way to start the album — you'd hope for something peppier. Krakowski then piles on the cutesy charm for another old-fashioned saucy ditty, "A Little Brains, A Little Talent," a song she performed a couple years ago in a revival of Damn Yankees.
But don't let the slow, contrived start fool you. The Tony-winning Krakowski may be an official cabaret novice: "I hate to use the c-word this early in an evening — but welcome to my debut in cabaret," she says during this recording, from an October performance at Feinstein's in New York. The show, it should be noted, was preceded by a trial run of the material a couple weeks earlier at the Kennedy Center, part of last season's Barbara Cook Spotlight shows. Krakowski certainly knows what she's doing. She's got a great five-piece backing band, which even includes an occasional ukulele player, Kevin Kuhn.
The album perks up as it goes, and proves to be as entertaining as you'd expect, especially with some of her banter, notably her recounting of the time she presented at the Grammys and got slighted by Whitney Houston. And then there's her hysterical medley of "When I Get Low, I Get High" and "Wacky Dust," a true highlight of the set. "So I might be the first girl to bring a drug medley to Feinstein's," she notes. By the end you'll be rooting for her to do it again — to make this the first of many firsts as she carries, and revives, the cabaret torch.
Krakowski modernizes the swinging, gossipy song "Zip" from Rodgers and Hart's Pal Joey, updated just for her as "Tweet" with new lyrics, in Twitter-length verses, written by Hairspray's Marc Shaiman and Scott Wittman. "Tweet: Kristen Chenoweth won an Emmy, how sweet," sings the twice-nominated 30 Rock star, with fake sincerity. "Tweet: Someone sit her down and force her to eat." (Oh, how rich. I mean, look who's talking.)
JANE KRAKOWSKI
The Laziest Gal In Town
DRG Records
$17.98



and a half

LUCY WOODWARD
Hooked
Verve
$10.99




and a half
"If you loved it, tell your friends," she says. "If you didn't, mum's the word!" If you haven't heard about this recording already, it's just a matter of time.
LUCY WOODWARD IS a kindred spirit to Krakowski. Woodward's new studio album, Hooked!, her third, is just as winsome as Krakowski's in reviving music first popularized in the early to mid-20th century. In Woodward's case, it's lushly orchestrated torch and swing. You might say the British-born, Bronx-bred beauty straddles the divide between Krakowski and Amy Winehouse; or between Nellie McKay and Esthero. It's a place where pop, jazz, blues and showtunes all get it on. She dazzles with a slinky, tango-tipped cover of an obscure Peggy Lee tune, "Sans Souci." And there's also her shockingly sexy cover of the Disney Jungle Book classic "I Wan'na Be Like You (The Monkey Song)." Yes, really: Woodward's remake is a must-hear.
But Woodward isn't just an entertaining coverer of standards, one with a fantastic and large cast of supporting musicians, and sharp production from Tony Visconti (David Bowie, Paul McCartney). She's also a savvy songwriter as well, co-writing eight of the set's 12 smoking tracks. "He got away. It's too late, my baby's gone," she sings on the album's bouncy opening track, with a choir repeating the title. Any man in his right mind would be hooked right away.