"I'd be in real big trouble if I wasn't DJ-ing," muses Joe Gauthreaux. "I have no idea what I could do, or what I'd want to do. It's my life: I eat, breathe and sleep this job. And that's the way I actually like it."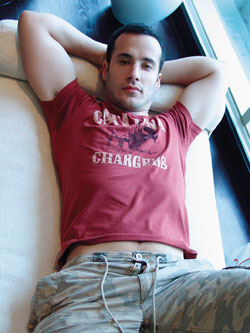 DJ Joe Gauthreaux
(Photo courtesy of Joe Gauthreaux )
Fortunately, Gauthreaux doesn't need to give up his day (and night) job anytime soon. In the past couple years one of the hardest-working men in gay clubland has become especially prominent, constantly booked around the country. Next Friday, Aug. 13, a few days before his 34th birthday, Gauthreaux will return to Cobalt. "I always like coming back to D.C.," he says. "The crowd is really enthusiastic."
Gauthreaux started DJ-ing 15 years ago at Club Oz in his native New Orleans, where he established himself as a regular patron early courtesy of a fake ID. "I started clubbing pretty early," says Gauthreaux, who came out at the ripe age of 16. "I kinda just begged them [for a gig]. I was trying to figure out a way to get out of college." After a few relentless months, they finally gave in — and there was no turning back. He's been a full-time DJ and national headliner for over a decade now. "To this day, I still DJ [at Oz] a few times a year," says Gauthreaux, who moved from New Orleans in 2003, first to New York and most recently to Los Angeles.
Gauthreaux has recently added remix work to his plate. While more of his remixes are getting released these days — up next, tracks from Charo, Debby Holiday and George Hodos featuring Snoop Dogg — Gauthreaux keeps many of them private, for play only at his gigs. "It just makes me a more unique DJ," he says. "Ten years ago, it wasn't as important to produce your own music because there weren't as many DJs on the scene."
Gauthreaux also has plans to release his own songs. "I'm so busy right now working on other people's music, so I'm kind of getting my feet wet at that, getting more comfortable in the studio. But I already have a couple of artists who are excited to work with me," he says. "It's actually just a matter of time at this point."
And finding that time is a challenge. "Probably seven out of eight weekends, I'm booked — if not more," he says. When asked what he does on that rare weekend off, he laughs, "I don't go to the airport."
Gauthreaux, who is single, says he is "100 percent not looking for anybody right now. I have so many more things I want to accomplish work-wise. I don't want to be a half-assed DJ, and I don't want to be a half-assed boyfriend."
After some reflection, he adds: "Look, never say never. I could meet the perfect person tomorrow where it just works."
Joe Gauthreaux spins Friday, Aug. 13, at Cobalt, 1639 R St. NW. Cover is $7. Call 202-232-4416 or visit cobaltdc.com.