The EFN Lounge/Motley Bar, at 1318 9th St. NW, has closed its doors permanently.
On Monday, Aug. 17, at 8:40 p.m., in an e-mail addressed to the Shaw neighborhood gay bar's employees, owner Tom McGuire wrote, "Unfortunately, I have some very bad news. As many of you know, last week we had to let [EFN manager] Bill Gray go because of issues and circumstances which came to our attention just the week before last.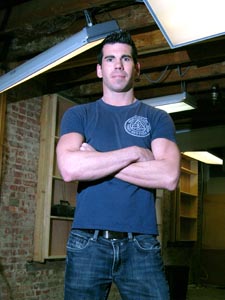 Bill Gray in 2009 during EFN's rennovation.
(Photo by Todd Franson)
"With losing Bill as general manager combined with the very low sales we have been experiencing over the last few months, we have arrived at the very difficult decision that the bar must be closed."
McGuire goes on to apologize to employees for pulling the plug on EFN, as well as its second-floor Motley Bar venue, explaining that no other viable options remained.
"My apologies for the abrupt decision and short notice, but we really have no choice. This is the last thing I wanted to do. I wish you all the best moving forward."
Gray says he was not "let go," but quit, claiming that he owns the EFN and Motley brands. He also claims the bar's troubles began in its early days when it first opened as Be Bar in 2006.
"Basically Tom really knew nothing about the industry, which is why I was brought in," says Gray. "We figured we would remodel everything and we would just be busy, and that was not the case. The location was an obstacle for us, and continued to be an obstacle despite whatever changes we made."
Gray says McGuire discussed the possibility of closing EFN Lounge as early as January.
"You can't survive on one day a week, which is what we were," Gray says. "We were surviving on [Friday's] Bear Happy Hour. All the other days were a bust."
Gray says rumors circulating about him being fired for stealing money might stem from management issues.
"I chose to pay a bill that Tom didn't agree with, and he made me personally liable for it. The bill was for a lawsuit that EFN was sued in last year. My personal name and EFN Lounge was named as the defendant. Since I own 100 percent of the brand and my name is on there, I'm paying the bill."
Gray says Leviathan Promotions brought a lawsuit for breach of contract in November 2009.
"I am disappointed to see the very public and inaccurate statements made by William Gray with regard to his departure from EFN Lounge," Tom McGuire said in an e-mail statement to Metro Weekly. "In response I want to clarify that Mr. Gray was terminated for justified reasons which he is fully aware of, and which we have fully documented."
McGuire also addressed the closing of the bar in his e-mail to Metro Weekly.
"I am very sorry for the abrupt closing of our establishment," he writes. "After four years and with a great deal of hard work on behalf of the entire staff, who have worked with us over the years, we have been forced to close because of inadequate leadership on a managerial level, combined with insufficient revenues to support the venue." He adds that he is grateful for the community support the bar has received in all its incarnations and that overall it has been "a wonderful experience, which was shared with the community." He concludes with, "It is time to move on."
Part-time bartender Matt Bamford says he was greeted by the startling news by manager Derrick Vann, upon arriving for his shift Monday afternoon.
"He pulls me in the back and tells me, 'I hate to tell you this, but we're closing the bar tonight.' He was like, 'We're closing the doors forever.'
"I'm shocked and seriously above all I hurt for those guys who have been at the bar a lot longer than I have, and guys who got Motley Bar going," Bamford says. "We wanted a place for the bears to go, they come every Friday night, and where are they going to go now?"
While Gray will most likely not be the one to provide a new venue for bears, as he says he will not return to the bar industry, he does plan to open a coffeehouse in D.C. geared toward the local gay community.
Also suffering from the closure is FukIt/ToolKit, a program of the Gay/Bi/Trans HIV Prevention Working Group at The Center, the metro area's LGBT community center.
The group had hosted a weekly safe-sex "packing party," stuffing free safer-sex kits of condoms and lubricant stocked at venues around the District, at EFN Lounge on Tuesdays for the past 10 months. According to Dr. Terence Gerace of the FukIt/ToolKit program, the Green Lantern, another gay bar, at 1335 Green Court NW, has agreed to host the packing parties.
Openly gay Advisory Neighborhood Commissioner Michael Benardo (2F06), who represents the area that includes the EFN Lounge, reacted to the closure in an e-mail addressed to Metro Weekly.
"The closure of EFN Lounge/Motley Bar is another sign that the 9th Street NW corridor has not turned around as fast as investors and residents hoped it would," he wrote. "It is a shame that there are still so many vacant commercial buildings that close to the city's convention center. There just isn't enough commerce on that section of 9th Street to make it a destination – for gay or straight residents and visitors."
For updates to this story, continue to check MetroWeekly.com.