Elections are sometimes decided – unofficially – during the primaries. In the overwhelmingly Democratic District of Columbia, that's the rule for choosing the mayor, not the exception.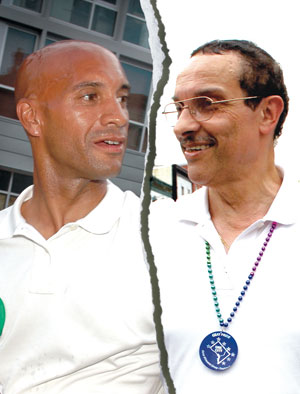 Fenty v. Gray
(Metro Weekly file photo)
This year the conventional wisdom is no different, and all indications are that the city's registered Democrats will on Sept. 14 choose between incumbent Mayor Adrian Fenty and challenger Vincent Gray, current chairman of the City Council. Granted, D.C. Democrats choosing their party's mayoral candidate will have more than two choices. Leo Alexander, Sulaimon Brown and Ernest E. Johnson have also entered the arena.
But the machinery behind these three does not compare to what's in gear behind Gray and Fenty, already established as arguably the two most powerful players in District politics. Come Election Day, Nov. 2, whoever wins the primary will face challengers from the Republican Party and the D.C. Statehood Green Party. One might cynically say, however, that where the race for mayor is concerned, Nov. 2 is just window dressing. The real race is Sept. 14, and it's between Fenty and Gray.
Even with conventional wisdom narrowing the field to just these two candidates, the contest is not necessarily black and white. Take Bob Summersgill, for example. He is a gay activist fluent in D.C. politics to the point that he's penned much of the legislation that's made the District among the most equality-minded locales in the country. And, as of Metro Weekly deadline, he's uncertain who will be getting his vote for mayor next month.
"Adrian Fenty has accomplished quite a bit," Summersgill reasons. "He signed the marriage bill – but his attorney general fought us on parental rights and recognition of domestic partnerships and civil unions from other jurisdictions. He's kind of a mixed bag. Gray has been good, but he hasn't been a standout."
"I wish I had a stronger feeling," Summersgill continues. "I may look more to environmental issues than lesbian and gay issues. In that way, Gray has been far better than Fenty."
With LGBT issues, some topics entering the mayoral debate have been the mayor's accidental commendation to an advocate of the "ex-gay" argument, a perceived lack of leadership on tackling hate crimes or discrimination against transgender inmates of the D.C. jails, and the transformation of the Metropolitan Police Department's (MPD) Gay and Lesbian Liaison Unit (GLLU).
For each item, there are LGBT people to defend or accuse Fenty, and others to champion Gray's potential or to counter he's not been tested with these issues as mayor. What few in the community are arguing is that either candidate is not an ally. Neither is a stranger to LGBT pride celebrations. Gray recently sent a disco ball to The Center, the metro area's LGBT community center, as a housewarming gift to hang in its new location. Fenty looks perfectly at ease glad-handing at the annual High Heel Race along 17th Street. Some will argue the degree of support, but not that it doesn't exist.
Summersgill speaks for no one but himself when he concludes, "Neither is a bad choice. I'll eventually pick one." Maybe he's not alone. For those others who are possibly undecided, several members of the community who have already picked their candidate are happy to offer their insights. This, however, is just a taste – for as the campaign clock ticks down, expect to find those insights knocking on your door, shaking your hand and offering you a yard sign.
Democracy might be messy and won't ominously promise to make the trains run on time, but it does encourage everyone to come out and join the debate. And in D.C., the voices of the LGBT community are fully present.

Also, read about mayoral candidate Leo Alexander and support he has received from NOM, a organization opposed to marriage equality.