Moving to the District in 1973 to write his dissertation, Jerry Clark has a long relationship with the District. His career has taken him to the Department of Justice, Whitman-Walker Clinic, the National Gay and Lesbian Task Force, and a number of other spots while in D.C. And through it all, the Ward 1 resident has watched the city evolve.
"I'd say city services are the best they've ever been," he says of today in comparison to nearly 40 decades of living here. "I'm not one to hold back complaining if I'm not happy, and I haven't had to complain much during this administration."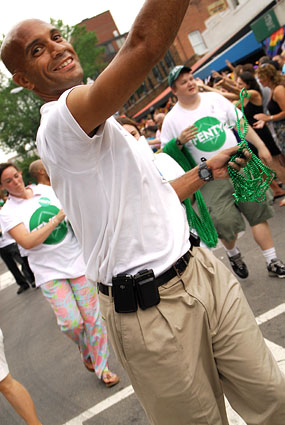 Adrian Fenty at 2010 Capital Pride Parade
That's a common refrain among supporters of Mayor Adrian Fenty. It boils down to a mix of "If it ain't broke, don't fix it," and a belief that Fenty was due to take criticism from the community because he had to make tough decisions. More than one has compared a Fenty loss in September to "changing horses in midstream" – including Clark.
Another is Alexander Padro, executive director of Shaw Main Streets, who also sits on an Advisory Neighborhood Commission in Shaw. During the last mayoral race, Padro supported Linda Cropp's campaign. Some might argue as tested Council chair, she was the sensible choice, while Councilmember Fenty was the young maverick.
"I supported Mrs. Cropp because of her longstanding service to the city, her yeoman-like leadership of the Council. I was disappointed that my preferred candidate didn't become mayor, but as a good party member I supported the one who won the primary."
Now that Fenty carries the mantle of incumbency, however, Padro seems to have embraced what he once avoided.
"On the one hand, you have Fenty who represents youth, energy, change, a can-do attitude, which sometimes causes the old guard to bristle," he says. "Then you have Gray, with the more plotting, deliberative, methodological way of doing things. Both approaches have their plusses and minuses, but with Fenty we've been able to go so much further than with someone who would've represented the old way of doing things."
That push forward also appeals to another ANC commissioner, Dana Greenwald in Kalorama. A dentist, Greenwald also owns her own practice, and says that Fenty has improved the city's business climate markedly.
"As a business owner, sometimes you have to do things that are unpopular to be successful," she says. "I see that in Adrian. It's clear he's alienated people with his personality, but he's a doer. He doesn't capitulate."
Similarly, Clark also sees that trait in Fenty and defends it.
"I'm not sure anyone else would've had the guts to take on the toughest issue, the biggest bureaucracy our elected officials had to deal with," Clark says of Fenty's handling of D.C. schools. "He did it – and didn't look back. He hired a tough chancellor and backed her up. I'm very pleased with that. There were some PR glitches I wish could've been avoided. But when you undertake major change, you're going to ruffle some feathers."
Despite feather ruffling, both Greenwald and Padro insist that as ANC commissioners they saw improvements in city services they directly credit to the Fenty administration. And they're afraid that without a second term, those services may take a hit. Greenwald remembers days of calling the city's 311 number and not getting an answer. Padro associates Gray with old-guard D.C. and returning the city to an era associated with broken government.
Jeff Marootian, who served as vice president of the Gertrude Stein Democratic Club in 2009, says he was disappointed when the club voted to endorse Gray over Fenty, but it hasn't dampened his enthusiasm. It's particularly evident when he strikes another chord common among Fenty supporters: that the mayor has delivered on his promises.
"Four years ago, the mayor committed to a bold vision, and I think he's delivered. People can see that," he says. "It's incredible what he and Chancellor Rhee have accomplished with the D.C. public schools. I know where Fenty and Rhee will take public schools. I don't know where Vince Gray will take the public schools."
With Fenty, says Greenwald, "We get someone who is proven in the ability to make changes and fight for what he believes; not poll everybody about what to do, but do what he was elected to do.
"I think Gray is a good man who loves this city and only wants to do what is right for the city, … [but] I think Gray is more likely to do what's right for labor unions than for the city, the residents.
"I've had a lot of interaction with the Fenty administration. As a commissioner of an ANC, I've seen all the services we've been able to get. I remember when we couldn't get trash picked up. It's amazing to me that anyone would think he hasn't delivered on his promises."
Pragmatically, Clark adds, "Keeping the momentum going, not getting sidetracked with transitions, really favors the incumbent. I don't believe in switching unless there's some awfully good logic.
"The risk is time gets consumed filling positions, getting people working, whenever you go through change. That concerns me. While I have very high regard for Vincent Gray, clearly [the] substantial support he's getting for mayor is constituents unhappy with the change undertaken by Mayor Fenty."
Stressing the importance of the race is Justin B. Terry-Smith who, like Dr. Pat Hawkins in the Gray camp, lives beyond the District line and cannot vote in this race. But he still supports Fenty.
"I have a lot of ties to the District. It is the capital of the United States. It should impact a lot of people. It does go beyond the District," says Terry-Smith, a former D.C. resident who now lives in Laurel, Md., but who works in the District. "I think it's going to be a pretty tight race. A lot of people are unsatisfied with Fenty. I am satisfied. Being a politician isn't easy. I think people sometimes forget that. You cannot forget he helped pass gay marriage."
But however the race concludes, Smith-Terry's advice is the same for either candidate: "Take care of people first. Take care of Washingtonians first. They need you. You're it and you need to take care of your people, regardless of what part of the District they live in. You are their representative. … May the best man win."
In a statement submitted to Metro Weekly, Fenty outlined some of the successes he's had as mayor.
"Together, we've taken historic steps toward inclusion and equality," Fenty writes. "I have been on the record as a steadfast supporter of marriage equality in every race I have run since 2000. Signing same-sex marriage into law was one of the most significant and meaningful moments of my leadership as Mayor. Ensuring the right to same-sex marriage in the District is a profound achievement, and one of several important steps towards full equality taken under my leadership.
"Previous administrations have talked about developing housing for LGBT youth, but we delivered on the creation of the Wanda Alston House, the first transitional housing program for homeless LGBT youth. We released the first ever comprehensive health report and the first ever biased-crime report for the lesbian, gay, and bisexual community. We created a comprehensive health curriculum that includes information about sexual orientation, established a progressive response to bullying in the schools, hosted three LBGT economic development summits that lead to fifteen LGBT owned business's gaining access to the supply schedule and have hosted several events about
LGBT adoption.
"The area that we've made the most progress in is our fight against HIV/AIDS. We took on a system that was struggling to improve from years of dysfunction and mismanagement in the early 1990s. I am proud of the results that we have delivered, and I am confident that we will continue to make strong advances in reforming our health services agencies."
The entirety of Mayor Fenty's statement is available at MetroWeekly.com.