There's no question that the Vince Gray for Mayor campaign has been picking up steam. From straw polls to multiple unions to – most importantly in the LGBT community – the Gertrude Stein Democratic Club, the city's largest gay political group, Council Chair Vincent Gray has been racking up the wins and endorsements.
Jeffrey D. Richardson, the president of the Stein Democrats, sits squarely in that majority of Stein Democrats who are glad that, following their endorsement, the club will putting its considerable weight behind Gray.
"Vince Gray has shown an ability to lead," Richardson says. "Vince Gray has been the glue on the City Council. He was able to pull his colleagues to the table."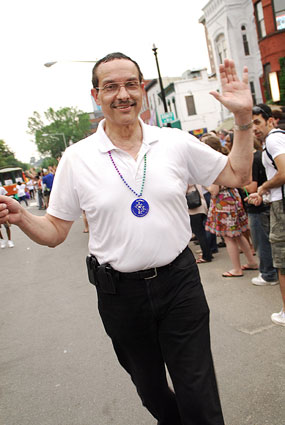 Vincent Gray at 2010 Capital Pride Parade
This is coming from a man who supported Mayor Adrian Fenty during his first run for mayor. And it's not as though he thinks Fenty has done all that poorly. Actually, on a scale of 1 to 10, Richardson gives Fenty a 7. What might be a problem is that he was expecting these years later to be rating him a 9.
"I remind people that Mayor Fenty is an athlete," he says. "He knows how to train and how to win a race. He will fight to win that race. The problem with Adrian Fenty is once he's won the race, he checks out."
That's the mixed blessing of incumbency: already holding the authority and recognition of the contested seat, but also having a record in that position to be scrutinized.
Dr. Pat Hawkins was among those arguing for a Gray endorsement with her fellow Stein Club members. Calling Fenty "bright and capable," this clinical psychologist who spent much of her career working for the Whitman-Walker Clinic, nonetheless backs Gray wholeheartedly, describing a sort of kinship with her candidate.
"I've known Vince almost his entire career," she says, telling a story of Gray years ago clearing his schedule to sit in the rain talking to an AIDS activist on a hunger strike. "Vince has a deep-seated passion for people who have gotten a raw deal in life. That's part of his core being. Vince has the passion and the vision. I think that's what it takes to change something."
But while Hawkins voted as a member of the Stein Club, she won't be voting for Gray in the primary. Although she's in the District about four days a week for her work as the clinical director at the D.C. Community AIDS Network, she lives in Maryland. Saying she'll do what she can to convince D.C. Democrats to put Gray in the mayor's seat, Hawkins is an example of how D.C. politics push beyond the city border in the unique geopolitical space occupied by the nation's capital.
Born and raised in D.C., Dr. Howard Brooks doesn't have that restriction. He'll certainly be voting in the city's Democratic primary. And while Brooks is a doctor like Hawkins, another perspective informing his endorsement of Gray is that of a small-business owner. Brooks is also a member of the board of the Capital Area Gay and Lesbian Chamber of Commerce (CAGLCC, aka The Chamber). Many argue that Fenty is good for business. Brooks argues, however, that business development isn't hitting as many areas of the city as it should.
"One of the complaints of minorities – not the LGBT community, but the African-American community – is that we have seen tremendous economic growth in all these affluent areas," says Brooks, himself African-American. "But when you go to my grandmother's house in Anacostia, you don't see that same economic development."
With deep D.C. roots, however, Brooks's family also has close ties to the Grays. Brooks's father, for example, is part of Gray's campaign committee and Brooks went to school with Gray's son. But Brooks says he's only once met Chairman Gray, and that his family's ties aren't the reason for his strong support of Gray's campaign. He's certainly not hostile to Fenty, either.
"I think [Fenty and Gray] have a lot in common," Brooks says. "They're both Washingtonians who truly care about the city and want to see it prosper."
Politics being politics, though, Brooks has to choose a single candidate to receive his vote: "I think Vincent Gray will have the leadership skills and connections to do what he says he will do – for all of D.C., not just part of it."
Unlike Brooks, Lane Hudson is a relative newcomer to D.C., a native South Carolinian who moved to Washington permanently in 2006, though he'd lived here off and on some years prior. He was just in time to vote for Fenty when he initially ran for mayor.
"I'd say he's done an okay job as mayor, but we deserve a lot better," Hudson says today, having moved from Fenty supporter to what he calls a "Vince Gray evangelist." Actually, he's one of Gray's strongest – some might say loudest – gay supporters. Hudson, pledging to knock on doors, make phone calls, or undertake any other traditional campaign exercise to see Gray become D.C.'s next mayor, says he's anxious about the possibility of four more years with Fenty as mayor, arguing that a second term would validate Fenty's "one-sided approach to everything."
"You can't run government without input from other people and buy-in from the community," Hudson continues, arguing that where some see leadership, he sees a mayor deaf to outside opinions. "He's consolidated power so much that he's abusive."
He sees the opposite in Gray. Some may see the challenger as less charismatic than the current mayor, but not Hudson.
"If Vince Gray wins, I think what we'll get is a government that is more responsive and more thoughtful – but just as effective," says Hudson. "He's done an amazing job as Council chair. It's the only time we've really had a functioning Council that works together.
"When I compare the two, what I see in Vince that I don't see in Adrian is that he wants to connect with people. He wants to have an almost Bill Clinton-esque 'I feel your pain' relationship with people. He's also a consensus builder. If you don't do the work to get stakeholders to buy-in, you're not going to be successful."
There are esoteric arguments to be made in any political campaign, nuanced strategies to execute. Jeri Hughes would just be happy to have a job.
Hughes was laid off from her administrative assistant position with the Anacostia Watershed Society in late May due to a funding shortfall at the nonprofit organization trying to clean up Washington's river.
"Mayor Fenty pledged [there would be] a meeting between the director of Employment Services and the transgender community," says Hughes, who identifies as a member of that community. "That still hasn't occurred, in spite of his open commitment."
Going into this primary and the following general election, she says employment is her primary issue, and Gray her candidate.
"We have a massive unemployment problem in the city," she says. "It goes beyond the LGBT community. It's across the board. Particularly for the transgender community, it's always been bleak. Particularly in this recession."
Hughes says she got the impression that Gray genuinely cares about people during a Stein Club meeting when a friend of hers asked Gray about a recreation center in his neighborhood. Gray responded that this particular rec center was an issue for Councilmember Tommy Wells (D-Ward 6). Hughes says she initially thought Gray was ignoring her friend's question. Then Wells arrived at the meeting.
"Vincent Gray took the time and remembered, took Tommy Wells over to my friend and addressed the question with Tommy Wells there. I think that's very telling of the type of individual Vincent Gray is," she surmises. "He cares. Adrian Fenty is inaccessible. … [Gray] listens to councilmembers. I think the man is a true leader, and that's what we need in the city. I feel he'll be able to do a better job."
In a statement offered to Metro Weekly, Gray addressed issues of particular concern to the LGBT community.
"As Mayor, I will give full backing and support to the Office of Human Rights and the Office of Gay and Lesbian Affairs to battle against discriminatory practices within and outside of government, and to increase access to and improve the quality of government services," Gray writes.
"As Mayor, I will do more to address the growing number of hate crimes in our city. As Council Chair, I authored a resolution to bring added attention to this issue and ensured that a hearing was held to raise awareness and develop preventive strategies. I've also spoken passionately about the important role that the Gay and Lesbian Liaison Unit of the Metropolitan Police Department has in preventing and addressing these crimes. As Mayor, I will renew real partnerships between law enforcement and the communities they serve to create safer and more secure neighborhoods for all residents.
"As Mayor, I will renew efforts to reduce the District's unacceptably high HIV/AIDS rates by working with community groups on education and prevention strategies. I will ensure there is strong, stable, and effective leadership at the Department of Health and HIV/AIDS Administration, and will actively work with the leadership and the GLBT community to develop a five-year strategic education and prevention plan that will hold all stakeholders accountable for doing their part. A key part of this plan will be to reduce the stigma associated with HIV so that people seek out and receive necessary health and other support services to live healthy, and productive lives."
The entirety of Chairman Gray's statement is available at MetroWeekly.com.

As originally posted, this story contained a passage reading: "Gray responded that this particular rec center was an issue for Councilmember Tommy Wells (D-Ward 6). Hughes says she initially thought Wells was ignoring her friend's question." That passage has been corrected to read, "Hughes says she initially thought Gray was ignoring her question," as Hughes described.