Think Michaele Salahi is the only local you'll recognize on Bravo's new Real Housewives of D.C.?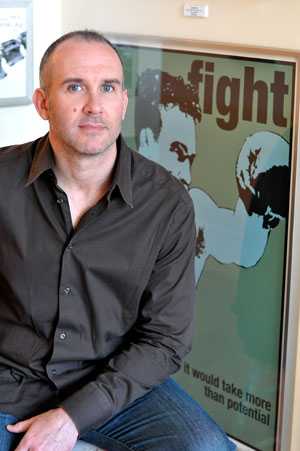 Glenn Fry
(Photo by Todd Franson)
The infamous White House party crasher may have gotten all the headlines to date, but she's just one of the show's five housewives. And then there are all the local residents who'll make guest turns.
People like Glenn Fry.
"It was a whole-day ordeal just getting the thing set up — getting the cameras rolling, and microphones and lights," says the local artist. Fry was tapped — and taped — by Bravo for an original silk-screen portrait of housewife Mary Amons and her family.
You'll recognize the handsome Fry if you ever frequented Club Chaos, Halo or Town. The 43-year-old served as a popular bartender at all three venues at different times over the past decade.
"[Bartending] was a great way to talk to people and understand situations people were going through," says Fry, noting that the occupation helped him build support for a career in art. Fry has focused full-time on his pop-art-inspired designs for over a year now.
"I used to work in advertising, so when you look at my art, you can kind of pick up that vibe," says the Pennsylvania native. Fry earned a bachelor of fine arts degree from the state's Edinboro University and then worked at a Cleveland ad agency before moving to D.C. in 2000. "With a lot of my stuff, I try to make it look like an old vintage magazine or newspaper ad."
Earlier this year, one of his silkscreen prints hung in the mansion used by MTV's The Real World: Washington D.C. Producers of that show were turned on to his work through Gallery Plan B, which represents the Logan Circle artist. That gallery also hosted the Housewives photo shoot with Amons, her husband, five kids and a dog, who live in Virginia. "She's a lot of fun," says Fry, who met Amons through mutual friends. "She's a very, very, very friendly person. Very down to earth."
The cameras stopped rolling before Fry had finished his silkscreen portrait of the Amons family, which earned him only free publicity. Fry says the Amons were pleased.
"It's hanging in her kitchen, above the fireplace," says Fry. "A very prominent position."
Bravo's The Real Housewives of Washington, D.C. premieres Thursday, Aug. 5, at 9 p.m. Visit bravo.com for more information. Visit glennfryart.com for more about Glenn Fry.