Kele Okereke, the 28-year-old lead singer of the popular British indie-rock group Bloc Party, came out publicly as gay earlier this year. He's already tired of talking about it.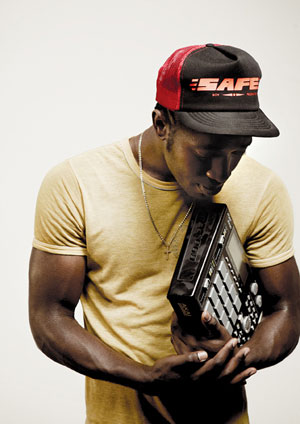 Kele
"It's just shyness, you know?" Kele concedes. "What I say in my music and the way I write, I think that that's far more eloquent than I ever will be [talking about myself]. You open up a part of yourself when you make music, and that's the part you want people to respond to."
Born in England to Nigerian parents, coming out for Kele has brought him closer to his family. "Obviously, there are some things that we don't agree on," he says, "but we're closer than we ever have been. That was something I was maybe worried about before coming out to them. And it has taken time."
Earlier this summer Kele released his debut solo set, The Boxer, inspired less by the Brit's new hobby of kickboxing and more by the metaphor of the sport and the reality of his current situation. "A boxer is someone who has to summon the willpower to achieve what it is they want to achieve with the help of no one else," he says. Once the four members of Bloc Party decided on a group hiatus, Kele realized he'd have to go it alone if he wanted to stay creative.
The Boxer is more electronic than rock, more in line with Kele's work in recent years with Tiesto and the Chemical Brothers. "Well, you know, it would be no fun for me to make a record that Bloc Party could have made," responds Kele. "It was a chance to do something different."
Kele hedges when asked whether Bloc Party will return from hiatus. "We'll see," he says. "It's not solely my decision." Right now, he's savoring his solo turn in the ring. "Making [The Boxer] has reminded me that the music-making process can be completely exciting and enjoyable, and frightening and new, at the same time. I want to keep that feeling going for as long as possible."
Kele performs Thursday, Sept. 2 at the Nightclub 9:30, 815 V St. NW. Tickets are $25. Doors at 6:30 p.m. Call 202-265-0930 or visit 930.com.