Speaking Tuesday to a packed room of progressive interns finishing up a summer in D.C., Kevin Jennings – now serving as the assistant deputy secretary for safe and drug-free schools in the U.S. Department of Education – easily slipped back into an old role, that of educator.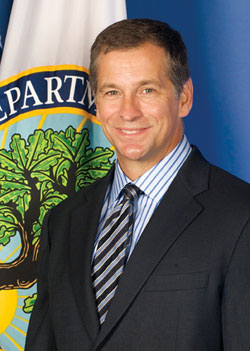 Jennings
(Photo by U.S. Department of Education )
When addressing the interns – some of whom were there from the organization founded by Jennings, the Gay Lesbian Straight Education Network (GLSEN) – the administration official whose role has made him a lightning rod for conservatives did not hold back from speaking forcefully about LGBT and other progressive political issues in his 30-minute address Aug. 3.
During the question-and-answer session after his speech, an intern at GLSEN asked Jennings if he feels constrained in the administration because of his previous advocacy work at GLSEN.
Jennings told the group, "We're all here to serve the president's agenda. If I were president, there might be more progressive things going on than if the president was president, but the fact is I work for him."
"Do I feel constrained? Absolutely," Jennings continued. "Everybody who takes one of the jobs should feel constrained because we're not here to push our personal agenda; we're here to advance the president's agenda."
Asked after the event by Metro Weekly whether Jennings's office had taken any action in support of either the Safe Schools Improvement Act or the Student Non-Discrimination Act – two pieces of legislation pending in Congress that are being lobbied for by GLSEN and other LGBT groups – Jennings said, "We can't endorse legislation on our own. The Education Department doesn't make the policy, the White House does.
"The [Domestic Policy Council] sets the policy; we implement it. That's how it works. So, if you want movement on this issue, you call the White House."
Multiple White House officials, while expressing general support for safe schools, have repeatedly deferred specific endorsement of either piece of legislation in response to inquiries from Metro Weekly in the past.
During and after his speech, Jennings several times referenced the extensive attacks against him by Fox News – and the work of Media Matters for America to correct those false statements.
Calling them "some of the most homophobic attacks we've ever seen in this country," Alliance for Justice President Nan Aron – whose group organized the event – said, "Kevin fought back and won."
After his speech, Jennings expanded on the reason why he didn't back down in the face of the criticism from the right.
"I, as the leading proponent of stopping bullying in America, I was not going to allow myself to be bullied out of a job," he said. "There was no way. It was not going to happen.
"I've been preaching for 25 years that bullying is not okay. There was no way I could then say, 'Okay, well, I'll let you bully me."'
Referencing President Theodore Roosevelt's "in the arena" speech in which the then-president told his audience to "strive to do the deeds" even if they wound up failing, Jennings told the interns, "Do not be that cold or timid soul. Get in the arena.
"You won't win every time. You may find yourself like me with 1.1 million Google hits, most of which are negative – thanks to the Fox News Network – but get in there and fight."
When an intern at the Human Rights Campaign began a question by saying, "The right tends to lie a lot," Jennings shot back with a grin, "I wouldn't know," prompting laughter from the audience. The intern then continued to say, however, that the tactic often worked and asked how progressives should deal with that.
Jennings disagreed with the premise, however, saying, "I think lying works – for a while. They can only lie for so long." As to LGBT people and issues specifically, he noted, "As more and more people come to know people who are different than themselves, the lies start to fall apart."
As to responding, however, first he said, "It's very important to get the truth out." Speaking of the organization that spent significant time countering the claims made against him, Jennings noted, "Media Matters is a brilliant organization that does a great job debunking the lies that are put out."
Second, he said, "We must stand for something that's very different. We cannot stoop to that level."